Kyrie Irving Claims He's Not Anti-Vax but Is Allowing Himself to Be Blatantly Used: 'The Fascist NBA Won't Let Kyrie Irving Play for Refusing a Vaccine'
In a lengthy Instagram Live post, Kyrie Irving again claimed he was neither anti- nor pro-vaccination. But his protracted holdout against receiving at least the first dose of the COVID-19 vaccine has unintended consequences.
Besides the Brooklyn Nets' unwillingness to let him be a part-time player, Irving has become an ally to groups he claims to oppose. Most recently, controversial Republican Rep. Marjorie Taylor-Greene (Georgia), made a scientifically dubious comparison of Irving's situation to an NBA legend from 30 years ago.
Irving claims he's taking his stance in defense of people losing employment opportunities over their choice not to be vaccinated. However, Irving took several games off from the Nets, reportedly in reaction to the Jan. 6 attack on the U.S. Capitol. His current stance makes him a tool for the same forces who supported the baseless attacks on the 2020 presidential election.
Kyrie Irving is standing firm in his position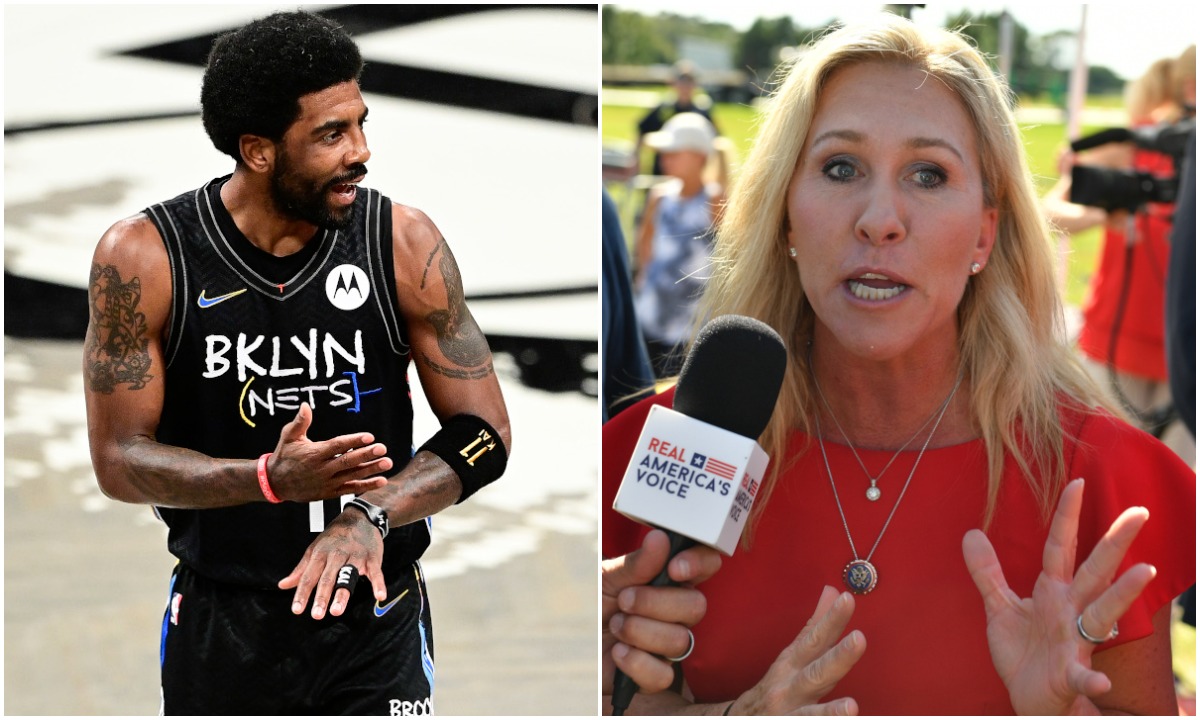 Kyrie Irving said he is "doing what's best for me" in his Instagram Live post. Per Shams Charania of The Athletic, Irving is not anti-vaccine. Instead, it's a bigger fight over what Irving claims is control of society and people's ability to earn a living.
One source told Charania that "Kyrie wants to be a voice for the voiceless." However, when given the opportunity to speak his mind publicly, he has declined to answer questions from the media. He didn't take questions during his remote appearance on media day.
But given the rhetoric of the past several days, what Kyrie wants and what he is are dramatically different. He's the latest straw man held up by the anti-vaccine, anti-government crowd in its attempt to claim there is a vast conspiracy to make Americans choose between a vaccine or a job.
The truth is that mandatory vaccination has been an American reality since before there was an American Constitution. Per USA Today, Gen. George Washington required inoculation of troops against smallpox during the Revolutionary War.
A battery of compulsory vaccinations is a long-standing norm for military inductees. The same is true for schools with other diseases and viruses such as polio.
The individual's rights are not paramount compared to the safety of a civilized society; this has been precedent for centuries. It is only within the last generation that a loud minority demands the opposite.
Politicians on the right distort the truth when citing the 'fascism' of the NBA
Taylor-Greene's tweet from Oct. 14 criticized a so-called "fascist NBA" for preventing Kyrie Irving from playing without vaccination, citing the league's willingness to allow Magic Johnson to play following his positive test for HIV in the early 1990s.
It is true the NBA did not prevent Johnson from participating. But it is patently false to claim it is preventing Irving from doing the same. The Brooklyn Nets decided on Irving's status. The City of New York mandates vaccination for people using public gyms, of which both Barclays Center — the home arena of the Brooklyn Nets — and the New York Knicks' home court, Madison Square Garden, are classified.
It is at best a flawed argument made by Taylor-Greene and others on the political right. At worst, it is a disingenuous attempt to advance a pet cause with deliberate deception. Perhaps more damaging is the continuation of ongoing misinformation about HIV, a disease that nearly 40 years after its discovery remains mostly misunderstood by the public.
Johnson's HIV status involved a virus not transmitted via the air, making the risk of contagion far different from how the coronavirus moves from person to person. It's not so much a comparison of apples to oranges as comparing apples to desk lamps.
Irving claimed "nobody's going to hijack my voice" even as that is exactly what is happening.
What Kyrie Irving has said versus how it can be perceived
Kyrie Irving insists his choice is in his best interests.
"You think I really want to lose money?" Irving said on Instagram Live. "You think I really want to give up on my dream to go after a championship? You think I really just want to give up my job?"
Few people likely believe Irving wanted any of those outcomes.
No, Irving didn't want to lose money. He wanted to receive his full salary while not taking the same steps as the other players in his locker room.
No, Irving didn't want to give up his dream of chasing a title. Instead, he wanted to do it part-time while his teammates were fully committed to the exact cause.
Finally, Irving didn't want to give up his job. Instead, he tried to retain his position with full pay and benefits while willfully making himself unavailable for more than half of his team's schedule. Because of the New York vaccination requirements, Irving isn't eligible for 43 of the Brooklyn Nets' 82 games.
Kyrie Irving is free to choose what he wants to do. But with freedom comes consequences. That's the part of the equation that escapes far too many people.
Like Sportscasting on Facebook. Follow us on Twitter @sportscasting19.
RELATED: Kyrie Irving Got Destroyed by Stephen A. Smith for Refusing to Get the COVID-19 Vaccine and Ruining the Nets: 'He's Just a Problem, His level of Stubbornness Has Elevated to a Glaring Level of Selfishness'