Kyrie Irving Could Be the Next Star to Follow James Harden out of Brooklyn
What was supposed to be a dream season has been anything but for the Brooklyn Nets. From Kyrie Irving's refusal to take the COVID-19 vaccine to James Harden's successful trade demand, the 31-28 Nets are just hoping for a healthy Kevin Durant and engaged Ben Simmons when the playoffs roll around.
Brooklyn was at least able to capitalize on Harden's tantrum. Hours before the deadline, the Nets sent the disgruntled star to the Philadelphia 76ers in exchange for a package headlined by Simmons, giving them a slightly-tweaked superstar trio.
Though as we've seen time and time again, it's hard to keep three stars satisfied at the same time. Just as Harden eventually wanted out, so too can any member of Brooklyn's talented trio. And this summer, Irving has an easy out if he wants to take it.
Kyrie Irving can make a $36.5 million gamble and test free agency at the end of the season
The Nets have a firm financial commitment with two of their three stars. Durant signed a four-year, $164 million deal with Brooklyn in 2019 and re-upped with a four-year, $194 million extension last summer, keeping him locked up through 2026. Meanwhile, Simmons is only in the second year of his five-year, $177 million extension he signed with Philadelphia in 2019.
Irving, on the other hand, has no such commitment.
The mercurial guard inked a four-year contract worth $136.5 million in 2019. Like Durant's initial deal, Kyrie's agreement included a player option going into the 2022-23 season. But while KD has tacked on several more years, Irving has done no such thing.
That means Irving, now in his 11th season, can either opt-in and earn a guaranteed $36.5 million next season, work out an extension, or leave as an unrestricted free agent.
It wouldn't be the first time Irving declined a player option and left town. The 29-year-old declined his $21.3 million player option with the Boston Celtics weeks before signing with Brooklyn.
There are a few reasons why Irving could leave the Nets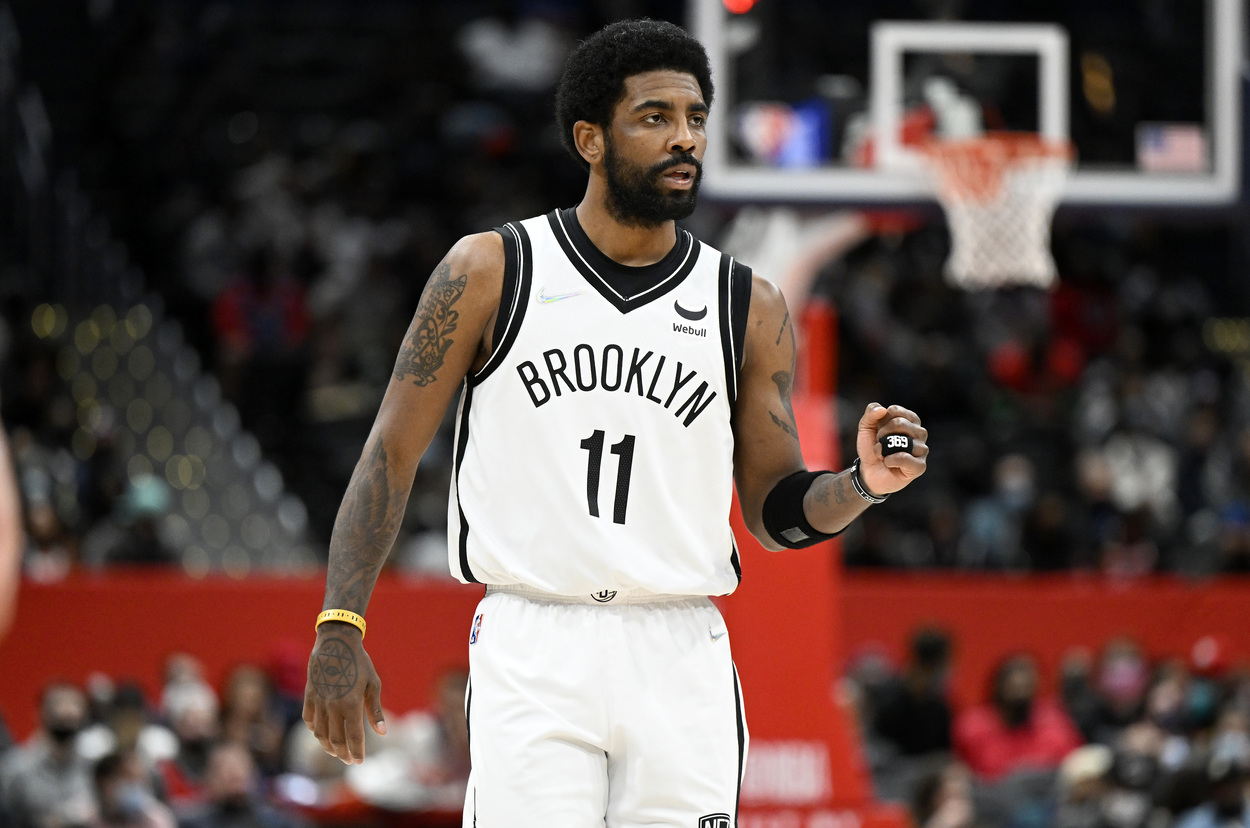 After missing Brooklyn's first 35 games over his refusal to take the vaccine, Irving returned to action on Jan. 5. He's played in just 14 games, all of them on the road. Soon, the seven-time All-Star will team up with Durant and Simmons and aim to lead the Nets to their first NBA title in franchise history.
Though there's always the possibility this year could be it for Irving's career in Brooklyn.
Why, might you ask? For starters, this whole Simmons experiment could blow up in everyone's faces. The 25-year-old's meltdown last postseason led to him asking for a trade and holding out until one occurred. What happens if Simmons struggles again this postseason? That might be a situation Irving doesn't want any part of for the next few years.
While it's the unlikeliest option, what happens if New York City's vaccine mandate isn't lifted anytime soon? That could potentially dissuade Irving from committing another year to Brooklyn, assuming he stands firm in his decision to remain unvaccinated.
On the flip side, the Nets could also feel Irving isn't a part of their long-term plans. Between his early-season hiatus in 2020-21 and vaccine issues this season, Brooklyn may rightfully view him as an unreliable player to build around. It's especially risky considering his max contract — assuming he declines his player option and re-ups with Brooklyn — would cost $245 million over five years.
If that's the case, the Nets could communicate that sentiment with Irving and allow him to cash in elsewhere for what could be his final significant payday.
What would Kyrie Irving command on the free agent market?
Kyrie's decision to decline his $21.3 player option ultimately paid off, as his deal with the Nets rewarded him $31.7 million in his first year alone. Though would he find the same success turning away $36.5 million as a controversial player in his 30s?
Irving has looked like himself through 14 games … for the most part. The 6-foot-2 point guard is averaging 24.1 points with 5.4 assists and 4.8 rebounds in 36.2 minutes a night. However, he's also shooting 45.2% from the field and 36.8% from three, his lowest marks since 2015-16.
One big difference between Irving this season and in years past is his ability to attack the rim. As ESPN's Zach Lowe recently pointed out, only 15% of Irving's shots have come at the basket according to Cleaning The Glass. While that's already low for a point guard, the Nets star has hovered around 30% for his career.
With Irving still getting his legs back after a long layoff, it's possible that number increases as the season progresses. Though it's nevertheless concerning, especially for someone who already causes a headache for his off-the-court actions.
If Irving and the Nets end up parting ways, there would be many teams scared off by his age and off-court concerns. Though given his talent, there'd likely be a few clubs willing to offer him a four-year max deal worth $182 million.
As long as Kyrie wants to play, he'll get paid. It's just a question of who will be handing out the check.
All statistics courtesy of Basketball Reference and contract figures courtesy of Spotrac.
RELATED: NBA Commissioner Adam Silver Doesn't Hold Back Addressing Kyrie Irving Drama