Kyrie Irving Doesn't Exhibit a Speck of Self-Awareness as He Expresses Hopes to Play in Brooklyn Nets Home Games
Wishes are great. As children, we grow up knowing what happens when one wishes upon a star. We learn it makes no difference who we are. And so on. But Brooklyn Nets part-time point guard Kyrie Irving is not a child. There is a specific reason he can't play with the Nets in certain venues, most notably the team's home arena.
It's baffling for Irving to speak to reporters after yet another Brooklyn loss and talk about his hopes for a change in his situation. Of course, that word sums up the season for the Nets, so maybe it's appropriate.
But the club is in dire straits partly because of Irving. To sound as if he can wish it away is disingenuous at best.
The rest of the schedule for the Brooklyn Nets should be a positive
With eight straight losses in the books, the Brooklyn Nets must attempt something never done in NBA history.
No team has won a title with a losing streak longer than six games on the ledger. The last team to do it was the Dallas Mavericks, who dropped six straight from Jan. 6-17, 2011, before upsetting the Miami Heat in the 2011 NBA Finals. The others to pull off the feat were the 1950–51 Rochester Royals, the 1978–79 Seattle SuperSonics, and the 2003–04 Detroit Pistons.
The Nets are 29–24, with 16 of their remaining 29 games at home. For most teams, that would be a stroke of good fortune. But Brooklyn is not most teams. Its record at Barclays Center is just 12–13, while they are 17–11 on the road.
Kyrie Irving isn't vaccinated for the coronavirus (COVID-19). That means he can't play at home. Initially, Brooklyn sent Irving home because they didn't want the distraction of a part-time player. They relented in late December, and he debuted on Jan. 5. In the 12 games the first overall pick in the 2011 NBA Draft has played, Brooklyn is 4–8. The Nets are 2–4 at home since activating Irving.
Because of New York City's vaccine mandate for public gyms, Irving is not eligible for any of the 16 remaining home games. The requirement knocks him out of Feb. 16 and April 6 road games against the New York Knicks, as well.
According to Jeff Zillgitt of USA Today, Canada instituted a vaccine mandate in mid-January. That means Brooklyn won't have its star point guard for their March 1 visit to face the Toronto Raptors.
Of the team's remaining 29 games, Irving is eligible for only 10 of them.
Kyrie Irving is 'keeping a positive attitude' about his situation
After the Denver Nuggets routed the Brooklyn Nets 124–104 on Feb. 6 to end Brooklyn's 0–5 Western road trip, Kyrie Irving took questions from the media about his status. According to Brian Lewis of the New York Post, Irving replied:
"I'm keeping a positive mindset that anything can happen in the next few days or the next week. Just crossing my fingers that something can come up before All-Star break or after. So I'm definitely keeping a positive attitude in that sense."
It's a shame there's nothing else Irving could do that would make him more available to the Nets.
After winning the city's mayoral election in November, Mayor Eric Adams said no changes to the mandate were imminent. His office recently reiterated that stance.
But that didn't stop Kyrie from having jokes. When told he might warrant an audience with Adams because of his celebrity status, the player said, "Oh, I like that you said that. I'll be talking to the city [on Feb. 7]."
He clarified he wasn't serious. But perhaps a disease responsible for millions of deaths worldwide isn't the best material to use for an impromptu set at the Comedy Cellar.
1 development could get Kyrie Irving back to the Brooklyn Nets full time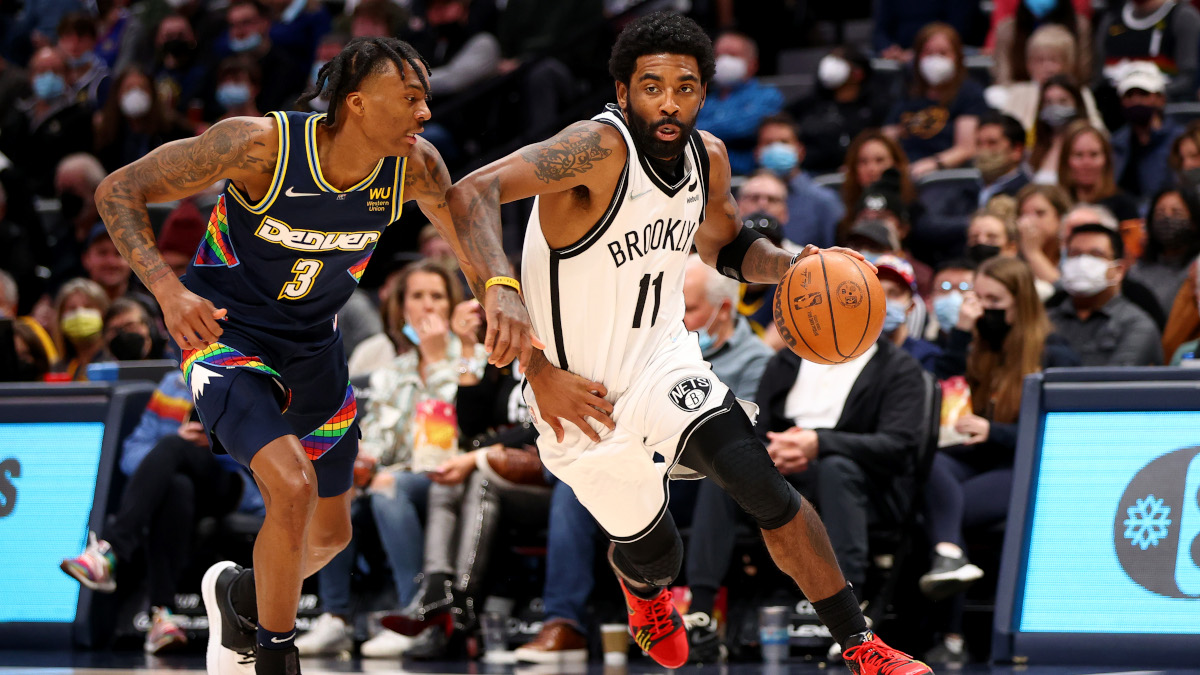 In January, Kyrie Irving doubled down on his vaccination position, making it unlikely he would relent and receive the shots required to comply with the city's mandate.
However, Brandon "Scoop B" Robinson of Bally Sports cited sources in December that the Nets point guard, who adopted an entirely plant-based diet several years ago, might consider a plant-based vaccine.
Medicago has such a vaccine still in the clinical-trial stage. The company hopes to get approval in Japan in March. But there's no information on when the alternate vaccine might get the green light for use in the U.S.
Irving's status essentially makes Brooklyn two teams in one. There's the road rotation and the homecourt roster. Neither group has played well lately; the Nets are 6–15 since the team welcomed the seven-time All-Star back into the fold.
Help could be on the way, but Kevin Durant's sprained knee has him sidelined, at least through the NBA All-Star Game on Feb. 20. The Nets return from the break with a home game against the Boston Celtics on Feb. 24.
Kyrie Irving is hardly alone in his reluctance to take the vaccine. But that stance taking down an NBA championship contender?
Unfortunately for the Brooklyn Nets, their point guard is unique in that regard.
Statistics courtesy of Basketball Reference.
According to the Centers for Disease Control and Prevention (CDC), "More than 520 million doses of COVID-19 vaccine had been given in the United States from December 14, 2020, through January 10, 2022. … COVID-19 vaccines are safe and effective."
RELATED: A James Harden Trade or a Deal Involving Kyrie Irving Could Finally Solve the Brooklyn Nets' Dysfunction