Kyrie Irving May Be Foolishly Hurting the Nets' Championship Chances
The Brooklyn Nets opened their first season as NBA championship favorites with the sort of drama that contenders want to avoid. Superstar point guard Kyrie Irving was at media day, but in spirit only. He took questions via Zoom. But he danced around the big question: Will his COVID-19 vaccination status affect his ability to help the Nets in the pursuit of their elusive first NBA title?
Local vaccination mandates in New York have Irving's status for the 2021–22 season in question. The NBA recently informed the New York Knicks, Brooklyn Nets, and Golden State Warriors that requirements prohibit unvaccinated players from those teams from playing or practicing in their home facilities. The NBA already denied Golden State's Andrew Wiggins a request for a religious exemption from taking the injections. According to multiple reports, Irving is also among the vaccine-resistant players in the league.
Neither the Brooklyn Nets nor Kyrie Irving is talking in specifics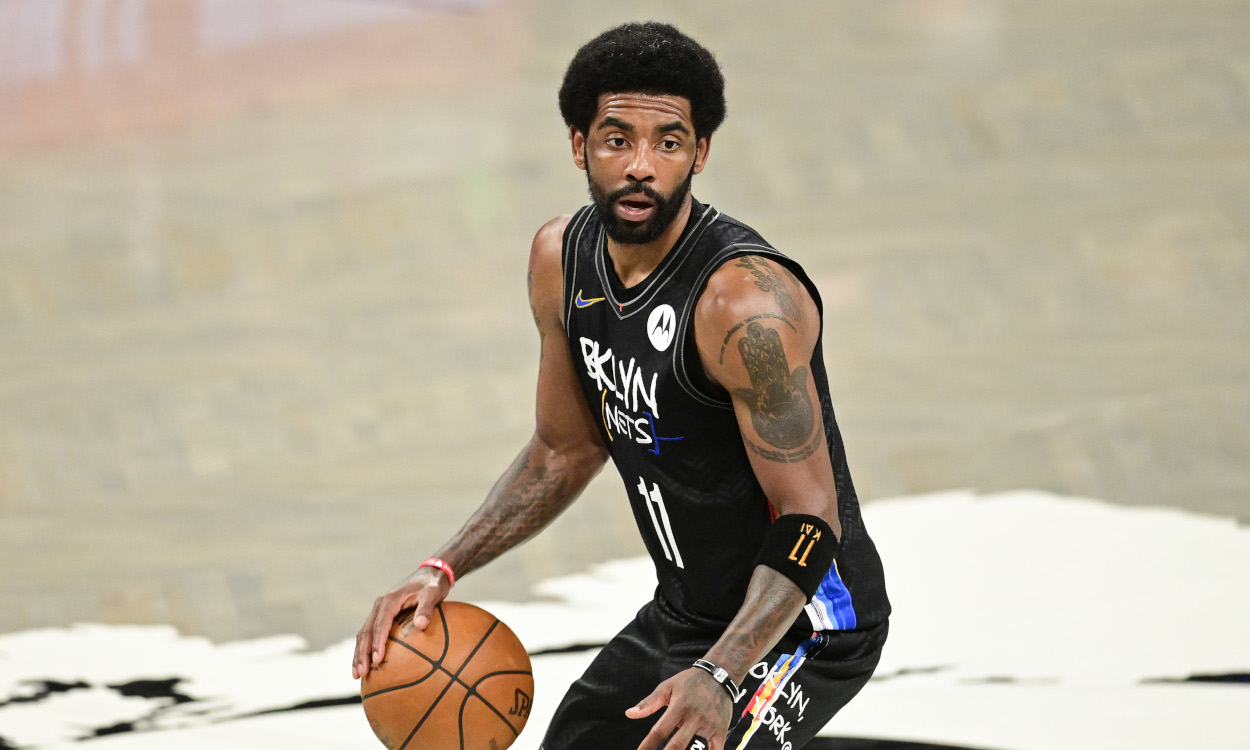 According to Yaron Weitzman of Fox Sports, Brooklyn Nets general manager Sean Marks confirmed last week that his team has people who don't meet the vaccination requirement. But he didn't identify the player or players affected.
"Regarding if they could play today, I can't comment on who could play and so forth," Marks said. "There would obviously be a couple people missing from that picture. I won't get into who it is, but we feel confident in the following several days before camp everybody would be allowed to participate and so forth."
Camp opens on Sept. 28 for the Nets, and the team went through media day on Sept. 27. Irving wasn't there. He did appear on Zoom but was evasive about his status.
The Nets open their preseason schedule on Oct. 3 when they visit the Los Angeles Lakers in a preview of the projected NBA Finals matchup favored by oddsmakers. Irving, assuming he is, as reported by multiple sources, still unvaccinated, could play in LA but couldn't go through workouts at camp leading up to the game.
Kyrie Irving downplays being a distraction while being a distraction
Speaking remotely to reporters during media day, Kyrie Irving asked for privacy and didn't answer questions about his availability.
Other players were asked about Irving's situation and did their best to navigate the minefield of questions. Kevin Durant was the most direct in his response, per the New York Post: "I expect it not to be an issue."
Irving streamed his press conference on his Instagram feed and added comments at its conclusion:
"You gotta make sure you respect the privacy. I don't want to create any more drama; that's not what I'm here for. I'm going to continue to inspire and lead in the right way. Don't say I never did anything for y'all. I hope y'all enjoyed that."

Kyrie Irving
In short, the player creating the drama by neither confirming nor denying whether he would be able to play in half his team's games insists he doesn't want to be dramatic.
In other words, it's just another day in New York City.
The Brooklyn Nets are the losers in Irving's performance art yet again
Vaccination for the coronavirus (COVID-19) is a controversy all on its own. The topic has become politicized, with many on the right of that spectrum digging in against mandated inoculations.
However, the Centers for Disease Control and Prevention (CDC) also reports resistance to the vaccine is strong in the Black community, according to Matt Sullivan for an article published by Rolling Stone. Public figures such as Kyrie Irving are taking criticism for hurting fellow Black Americans by openly resisting the vaccine.
But there is some selective science going on with Irving's reluctance, as well.
We're talking about a player who has had multiple surgical procedures throughout his career, including repairing injuries to his foot, hand, knee, and shoulder. But an injection to help prevent a deadly disease is a bridge too far?
Ultimately, he is correct. Vaccination is a personal decision. But Irving isn't the only one bearing the consequences of that choice. The Brooklyn Nets as an organization must deal with the repercussions. Players are answering questions about their teammate's status. The coaching staff must essentially prepare two strategic plans — one for when their star floor leader can play and one for when he can't.
Irving created drama last season when he left the team for several days to deal with personal issues in the wake of the Jan. 6 attack on the U.S. Capitol. He seemed to have the support of his teammates then.
But on a veteran-laden roster packed with players who may have just one more shot at winning a ring, how much becomes too much to ask of them? Kyrie Irving seems determined to put that locker-room loyalty to the ultimate test.
Like Sportscasting on Facebook. Follow us on Twitter @sportscasting19.
RELATED: Stephen A. Smith Boldly Asserts That Brooklyn Nets Superstar Kevin Durant Shut Down a Potential Ben Simmons Trade