Kyrie Irving Highlights: Top 3 March Madness Performances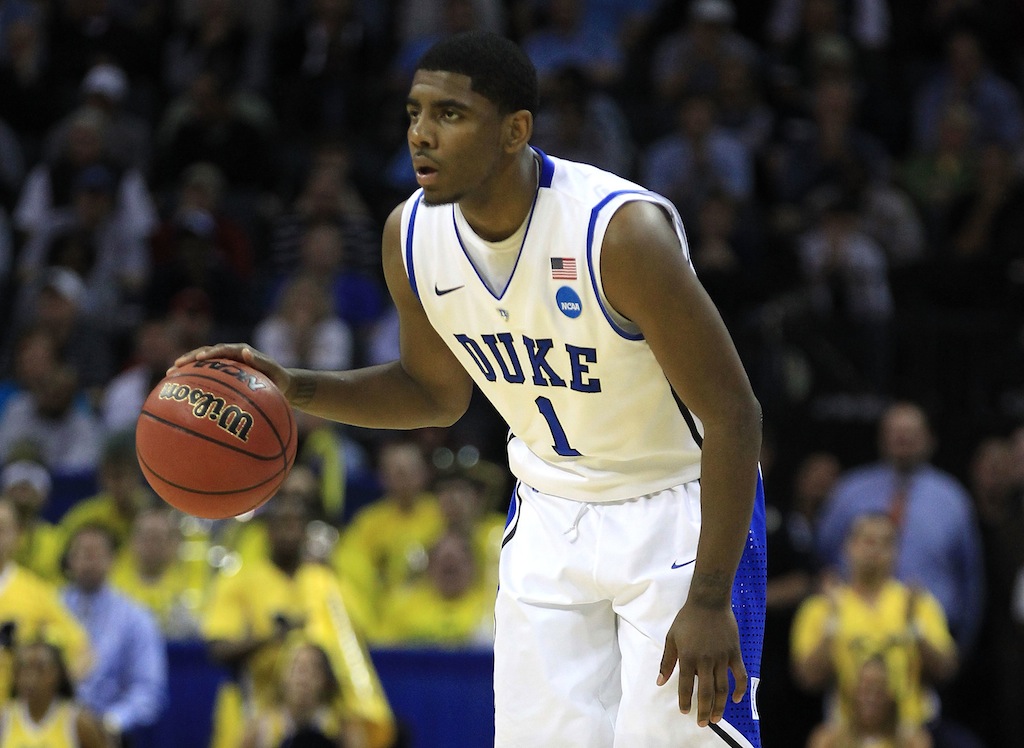 For some NCAA tournament teams, making it to the round of 16 is a major accomplishment. After all, it takes a lot to make it out of that first weekend. However, for the bulk of these clubs and their standout players leading the way, the expectations are much greater. This is just a pit stop on the road to greater glory.
Of course, some had more success in the 2016 tournament than others. In honor of Duke's Sweet 16 showdown against Oregon, we've decided to turn our attention to Kyrie Irving and take a look at the three performances in the 2011 NCAA tournament that helped turn him into even more of a star.
3. West Regional Second Round: Irving vs. Hampton
After missing 26 straight games because of a toe injury, Kyrie Irving returned to the Duke Blue Devils lineup for the 2011 NCAA tournament. For a team that had been 8-0 when its freshman standout took the floor, this was a major boost. However, for the West Region's No. 16 seed, the Hampton Pirates, Irving's return had the opposite effect. He was just one more weapon who the underdog could simply not stop.
Irving only played 20 minutes in this second-round matchup, yet he contributed mightily to Duke's 87-45 victory. Uncle Drew went four for eight from the field, including a perfect two for two from three-point range; knocked down all four of his free throw attempts; and finished the game with a team-high 14 points to go along with four rebounds, one assist, two steals, and one block. It was an impressive return to form. But as you'll soon see, the best was yet to come.
2. West Regional Third Round: Irving vs. Michigan
When you're facing a team of Michigan's pedigree, even if it's a No. 10 seed, there's little room for error. Trust us, the Wolverines had every intention of sending the West's No. 1 seed packing. Yet, while Duke's leading scorer of the night was Nolan Smith (24 points), it was Irving who showed the kind of resolve one needs in order to be successful on the grandest of stages.
Despite an underwhelming shooting performance that limited him to just 11 points, Irving found a way to contribute when the Blue Devils needed him most. Simply put, when the game is going to be won or lost at the free throw line, the future No. 1 overall pick is someone you want with the ball in his hands. Irving knocked down nine of 10 shots from the charity stripe and the Blue Devils escaped with a hard-fought 73-71 victory.
1. West Regional Semifinal: Irving vs. Arizona
Duke's season would come to a disappointing end against the fifth-seeded Arizona Wildcats in the round of 16. On top of that, this would be the last game Irving ever played in a Blue Devils uniform. While this was hardly the way the young star wanted to go out, at least he saved his best for last. In a contest when the majority of the Blue Devils players struggled, Irving was simply masterful.
He went nine for 15 from the field, connected on two of four from beyond the three-point arc, and knocked down eight of his nine free-throw attempts. Irving finished with 28 points, three assists, and one steal. With Duke's 93-77 defeat, Uncle Drew's time in Durham was officially over. Oh, what might have been had he remained healthy all season.
Statistics courtesy of SR/College Basketball.