Kyrie Irving Is So Loyal to the Brooklyn Nets He'd Rather Retire Than Be Traded Off the Team
No NBA player confounds more than Kyrie Irving. He might be the most skilled NBA player we've ever seen, capable of astounding moves in addition to being an incredible scorer. He also uses his platform to help the less fortunate and promote overlooked topics.
But Irving's unique view of the world leads to him openly discussing dangerous conspiracy theories and exhibiting strange behavior. This has led to some wondering if the Nets would be wise to trade him for another star. Is offloading Irving the right decision? Or do the Brooklyn Nets need him to win the championship they crave? 
Kyrie Irving is an NBA genius and a maddening personality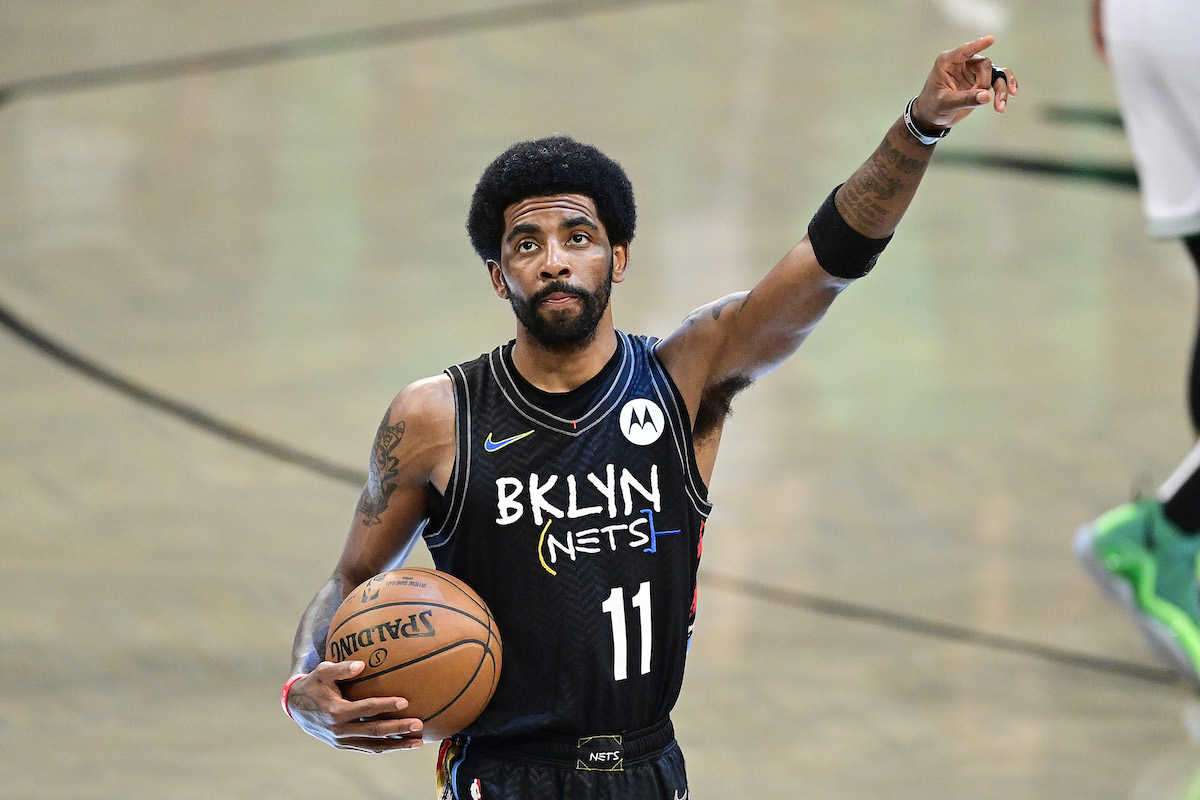 You can deeply admire Irving's presence in the NBA or shake your head furiously at his conduct. But there is no doubt that his array of ballhandling moves and finishes at the rim remains extraordinary. Irving is a proven playoff performer and nearly a 40% three-point shooter for his career.
But you can never talk about Irving and just talk about basketball. His ability to do anything at a moment's notice is more worrying than exciting when he does it off the court. It all started with him declaring his belief in the Flat Earth theory. Now, beliefs in problematic theories are more popular than ever. But Irving's other antics intersect with his basketball career.
At the beginning of last season, he described the media as his "pawns." Irving decided he would pay the fines and skip all press conferences. This drew tons of derision from the media, including Charles Barkley. (Irving eventually apologized for his stance.) The Nets star later went AWOL from the team citing mental health concerns. Then he got caught throwing a birthday party for his sister. 
Is all of the criticism warranted? Not necessarily. Yes, most of his actions surrounding his departure from the Boston Celtics were immature. But the reaction from former fans was laced with racism, something Irving had the foresight to point out during their reunion in the first round of last year's playoffs. 
The 29-year-old has done a lot of purely noble things with his platform and resources. Last year, Irving paid the tuition of nine students at Lincoln University. He bought a house for the family of George Floyd and donated $1.5 million to WNBA players who opted out of playing in the bubble.
Irving made it a point to publicize his familial roots with the Standing Rock Sioux Tribe, showing a side of Native life rarely presented in the media. There's something to be said for Irving's willingness to be vulnerable about his feelings and better himself.
Then you read a Fox Sports report claiming that the point guard is not vaccinated for the coronavirus — meaning he might be forced to sit out all Nets home games until he gets the jab — and you remember why being in Irving's corner can be infuriating.   
Would the Brooklyn Nets be better off trading him?
An unexpected consequences of the prolonged Ben Simmons saga: Prominent NBA voices are speculating about swapping Irving for the wantaway Sixer. And the trade makes sense on paper.
With Kevin Durant and James Harden, the Nets don't need to rely on Irving as a high-volume offensive creator. This is a rare situations where Simmons' lack of a jumper wouldn't overrule his passing and defense. Irving has also been increasingly damage-prone. Injuries have ended his season in three of the last four years.
For Philly, Irving would be the perfect remedy all of their postseason struggles. He would give them the halfcourt threat to provide Joel Embiid the spacing he needs to thrive. But according to Stephen A. Smith, the trade has no chance of happening thanks to a simple fact: Durant and Irving are too close to sanction a deal. 
The duo arrived in Brooklyn as a package deal. They've basically run the organization since they signed. Nothing happens without their tacit approval. Trading Irving would be asking for more trouble than it is likely worth for the Nets. 
So far, Irving's only public response to the rumors has been a cryptic Instagram post about handling outside noise. But there was also this tweet from Fox Sports' Nick Wright:
Given the power of the Nets' stars, a threat of Irving blowing up this trade is probably enough to keep his place. 
The Nets are stacked, whether Irving is there or not
Regardless of Irving's status, the Nets go into next season as the favorite for the title. They were a smaller shoe size away from beating the future champions with Irving out and Harden limping around on a bad hamstring.
Concerns about lack of chemistry or team defense turned out to be less impactful than having three unguardable scorers on the floor. Their biggest problem was that injuries kept their Big Three from playing together more often. They only had eight regular season games as a trio before the postseason. You wouldn't bet on that happening again. 
Brooklyn had plenty of offensive talent going into the offseason. But the rich got richer by adding Patty Mills and rookie Cameron Thomas to offer extra scoring punch from the bench. They also bolstered their interior with Paul Millsap, James Johnson, and LaMarcus Aldridge. (Aldridge is now cleared to play after being forced to retire due to a heart issue.)
Durant and Harden are high-level offensive hubs on their own. Having both of them, and role players who fit around their skillsets, is absurd. Even if Irving can't be counted on throughout the season, the Nets still have the quality to be the last team standing in June. 
RELATED: The Brooklyn Nets Sound Optimistic About Their Championship Future After Some 'Very Positive Conversations' With Kyrie Irving and James Harden