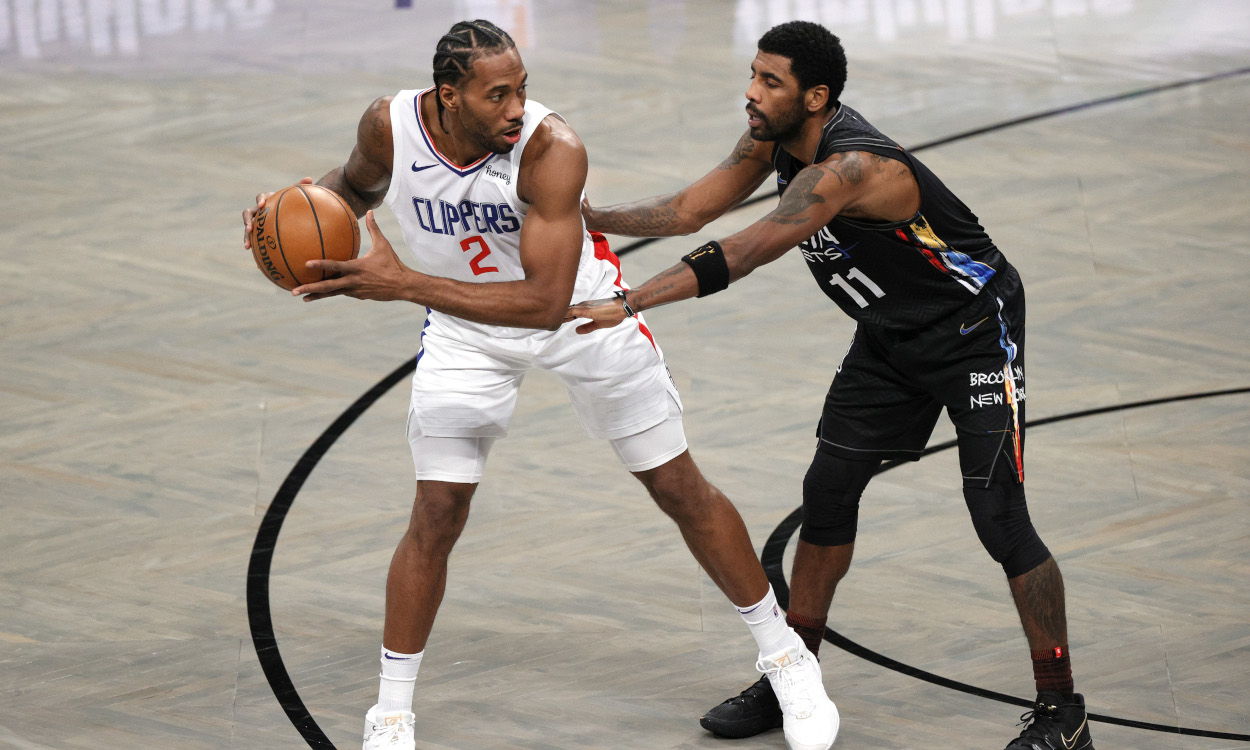 Kyrie Irving Can Maximize His Dollars by Following the Kawhi Leonard Blueprint
Kyrie Irving could have a path to the biggest payday available to him if he followed Kawhi Leonard's example. Leonard opted out of $36 million this season before signing a max extension for $173 million that includes more than $3 million more for 2021-22.
Kevin Durant already secured his next bag, signing a four-year, $198 million extension this offseason. That gives him the most money he could get before running into the NBA's age-38 rules for contracts. All-Star teammate Kyrie Irving is also extension-eligible, but his case could play out differently for the Nets. Irving might follow the blueprint drawn by Los Angeles Clippers star Kawhi Leonard.
Irving has two years left on the deal he signed in 2019 to come to Brooklyn, including a player option for 2022–23 valued at $36.5 million. An extension this summer made sense for Durant, who was backing into the age-38 corner soon. But Irving is playing under a different set of rules.
Kawhi Leonard's decision fits Kyrie Irving's timeline better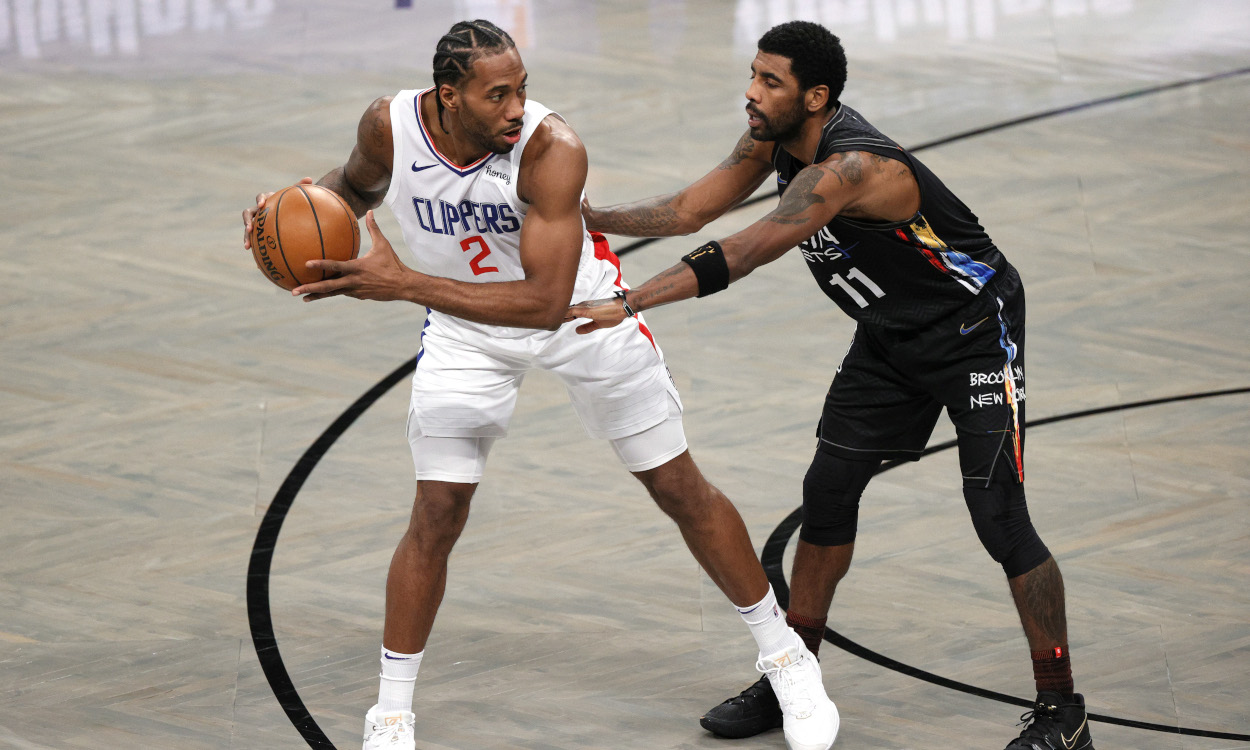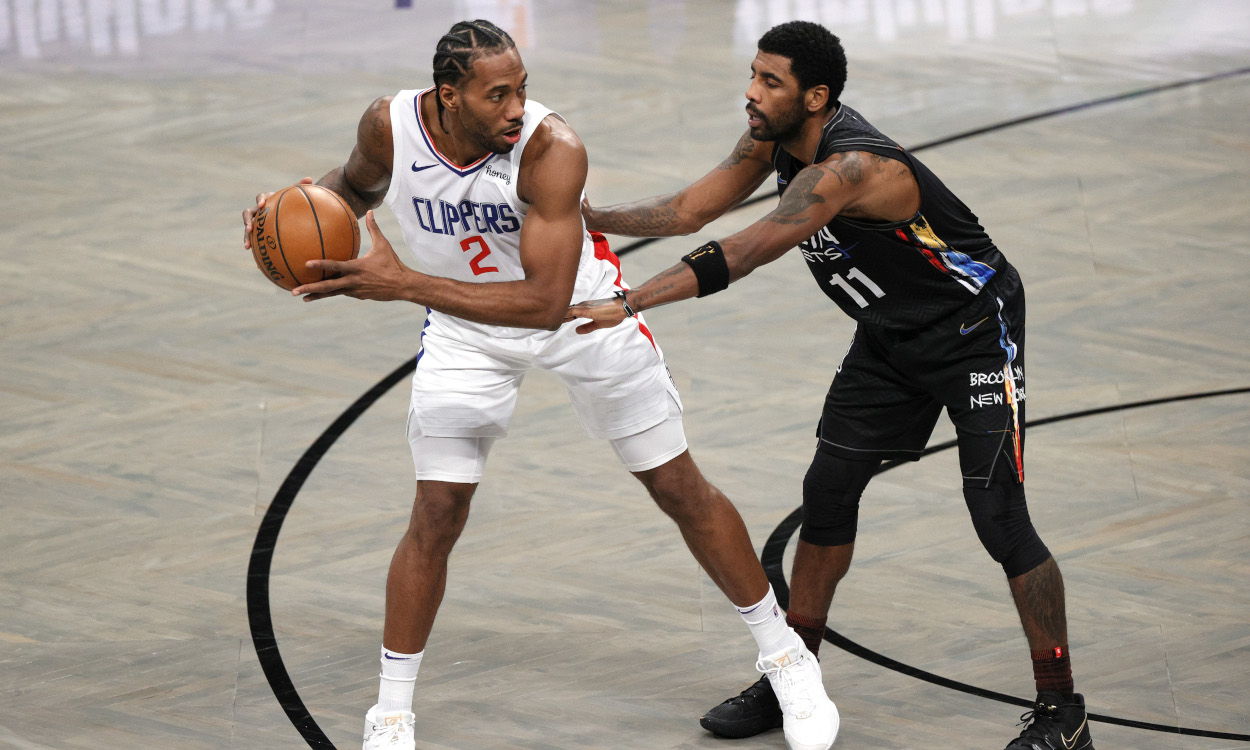 This offseason, Kawhi Leonard declined his $36 million option for next season. Then he re-signed with the Clippers for a bigger deal at four years and $176.3 million. Declining the option worked for Kawhi because he had reached the 10-year mark in his career. That made him eligible for the maximum take of 35% of the salary cap.
So instead of $36 million this season and a max next summer, Leonard got a nice raise to $39.3 million for 2021–22, with $42.5 million coming in 2022–23 and $45.6 million the following season. Then he has a player option for $48.8 million in 2024–25.
Declining the option gave Leonard another year at the top of the pay scale. While Kyrie Irving's timeline doesn't fit him to get top dollar this season, he can significantly raise the ante for 2022–23.
Irving can't quite do as well as Kawhi Leonard
Because Kawhi Leonard signed a three-year contract with the Clippers in 2019, he could immediately cash in on his 10-year status. Kyrie Irving's four-year commitment to the Nets didn't afford him the same opportunity.
But as Brian Windhorst of ESPN explained on The Jump recently, Irving can put himself in line for a bigger payday down the line. However, the 2011 first-overall pick can't quite get to the top of the scale, according to Windhorst:
"He has a whole bunch of incentives built into it. And so, he actually can't get a full max; he can get pretty close. But he's got a decision to make.

"If you're looking at just raw, on paper, he could wait out this year and then sign a whole brand new contract the next summer and guarantee himself a lot more money, similar to what Kawhi Leonard just did with the Clippers. That would make sense in straight ledger terms."

Brian Windhorst
But as is almost always the case with Irving, there are conditions.
Kyrie Irving might not be a basketball lifer
If the rumors are true, one thing is clear: Kyrie Irving doesn't want to leave Brooklyn. Nick Wright of Fox Sports tweeted recently that Irving's agents have said their client will retire rather than leave the Nets in a trade.
But as Windhorst also pointed out, the enigmatic Irving might not want to stick around the NBA that long, either.
"I don't know if Kyrie is thinking about locking himself in at age 34, 35, or 36," Windhorst said. "He's been very clear that basketball isn't always his top priority. So I don't know how that's playing into this. But if you're the Nets, you want to lock him down because (A), it's less than the full max because of the contract structure. And (B), you don't want to worry about him heading toward possible free agency."
Nets general manager has had two years to learn the tightrope of managing a team subject to Irving's whims. While Marks has said he wants to get the Irving situation settled (as well as an extension for James Harden), all Brooklyn can do is wait until Kyrie Irving decides to do next.
Contract information courtesy of Spotrac.