Kyrie Irving's Recent Overtures to Kevin Durant Give the Nets' Championship Hopes an Unexpected Boost
As Kevin Durant and the Brooklyn Nets sit atop the Eastern Conference standings, Kyrie Irving remains absent. But that could change shortly.
Past reports suggested that Irving felt satisfied and happy with his decision to sit out over his refusal to get the COVID-19 vaccine. However, it appears as though Durant is helping to scratch Uncle Drew's basketball itch, which could reenergize Brooklyn as the top NBA title contender.
The Nets have 'renewed optimism' about Kyrie Irving's eventual return because of his recent correspondence with Kevin Durant
It remains to be seen whether Kyrie Irving will ultimately get the vaccine. Regardless, the Nets seem to believe he will play basketball for them at some point this season.
Shams Charania of The Athletic reported there is "renewed optimism" about a possibly Irving return. Much of this appears to stem from his correspondences with KD, which Charania said have increased as of late.
In recent weeks, Irving and Kevin Durant, his co-star and close friend, have had increased communication about his fit on the team, breaking down the games, and about life in general, sources added. There appears to be an increased level of enthusiasm between the two superstars.

–Shams Charania, The Athletic
Durant expressed in October a belief that the Nets had the talent to win it all, even without Kyrie. But although Brooklyn is winning despite a slow start from James Harden, KD is carrying a heavy load.
The former league MVP is averaging 36.5 minutes in just his second season back from an Achilles tear. He's also currently running the third-highest usage rate of his career.
Durant has brushed aside questions about his minutes. But Irving's return could alleviate a whole lot of pressure both on himself and Harden.
Irving eases scoring and playmaking burdens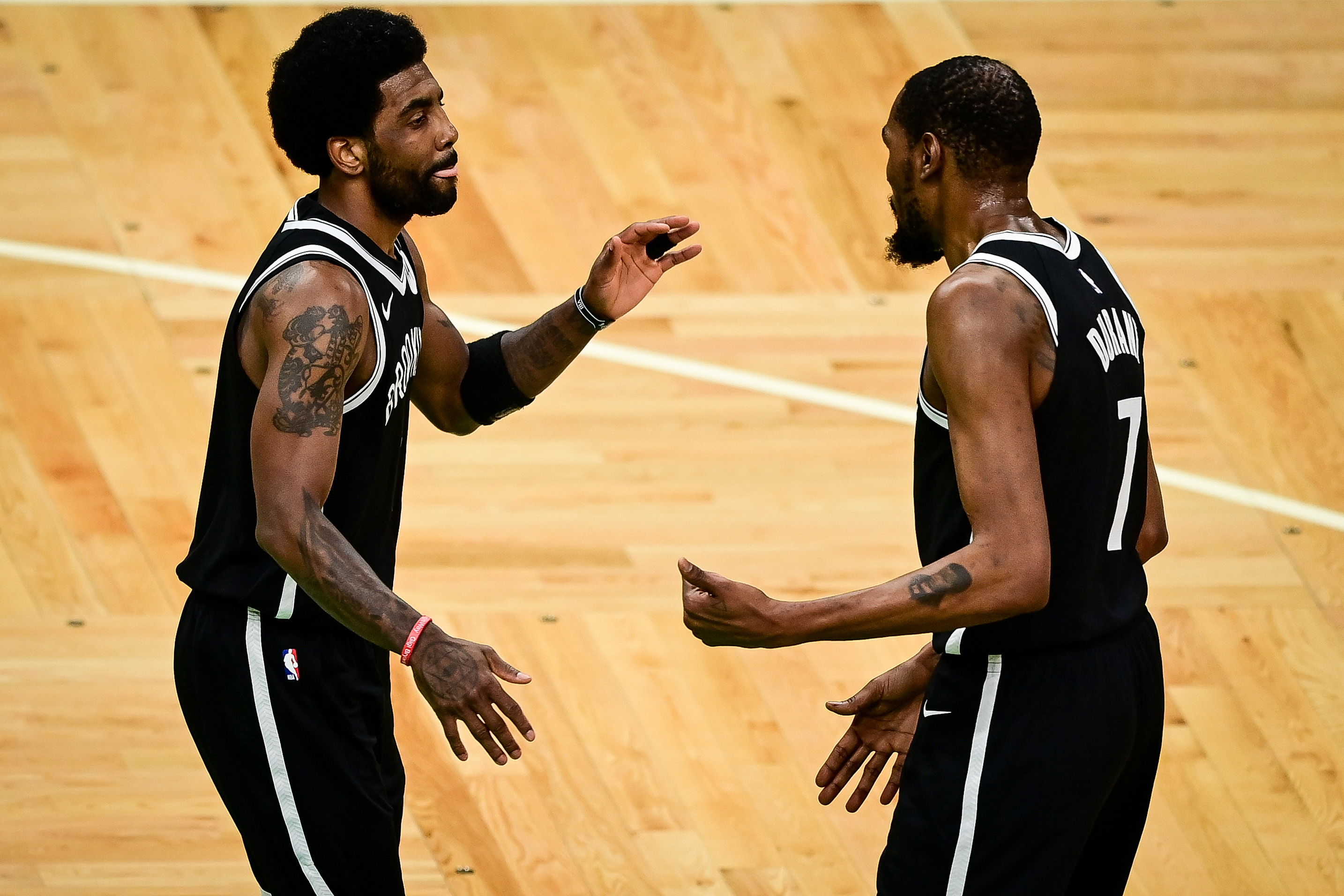 Kevin Durant isn't exactly struggling amid the minutes increase. His 51-point outburst Sunday brought his scoring average to an NBA-best 29.4 points, and he's the biggest reason for Brooklyn's strong start to the season.
Still, the Nets would likely prefer he not gas out before the playoffs. Irving's potential return looms especially large in the latter regard.
Kyrie is one of the elite shot creators in the entire NBA. He can attack matchups off the dribble and finish through contact at the rim or pull up for jumpers at pretty much any spot on the floor. Last season showed he could also be a threat moving off the ball, acting as a baseline cutter and curling off screens.
Instead of relying on Durant and Harden to show up on a nightly basis, the Nets would benefit from having another guy capable of taking over the offensive controls. Irving could also likely play a prominent role in freeing things up for KD and The Beard because he can space the floor and attract extra defenders off the bounce.
Another element to this situation is that Kyrie's possible return gives the Nets another body. That might seem simple, but it's not, especially given the impact COVID is having on the NBA right now.
Supplying the Nets with crucial depth
Player availability looks increasingly essential in the NBA because of the impact of COVID-19.
Numerous teams are dealing with depth issues. According to Adrian Wojnarowski of ESPN, the Chicago Bulls now have 10 players out after Alize Johnson entered into health and safety protocols on Monday. It's become apparent that the virus will once again play a role in the coming months.
How ironic, then, that a Kyrie Irving who remains skeptical of the vaccine could supply the Nets with depth and help Brooklyn navigate potential roster issues. The Athletic reported there is no telling whether Irving would get the shot, though the team expressing stronger feelings about his return suggests there could be some solution in play, or perhaps that recent talks with Durant are swaying Kyrie in some fashion.
Regardless, the Nets' belief that Irving will play at some point offers a jolt to Brooklyn's title hopes, especially because of what his presence can do for Durant and the rest of the team on the floor and in terms of roster construction.
Stats courtesy of Basketball Reference.