Kyrie Irving's Return: Breaking Down What the Guard's Presence Means for the Brooklyn Nets' Lineup
At one point, you may have thought his time with the team was over, but Kyrie Irving will soon make his return to the court for Brooklyn Nets. His presence will instantly make Brooklyn the most talented team in the NBA, but it will sadly be for just part of the time, as he can only play in road games that aren't in New York or Toronto due to his decision not to get the COVID-19 vaccine.
But as we head into this unprecedented situation, some may be wondering about the Nets' lineup and what it could look like with Irving back. So, we decided to break that down and also look at what (if anything) could change for Brooklyn's other two superstars, Kevin Durant and James Harden.
Kyrie Irving will only play in road games for the Brooklyn Nets this season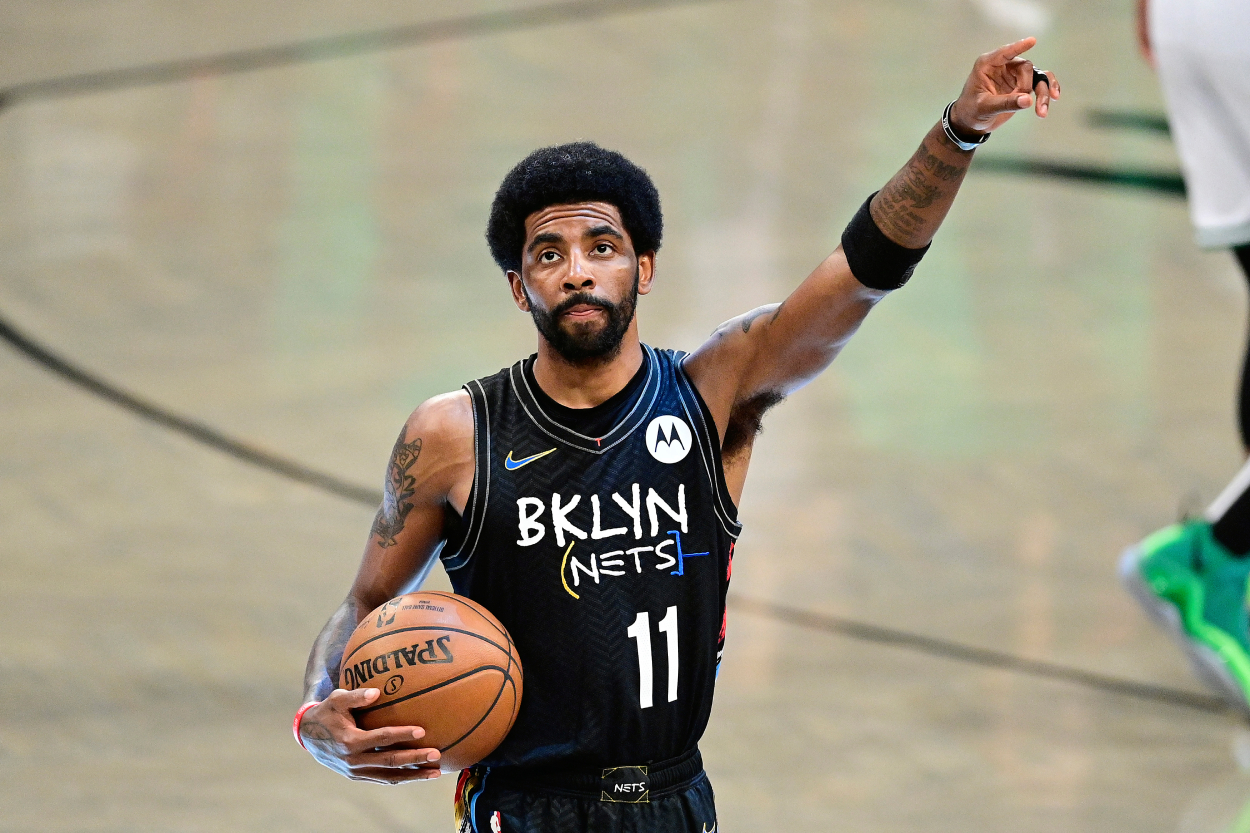 Due to New York City's vaccine mandate that keeps non-vaccinated residents from entering arenas, Kyrie Irving has not played for the Nets this season. He could have taken the court in road contests up to this point, but his team initially said he could not be a part-time player.
However, after seeing various stars struggle with injuries or go into health and safety protocols, Brooklyn changed its mind. It will now allow Irving to only play in road games with the team.
The seven-time All-Star will also be prohibited from playing against the New York Knicks in Madison Square Garden, given that the venue is still in New York City. He also can't play against the Raptors on the road, as no unvaccinated players can play in Toronto.
All in all, though, his return will certainly impact the lineup, as the team will have different players starting in road games than in home contests. So, here's a breakdown of what his presence means for the Nets.
Kyrie will likely split starting duties with Patty Mills
Patty Mills will likely be the one player impacted the most by Irving's return.
Mills began the season by coming off the bench for the Nets, but he has started at the other guard position alongside James Harden for the past 21 games. The 33-year-old has been great in that role, averaging 16.0 points on 45.5% shooting as a starter. But he likely won't get the nod over Irving, so he will probably start during home games and will come off the bench in the games Kyrie plays.
What about the other four positions?
Kevin Durant and James Harden will, obviously, continue starting, with Durant playing at power forward and Harden at the other guard position. And LaMarcus Aldridge will likely be the team's starting center, as he has started in each of the last 10 games he has been available, averaging 14.3 points and 6.1 rebounds.
When it comes to the three spot, though, Joe Harris will probably start there once he gets back from injury, but until then, it will most likely be DeAndre' Bembry. The latter has been in the starting lineup in 14 of his last 16 games.
Aside from all the previously-mentioned players, Nets fans will also likely see guys like Bruce Brown, Nic Claxton, Blake Griffin, James Johnson, and Cam Thomas get significant minutes off the bench.
What does Kyrie Irving's return mean for Kevin Durant and James Harden?
No, Irving won't kick his fellow Big Three members Durant and Harden out of the starting lineup. But their roles will still slightly change in the games he plays.
Neither will have to take on as large of a scoring responsibility with him on the court. Durant is averaging a career-high 20.9 shot attempts per game, but will likely take fewer when Irving plays. Uncle Drew's ability to get to the rim and shoot from long range helped him average 26.9 points last season, so he will probably produce something similar this year.
Irving will also take on some of Harden's ball-handling duties, which could, in turn, help cut back on The Beard's turnovers. Harden is averaging an NBA-leading 4.9 miscues per game.
KD and Harden will likely play fewer minutes with Irving in as well. Given that he can carry the offensive load at an elite level, they should be able to take more breaks, as Durant is averaging 36.9 minutes, his most since 2013-14, and Harden is playing in 36.5 per game.
All in all, Kyrie Irving's return will take pressure off Kevin Durant and James Harden. However, it may be difficult for everyone to find solid chemistry with him, especially since he and Patty Mills will be flip-flopping in and out of the starting lineup essentially every other game.
But maybe they will make it work; maybe they won't. At least we now have an idea of what the Nets' rotation should look like moving forward.
Stats courtesy of Basketball Reference