Kyrie Irving Won't Play for the Brooklyn Nets Again, but Sean Marks Is Playing the Long Game to Maximize His Trade Value
Without a minute played from Kyrie Irving, the Brooklyn Nets are where most prognosticators believed they would be. Brooklyn leads the Eastern Conference with a 15–6 record, the third-best mark in the NBA, and it's done so without its much-hyped Big Three. Kevin Durant has been as good as advertised, leading the NBA in scoring while shooting 53.9%. James Harden might be rounding into form after a long road back from last season's hamstring injury.
The Nets have faced other adversity. After surgery to remove a bone fragment from an injured ankle, Joe Harris is out for another month or two. Blake Griffin can't throw a rock in the ocean without bouncing it off the beach, shooting 31.8%, and losing his rotation spot. Nic Claxton hasn't played since Oct. 25 because of a non-COVID illness. And then there's the Irving situation.
Despite all that, Brooklyn leads the East.
The Brooklyn Nets simply aren't talking about Kyrie Irving
In mid-November, Brooklyn Nets coach Steve Nash answered a question about Kyrie Irving with a blunt statement, per a tweet from Sports New York.
"I stay in touch with Kyrie, but we don't really talk about basketball. We just stay in touch and make sure everything's good with him."

Steve Nash
A report from Ian Begley of SNY indicated that's the approach general manager Sean Marks is taking with Irving. Marks will listen if someone wants to call and discuss the All-NBA point guard. But Brooklyn isn't making calls looking to move Irving.
The team said if Irving's eligibility status was to change (i.e., he receives the COVID-19 vaccination required by the city of New York), he'd be welcomed back.
Begley indicated it might not be that simple:
"As you'd imagine, there is a measurable amount of frustration with Irving among people in the organization. So I don't think Irving's return would be as seamless and stress-free as it's been presented."
Another recent media report indicated Irving isn't moving off his preseason stance on vaccination.
Vaccination isn't on the horizon for Kyrie Irving
Shams Charania of The Athletic was on The Pat McAfee Show on Dec. 2. One of the topics discussed was Kyrie Irving and his status with the Brooklyn Nets. Charania was emphatic that Irving's resolve has not wavered:
"Kyrie Irving is nowhere closer to getting the vaccine, and he's not gonna play basketball unless he gets traded."

Shams Charania on The Pat McAfee Show
Irving is a big-ticket item, which makes trading him complicated. However, the approaching Dec. 15 lifting of the moratorium on trading recently signed players would open more potential options for Marks and the Brooklyn Nets.
In the third year of the four-year, $136.5 million contract he signed in July 2019, Irving has a $34.9 million cap number this season. Brooklyn is well past the luxury-tax line, so it is limited on how much salary it can take back in a trade.
There have been rumors of a potential Irving-for-Ben Simmons trade, wherein the Nets and Philadelphia 76ers exchange problems. However, Begley reported the 76ers had shown more interest in Harden. That's a natural, given Harden played eight years with the Houston Rockets under current Philadelphia president of basketball operations Daryl Morey.
But with the Nets playing well, Marks doesn't have to rush into anything.
The Brooklyn Nets have needs that an Irving trade could fix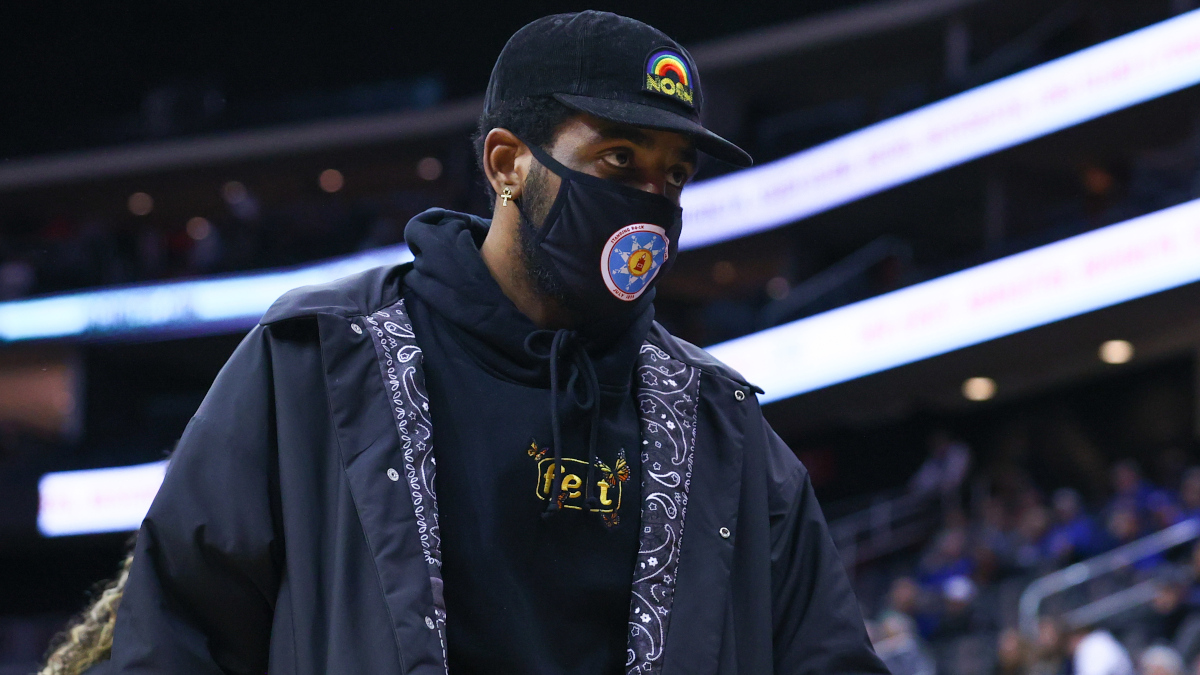 While the Brooklyn Nets lead the Eastern Conference, the team isn't without flaws.
Durant is on pace to play more minutes than he has since 2013–14. He logged 3,122 minutes in 81 games during his NBA MVP campaign. This season, he's on pace for 2,900 in 81 games (he missed Brooklyn's Nov. 19 game to rest a sore right shoulder).
Harden runs the offense and averages 9.3 assists while carrying a substantial load of 35.5 minutes per game. Durant dishes 5.6 dimes a night. After that, it's spotty. A secondary playmaker to allow Harden to play off the ball sometimes would be an excellent addition.
Brooklyn is doing a decent job protecting the rim despite not having a classic shot-blocker on the roster. LaMarcus Aldridge is averaging 1.2 blocks, and as a unit, the Nets rank 11th in the NBA with 5.4 a night.
Surprisingly, Brooklyn is eighth in the NBA in defensive efficiency, allowing 105.5 points per 100 possessions. It's the offense that is outside the top 10, ranked 11th at 109.5 points per 100. But the Nets could use some help on the glass. Given their 72.3% defensive rebound rate, opponents are getting extra possessions on more than a quarter of their missed shots.
Not ideal.
But if the team continues to win the games it should, Marks can afford to wait for the right deal for Kyrie Irving. The trade deadline isn't until 3 p.m. ET on Feb. 10. If another contender gets desperate, the Brooklyn Nets might bring back some of the draft capital they gave up in January to get Harden from Houston while also addressing current needs. If real estate deals hinge on location, basketball trades are all about time. Marks is biding his for now.
Statistics courtesy of Basketball Reference. Contract information courtesy of Spotrac.