Kyrie Irving's 50-Point Performance Proves He's the Brooklyn Nets' Best Hope for a Title
Most of the Brooklyn Nets' hubbub over the past month has concerned either Ben Simmons' possible debut or Kevin Durant's injury status. Kyrie Irving has flown under the radar (an odd statement) but just re-announced himself to the NBA world with a 50-piece on March 8.
It's no coincidence that Kyrie's performance — which also put him in the league's record books in terms of efficiency — came in a win.
Since Simmons arrived as part of the deal that sent James Harden to the Philadelphia 76ers, he's been the presumed x-factor in a possible Brooklyn playoff run.
But Irving just reminded everyone how his effortless scoring ability can change the Nets' identity — and their championship fortunes — entirely and singlehandedly.
Kyrie Irving just poured in 50 points in a Brooklyn Nets victory
In what KD called a "master class" performance, Kyrie Irving scored 50 points in a 132-121 Nets win over the Charlotte Hornets. And it was a historically simple 50.
Irving did it on just 19 field-goal attempts. He hit nine threes. He was 11-of-13 from the free-throw line.
Via StatMuse, his offensive brilliance set a record for the highest true-shooting percentage in a game of 50-plus points in NBA history.
"It was just an incredible, incredible performance," Durant said per ESPN. "Younger players, you should watch this game and learn what it takes to score at that level — at 5-10, 5-11, for him to score that easy, that was just a master class."
Kyrie's offensive barrage should prompt images of past games, seasons, and clutch threes that won LeBron James a championship.
The Brooklyn star's performance serves as an important reminder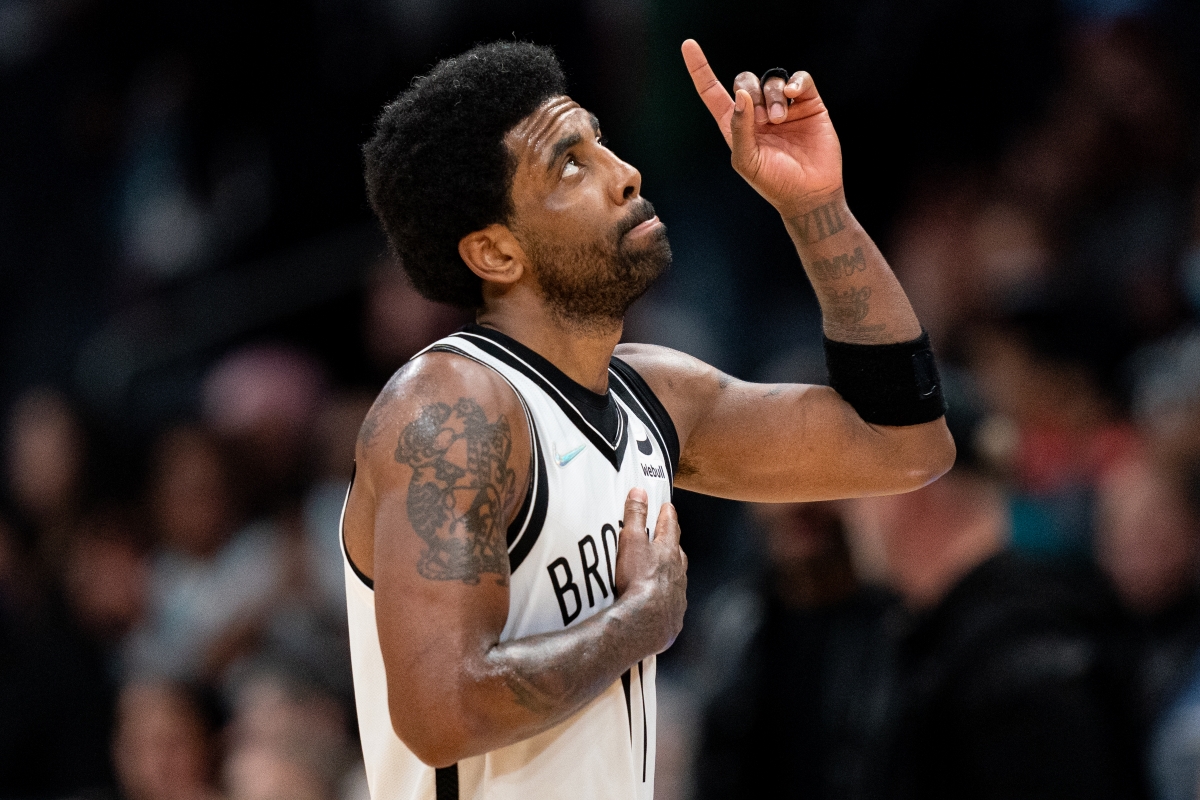 Before he became infamous for his off-court controversies, Irving was the smoothest isolation scorer in the NBA. His handles and shot creation were reminiscent of Allen Iverson — even more so than Ja Morant's are now.
Uncle Drew is a career 22.9 point-per-game scorer. As LeBron's partner in Cleveland in 2016-17, he averaged 25.2 points and 5.8 assists with shooting splits of 47/40/91.
During the Cavs' title run in '15-16, Kyrie averaged 25.2 points and 4.7 assists while shooting 47.5% from the floor and 44.0% from three, including the dagger that won his team (sorry, LeBron's team) Cleveland's first championship.
The 6-foot-2 guard's natural offensive gifts have gotten lost in the shuffle since he left the Boston Celtics. But his game against the Hornets serves as a key reminder — when he's at his best, Kyrie is one of the most purely-gifted scorers of the last few decades.
"Everything he does is pure," Durant said via ESPN. "It looked so easy tonight. I look up, he had 10 points and it felt like he only took two shots in the first quarter.
"I seen it in his eyes to start the game. He wanted to play better last game, so he came out tonight and wanted to impact the game from the start. He led us all night, hit big shots when we needed to."
Despite only playing in 17 games this year, the 29-year-old is scoring better than 26 points a game with his usual efficiency. It goes mostly unnoticed because he has only played 17 times, but Kyrie is still the same offensive force.
The same player who helped do the impossible and beat Durant, Stephen Curry, Klay Thompson, Draymond Green, and the unstoppable Golden State Warriors. The same player who can morph a struggling Brooklyn team into a legitimate championship contender.
Amid all the Simmons talk and focus on Durant's injury, the NBA world has lost track of Irving's on-court skills. Harden might be gone and Big Ben may be an offensive liability, but Kyrie is plenty capable of partnering with KD to bring the Nets a trophy come July.
Kyrie Irving is the type of player who can change a team's destiny
Things haven't gone according to plan for Irving or the Nets this year. But scoring 50 points in the blink of an eye, and on only 19 shots, is something Kyrie is capable of.
It's obviously not an easy thing to do, but he makes it look easy. And in a Game 7 of a playoff series, or trailing 3-2 in a series when Brooklyn needs a huge game, the seven-time All-Star can play as he did against the Hornets.
Simmons' defense, rebounding, and facilitation will undoubtedly be important if the Nets go on a surprise run. And it goes without saying everything runs through Durant.
But his latest performance should serve as a harsh reminder to the rest of the NBA — when Kyrie Irving is at his best, the Brooklyn Nets are dangerous.
All statistics courtesy of Basketball Reference.
RELATED: Ben Simmons Reportedly Devising an Elaborate Scheme to Recoup $20 Million From the 76ers