Kyrie Irving's Dazzling Return Just Provided a Glimpse at What the Peak Brooklyn Nets Could Look Like
He's still taking a hard stance on electing not to receive the coronavirus (COVID-19) vaccine, but the Brooklyn Nets finally relented and are allowing Kyrie Irving to play in road games for the remainder of the year.
The superstar point guard made his season debut in a win against the Indiana Pacers, and even after a nearly six-month hiatus, Kyrie looked, well, like Kyrie.
Irving played a significant role in the Nets' victory and allowed everyone to hop into Doc Brown's Delorian and see what Brooklyn could look like in peak form.
Kyrie Irving helped lead the Brooklyn Nets to a win in his season debut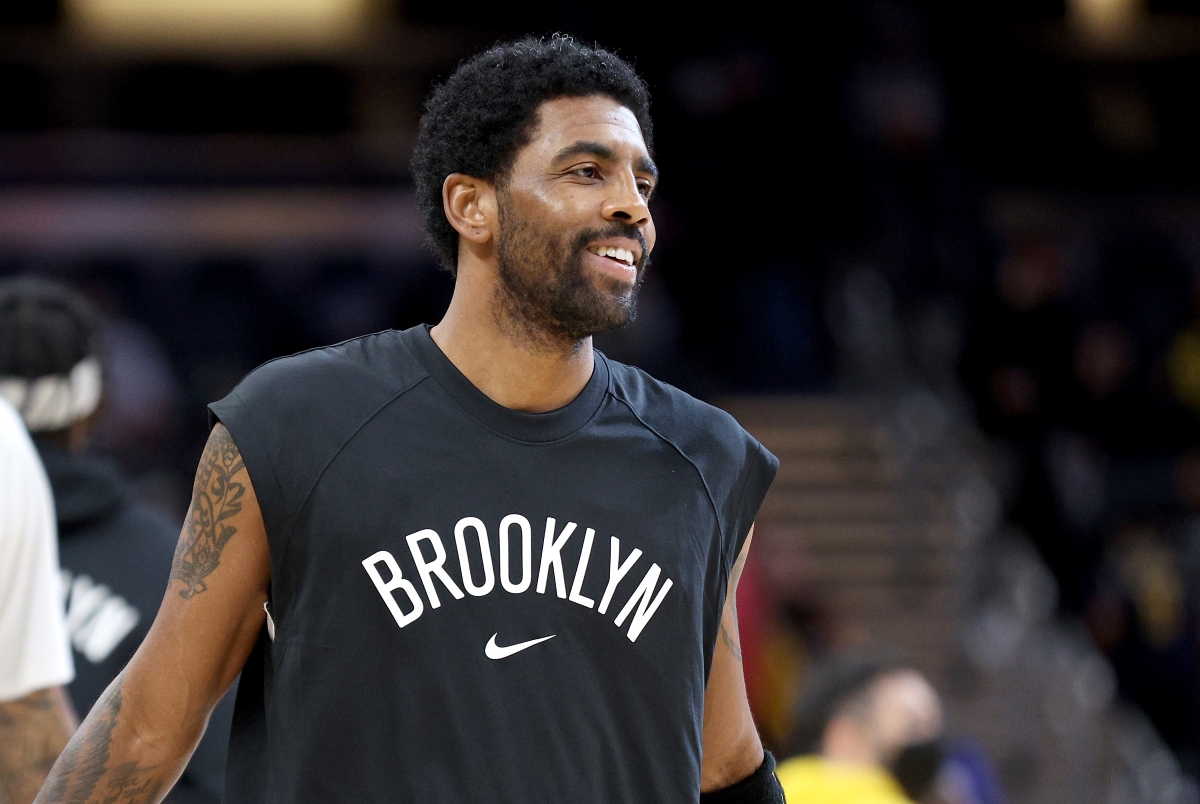 Despite trailing by 19 at one point, Brooklyn scored 35 points and held the struggling Pacers to just 20 in the fourth quarter to pull away for a 129-121 win.
The Nets moved to 24-12 overall on the year and within 1.5 games of the Eastern Conference-leading Chicago Bulls.
It wasn't a great win — rallying for an eight-point victory over a team that's 14-25 and has been one of the most underwhelming teams in the league all season isn't something to pop champagne over.
But a win is a win, and Irving played a significant role in it.
The 29-year-old scored 22 points, dished out four assists, grabbed three rebounds, and added three steals in 32 minutes in his first game of 2021-22.
Along with Kevin Durant's typically outstanding performance and a solid game from James Harden, Brooklyn's Big Three won the first and only game it's played together this year.
Perhaps it's a sign of things to come.
Kyrie's performance, along with those of KD and Harden, provided a glimpse of how scary good the Nets can be
Along with Kyrie's significant contribution, Durant dropped 39 points on 15-of-24 shooting. The MVP candidate added eight rebounds and seven assists.
Harden hasn't been himself this year — still, he finished with 18 points, five boards, and six assists and was 8-of-10 from the free-throw line.
With the numbers Irving and KD put up, a decent night from The Beard should be enough for Brooklyn to win plenty of games.
"Just a lot of gratitude just to be present tonight with everyone," Irving said via ESPN. "Just go out there and have fun doing what we love to do. It was a not-so-good first half for us, and we came in the locker room and we knew that in order to build this identity that we want to have later in the season we got to start now."
Added Durant: "It was amazing to have him out there. I just missed his presence around the locker room, his energy, his vibe around the team. And then his game is just so beautiful. It makes the game so much easier for everybody out there. It was amazing to see him out on the floor again."
The Kyrie-KD combo and a little bit from Harden gave us just a quick peek at what the championship-contending Nets can be at their best. Irving adds another dimension the team simply doesn't have without him.
Now the challenge is for the Duke product to contribute to more wins (on the road, at least) and help Brooklyn get back to being a legitimate championship contender.
Assuming the trio stays healthy, another run at a title is back on the table
The Nets were eliminated in the second round of the 2021 playoffs by the eventual NBA champion Milwaukee Bucks. But Harden went down in the first minute in Game 1 of that series, and Irving was hurt in Game 4.
Still, KD and a hobbled Harden took the Bucks to seven games and were a Durant-toe's length away from eliminating Milwaukee. It's not unreasonable to assume a healthy Brooklyn team would have won last year's title.
But with Irving back in the fold, at least part-time, it immediately vaults the Nets back into championship contention.
As Durant added in the ESPN story, "He made the game so much more difficult for the Pacers, giving us a different attack, especially in the fourth quarter. We'll just keep building on this."
The idea of Brooklyn building on Kyrie's dazzling debut should worry not only the rest of the Eastern Conference but any team in the league with title aspirations.
All statistics courtesy of NBA.com.