LaDainian Tomlinson Might Have Been a Better Passer Than Runner
LaDainian Tomlinson might be one of the best running backs that the NFL has ever seen, but that doesn't mean that running fast was his only skill. A uniquely gifted athlete, Tomlinson's skillset went far beyond the position he played on the field for 11 years.
While Tomlinson was a top-notch player at his position, he occasionally got to throw the ball. When he did, he was remarkably successful, too. 
LaDainian Tomlinson's career
Tomlinson wasted no time making his presence feel coming out of TCU. The running back's speed immediately caused fits for the opposing offense. He came into the league as the fifth overall pick of the NFL Draft.
Over the next several seasons, he became a staple of the Chargers' offense. His speed with the ball in his hands mixed with his ability to read the defense made him an immediate star. 
He came into the NFL as a starter and never looked back. After a respectable rookie campaign with 1,236 yards and 10 touchdowns, Tomlinson improved every year.
His yards went up with his touchdowns, and by 2004, he rushed for 1,335 yards and 17 touchdowns. This was good enough to get him onto the First-Team All-Pro, but it didn't stop him from improving. 
Two years after his first All-Pro season, Tomlinson shattered his previous career-bests with 1,815 yards and 28 touchdowns, both league-bests. He followed that up with a third All-Pro year.
His final four seasons saw some digression, and after the 2009 season, Tomlinson left the Chargers for the New York Jets, where he spent two years before calling it quits for good. 
With 13,684 yards and 145 touchdowns during his 11-year NFL career, Tomlinson was honored with induction into the Pro Football Hall of Fame in 2017.
A unique set of skills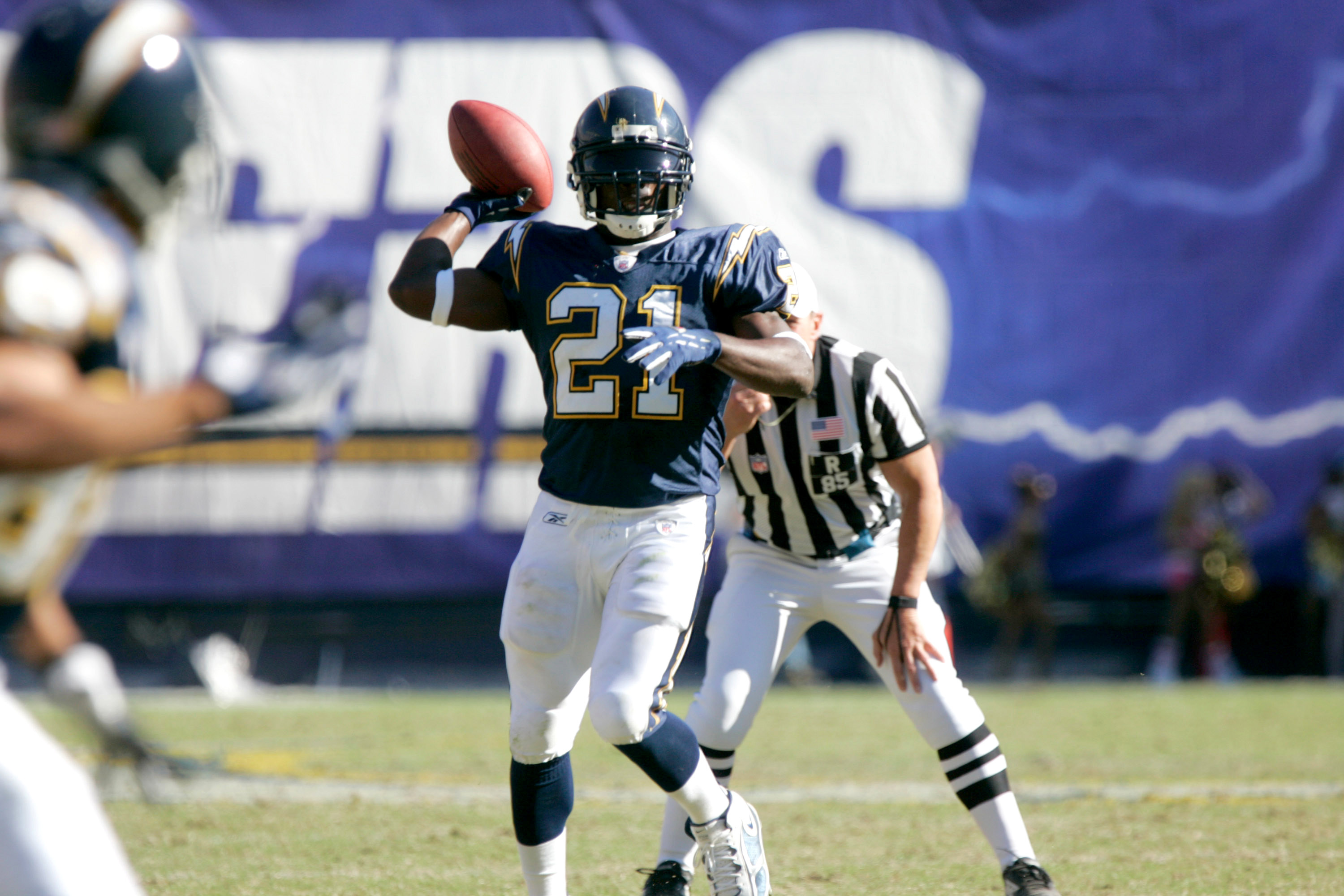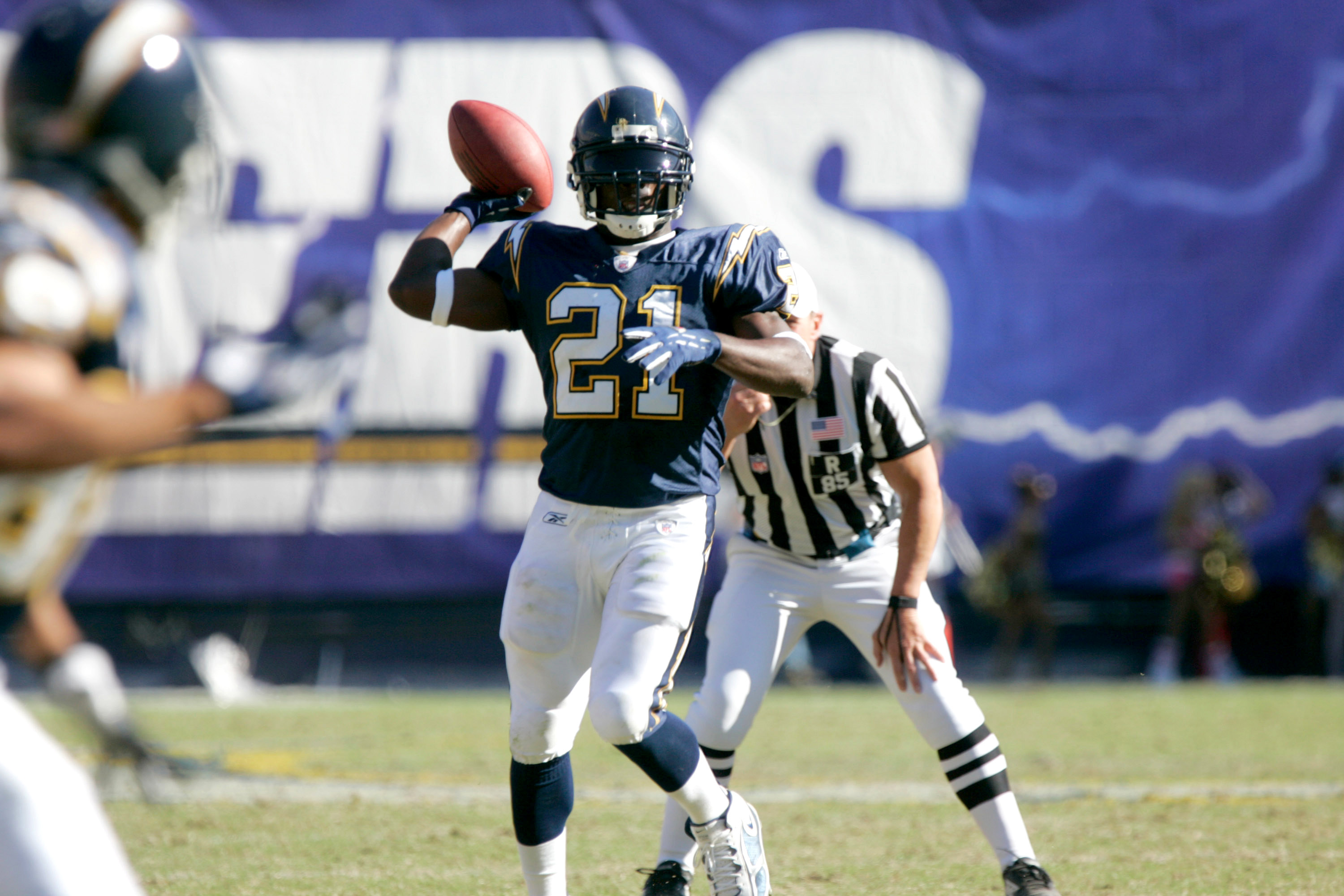 Drew Brees. Tom Brady. Brett Favre. LaDainian Tomlinson.
These are just a few of the best passers of all time. No, that last name wasn't a mistake. On top of his accolades for his foot speed, Tomlinson has one of the best completion rates in NFL history, according to For The Win. Of course, there's a catch to all of this. He didn't throw as often as the career quarterbacks. 
Still, with an arm like Tomlinson's, the fact that he could rattle off as many as three passing touchdowns in a year is impressive in its own right. He threw his first touchdown pass in 2003, his only pass of the season.
Over the next few years, Tomlinson's touchdown passes became an annual tradition. He threw one more in 2004, three in 2005, and two in 2006 before throwing the final touchdown pass of his career in 2007. 
Statistically speaking and taking out the standard minimums, Tomlinson had a quarterback's arm. He completed 66-percent of his passes and had a touchdown rate of 58-percent. Nobody is trying to rewrite history and paint Tomlinson as a quarterback in the making. Still, one also can't help but wonder what may have happened if he got the chance. 
Something different
Sports fans across the world love an unconventional player. Whether it is a baseball team's pitcher sending the ball out of the park or a running back throwing a touchdown pass, there's something magical about somebody breaking from the norm.
Without his passes, Tomlinson's overall legacy in the NFL may not have changed much. In a league that is still fascinated by passing running backs, Tomlinson was ahead of his time. 
Thinking back, however, his dedication to passing should be included in any highlight package. Tomlinson was unafraid to do whatever it took to win throughout his career, and inevitably things fall to the side. However, when push came to shove, the Chargers knew they had a reliable option when they wanted to keep defenses on their toes. 
All stats courtesy of Pro Football Reference