Lakers Bounce Back From Embarrassing Loss and Get a Quietly Necessary Rotation Piece Back
The Los Angeles Lakers improved to 8–6 on Nov. 14 with a victory over the San Antonio Spurs. It was a nice bounce back from one of the most embarrassing defeats in franchise history in their previous outing. The Lakers were outscored 40–12 in the third quarter and got blown out by the lowly Minnesota Timberwolves at home, 107–83. What changed in two days? Anthony Davis got the attention, and rightfully so, but Talen Horton-Tucker's return also provided a spark.
Davis played like a superstar against San Antonio. He finished with 34 points, 14 rebounds, and six assists, scoring 27 first-half points to get LA off on the right foot. With far less fanfare, but just as important, Horton-Tucker made his delayed season debut for the Lakers. Starting in place of Kent Bazemore, THT scored 17 points with four rebounds in 27 minutes.
Talen Horton-Tucker has the young legs the Lakers need
Talen Horton-Tucker tore ligaments in his right thumb during training camp and missed LA's first 13 games after having surgery. The 2019 second-round pick became a rotation player last season, averaging 9.0 points, 2.8 assists, 2.6 rebounds, and 1.0 steals in 20.1 minutes per game.
Lakers management made retaining THT an offseason priority, signing the restricted free agent to a three-year, $30.8 million deal that includes a $11 million player option for 2023–24. Keeping Horton-Tucker likely hastened Alex Caruso's exit from LA.
But THT won't be 21 until Nov. 25 and is a switchable defender at 6-foot-4 and 234 pounds who has the bulk to bang with bigs and the quickness to cover ground on the perimeter.
He's also the second-youngest player on the Lakers roster ahead of only two-way player Sekou Doumbouya, who signed on Oct. 12. Youth is a limited commodity on an LA club with 11 players older than 30 on the roster.
His return couldn't have come at a better time, either, as the Lakers already have a deep injury report. Superstar LeBron James remains out with an abdominal strain. Veteran forward Trevor Ariza had ankle surgery during the preseason and will be re-evaluated in early December.
But the young guys haven't been immune. Besides Horton-Tucker, Kendrick Nunn is out with a leg injury, and rookie Austin Reeves strained a hamstring in LA's Nov. 8 win over the Charlotte Hornets.
Depth remains a concern for the Lakers
Despite having a winning record at 8–6, the Lakers have squandered an opportunity for a fast start. Twelve of their first 15 were at home, with the last of those coming Nov. 15 against the improved Chicago Bulls. LA heads east for its next five games, a trip through Milwaukee, Boston, Detroit, New York, and Indiana, before coming home the day after Thanksgiving.
Besides the obvious jokes that came with the Lakers assembling such a veteran-laden roster, there were legitimate concerns about depth and injuries.
Those became reality before the season tipped when neither Talen Horton-Tucker nor Ariza could make it healthy to opening night.
The injuries led to Bazemore starting the first 13 games for the Lakers. Advertised as a 3-and-D wing, Bazemore wasn't much for the "3" part of the equation, hitting just 30.8% of his deep tries so far. He's not been much better inside the arc, where he's made 36.7% for an overall shooting percentage of 33.3%.
Carmelo Anthony has been better than advertised off the bench, putting up 16 points a game and shooting a sizzling 47.3% from long range. Anthony made his first start of the season in the win over San Antonio.
LA's depth concerns can best be summed up by Reaves. The undrafted free agent nicknamed "Hillbilly Kobe" averaged 21.3 minutes per game before injuring his hamstring. That was an unexpected development for such a veteran team.
Talen Horton-Tucker barely played as a rookie but has emerged since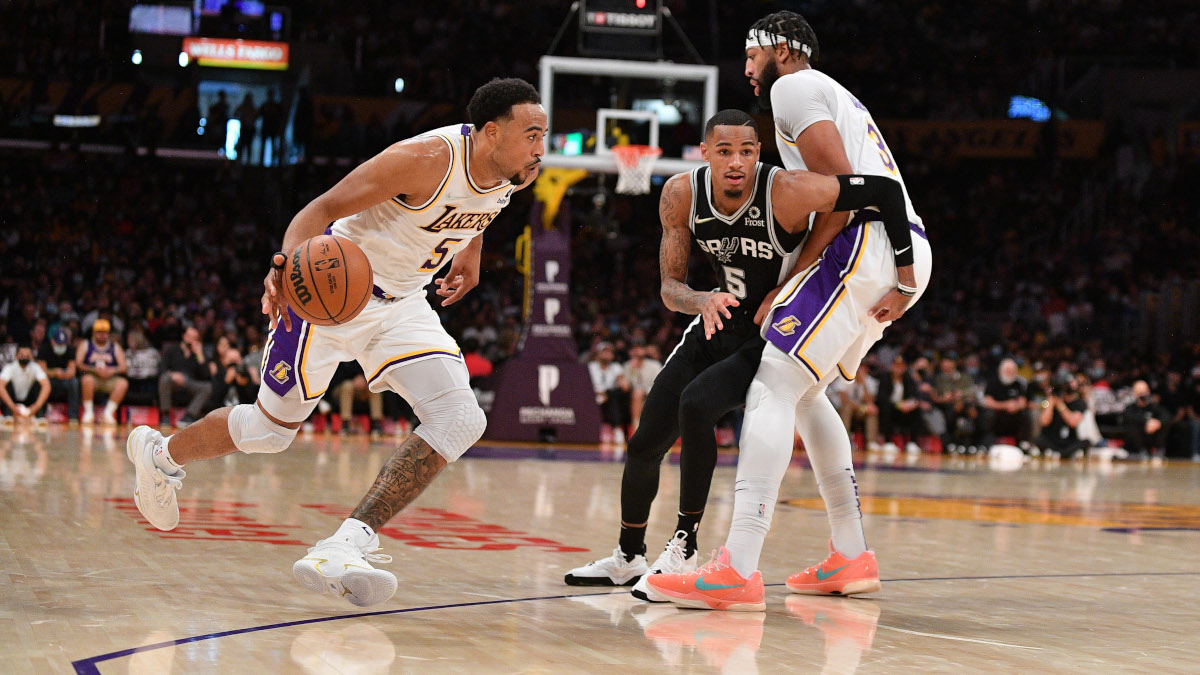 As a rookie in 2019–20, Talen Horton-Tucker earned a championship ring. But he only played six regular-season games and logged 81 minutes. Instead, he spent most of the season with the South Bay Lakers in the NBA G-League, where he averaged 18.1 points, 6.2 boards, 3.9 assists, and 1.4 steals in 29.8 minutes per game.
THT got into two games during the Lakers' championship run, logging 17 minutes in the second-round win over the Houston Rockets. Otherwise, he was a witness to the franchise's record-tying 17th NBA title.
Offensively, Horton-Tucker hasn't established himself as a reliable shooter, he made only 28.2% on 131 3-point tries last season and was 1-of-5 in his season debut against the Spurs.
But the Lakers have scoring. What they need from Horton-Tucker is his young legs, quickness, athleticism, and defensive versatility. He's already exceeded expectations coming from the late stages of the 2019 NBA Draft. Now an established NBA player, the Lakers are going to expect more. In his late debut to the season, Talen Horton-Tucker delivered. And just in time.
Statistics courtesy of Basketball Reference. Contract information courtesy of Spotrac.