Lakers: D'Angelo Russell Proves He's Ready to Take Over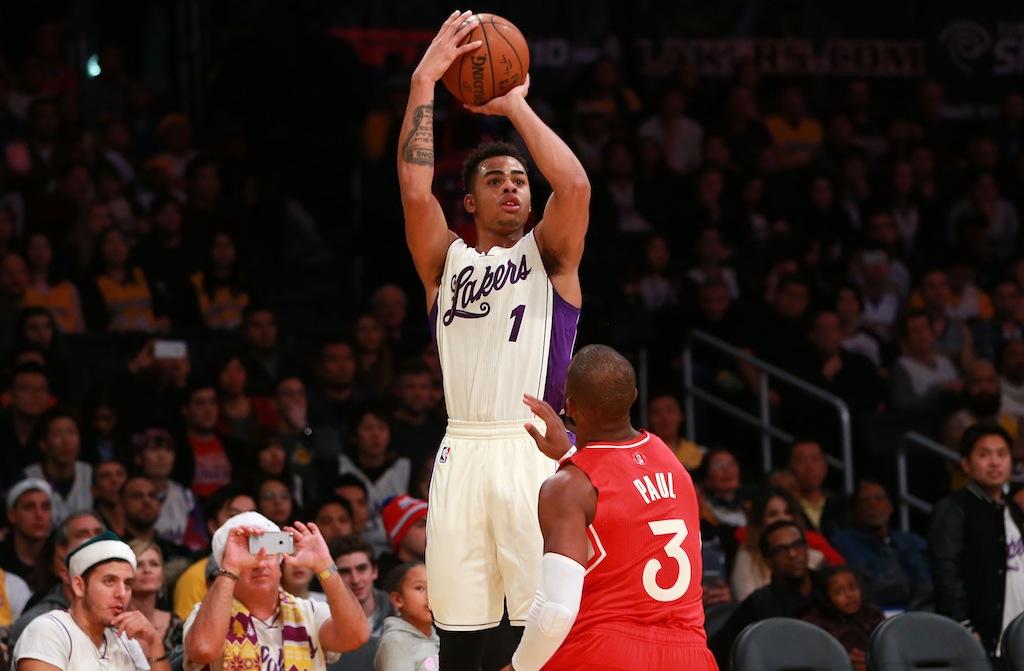 To say that D'Angelo Russell has experienced a rollercoaster of a rookie season would be a massive understatement, but fortunately, that ride is peaking right now. While Kobe Bryant will go down as the greatest Los Angeles Laker of all time — replacing him will be a tough task for anyone — it seems like Russell may actually be up for the task of putting this team on his back. It didn't happen overnight, of course, but Russell's play as of late, even without Bryant, is something special.
Throughout the 2015-16 NBA season, we've seen Russell go from four-point outings to 15-point outings quite frequently. Currently, he's averaging 12.9 points, 3.4 assists, and 3.6 rebounds per game. The numbers aren't bad for a rookie, but they also aren't proof of what he's done in the recent games. With that being said, let's take a look at Russell's best games of the season so far, and then break down his game and what it will take for him to continue the impressive streak that he's on.
Russell's best games of 2015-16
December 9 versus Minnesota Timberwolves: 23 points, three assists, one rebound
This one gets the nod because it was the first time Russell topped 20 points in an NBA game. He also had just two turnovers and played 32 minutes.
December 11 versus San Antonio Spurs: 24 points, six assists, six rebounds, two steals
The Lakers were blown out on the road in this game, so there's not much excitement there, but Russell still filled up the box score and played a hefty 36 minutes.
December 15 versus Milwaukee Bucks: 19 points, seven assists, four rebounds, three steals
The reason this one makes the list is because Russell played well across the board, topped 30 minutes, turned the ball over just once, and the Lakers actually won.
January 7 versus Sacramento Kings: 27 points, four assists, two rebounds, two steals
Another loss, which has basically been the epitome of the Lakers' season. Regardless, Russell hit a career-high in points here, and he shot the ball well (11-16).
February 8 versus Indiana Pacers: 16 points, five assists, five rebounds, four steals, one block
This one was one of Russell's most well-rounded performances of the season. Not only did he put his name next to every good statistical category, but he had no fouls and just one turnover.
February 24 versus Memphis Grizzlies: 22 points, eight assists, four rebounds
This game came after he was placed with the starting unit, and he stepped up in a big way. Russell actually shot the ball more than Bryant in this game (19 versus 14), while making life easier for his teammates, too.
March 1 versus Brooklyn Nets: 39 points, six rebounds, three assists, one steal
What better way to cap it off than with this ridiculous performance? Talk about a coming out party for Russell, who not only led the Lakers to a win over the Nets, but he also had an impressive +13 plus/minus. Russell took over this game, and Bryant didn't play either.
Takeaways from Russell's play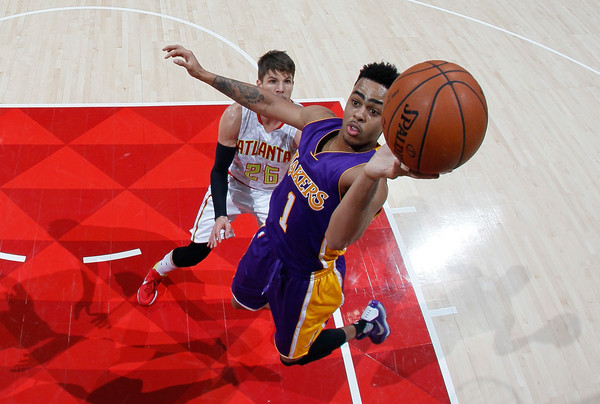 It almost goes without saying that head coach Byron Scott made a world of different when he gave Russell control of the offense. Since moving into the starting lineup on February 21 against the Chicago Bulls, Russell has failed to top double-digits in points just once, while posting some impressive averages over that span. At this moment, five games have occurred since then, and Russell has averaged 21.4 points, 4.8 assists, and four rebounds per game.
It's not even so much the statistical difference in Russell's play, but it's his confidence. Since Scott has let him run the offense, it's led to Russell stepping up as a leader and getting the ball to the right spot at the right times. Best of all, Russell has shot the ball impressively, knocking down 56.34% of his shots. This includes his 14-of-21 shooting and 8-of-12 on three-pointers against the Nets on March 1.
Say what you will about the Lakers and Russell, but while this may be a farewell tour for Bryant, Los Angeles is poised to land a high draft pick, and they have a young core of players who could turn this ship around within a season or two. With Russell, Julius Randle, Jordan Clarkson (if he's re-signed) and Larry Nance, the Lakers may just need to land a player in free agency and draft a strong playmaker in order to bounce back from losing Bryant next season.
Follow Jeff Smith on Twitter @JSM8ith
Statistics courtesy of ESPN.com and Basketball-Reference.com.