The Lakers' Deadline Inactivity Looks Unforgivable After John Wall Flub
The Houston Rockets' asking price of the Los Angeles Lakers in a Russell Westbrook-John Wall might have been even less than initially reported. If the rumors are true, then LA's strange determination to retain a 2027 draft pick when it faces so much pressure to win now should probably mean the end of general manager Rob Pelinka.
The Westbrook experiment hasn't worked in LA. His inefficiency both shooting and playing on the ball never jived with LeBron James and the rest of the roster. The Lakers needed to shake things up, and trading Westbrook for Wall — who has still yet to play — seemed like the only option for the Purple and Gold. However, LA stood pat at the Feb. 10 trade deadline.
Whispers suggested that the relationship between Rich Paul (LeBron James' agent) and LA's front office soured, with the deadline inactivity making things worse. Well, new details about Rockets-Lakers negotiations could only heighten the tension.
The Rockets reportedly asked for a 2027 pick swap from the Lakers in Russell Westbrook-John Wall trade talks
The Lakers' steadfastness in wanting to retain their 2027 first-round pick always looked a bit questionable. As it turns out, LA might not have needed to trade that selection outright.
Zach Lowe of ESPN reported on the Lowe Post podcast (h/t Harrison Faigen of SB Nation) that the Rockets allegedly "floated" a 2027 pick swap, instead of an outright trade for the Lakers' first-round choice. Lowe added that those discussions never resulted in a legitimate offer, but that's partially because LA reportedly had no interest in going that route.
Wait, what?
It's downright foolish for the Lakers to dismiss the idea of a pick swap. The Rockets' continued struggles and the uncertainty about when their young talent will pay off could mean they are still struggling to win games in 2027. That should, in theory, have limited LA's risks in comparison to trading the pick outright.
A win-win in order to bring Wall to LA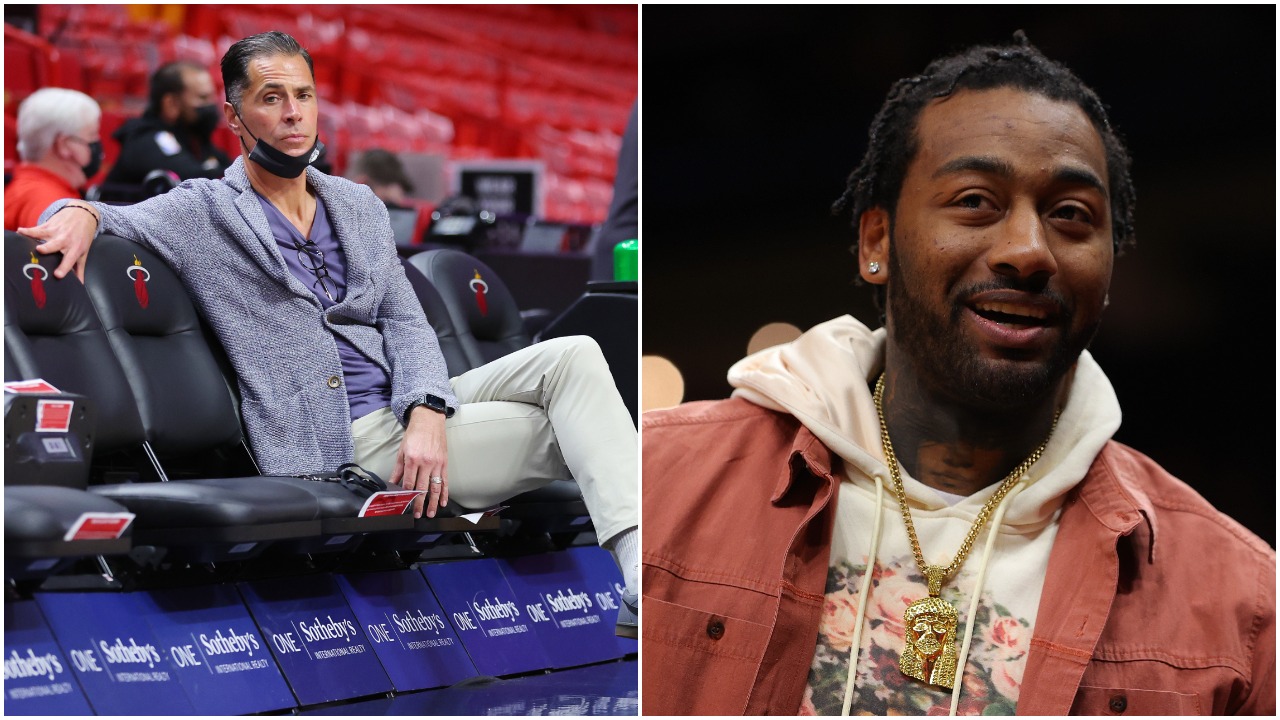 Although John Wall no longer has the explosiveness of old, he would still have provided a change of pace for the Lakers.
Like Russell Westbrook, Wall is at his best when he can run in transition and get downhill going to the basket. Unlike The Brodie, however, Wall doesn't routinely settle for clanky pull-up jumpers. Though his career three-point numbers (32.3%) aren't the best, he's shown in the past that he can convert at a decent clip, and he has worked on the shooting stroke while he's been away from the floor.
More notably, Wall boasts a much better defensive track record. Westbrook is almost latent on that end of the floor at times. While a 2019 Achilles injury might have zapped some of Wall's shiftiness, he still competes harder on that end.
Trading away Westbrook's contract for a player probably better suited to LA's roster should have been a no-brainer for the Lakers. There's only one real explanation for Rob Pelinka refusing to pull the trigger.
Looking ahead
Perhaps Rob Pelinka doesn't feel the same sense of urgency to win now as LeBron James and other Lakers veterans. He reportedly has the backing of team governor Jeanie Buss and the rest of LA's brain trust.
Then again, maybe Pelinka really feels that trading Westbrook becomes easier this offseason and is the preferable route.
For starters, merely swapping Westbrook for Wall probably doesn't make the Lakers contenders this season. Additionally, LA's 2029 first-round pick becomes tradable on July 1. Pelinka could try to package both the 2027 and 2029 picks with Westbrook's expiring contract, which might lend the Lakers more flexibility in their trade options.
However, taking that stance and refusing to even consider the pick swap framework with the Rockets is faulty logic.
Again, because of Houston's uncertain trajectory, it could take some time for the Rockets to build a winner. That could essentially make the pick swap inconsequential come 2027, and possibly allow the Lakers to maintain that asset. The more pressing matter, though, is how LeBron's rhetoric just before the deadline and during All-Star Weekend puts pressure on LA's front office.
The target on Pelinka's back might not have been as large had he shown a willingness to shake things up. But the bullseye could have grown if the latest reports of LA's stubbornness ring true.
Stats courtesy of Basketball Reference.
RELATED: Malik Monk Gives the Lakers a Much-Needed Boost but Is Also Playing His Way Out of LA