Lakers GM Rob Pelinka Has a $25 Million Net Worth but Still Mops up Sweat
One of the best moves of the 2019 NBA offseason was when the LA Lakers acquired Anthony Davis in a trade. Obviously, general manager Rob Pelinka had a lot to do with it as the move might be the greatest of his career. However, despite Pelinka being a big reason that the Lakers are so good — and despite him having a lot of success as an agent prior to becoming GM — he is still doing very tough jobs, like mopping up sweat.
Rob Pelinka's trade for Anthony Davis has paid off
RELATED: History Proves That LeBron James Is Purposely Not Trying to Score for the Lakers Right Now
The Lakers traded for Davis last offseason, and it has ultimately been a fantastic move for them.
Davis is averaging 26.4 points per game and 9.4 rebounds this season, and the Lakers have gone from missing the playoffs in 2018-19, to the No. 1 seed in the Western Conference this season.
Throughout the season, Davis has had some massive games too. He scored 50 points in a win over the Minnesota Timberwolves. He has also had four other games with 40 points or more, including a 42-point, 12-rebound game in a recent win over the Utah Jazz.
Whether the Lakers win the championship or not, the trade has definitely paid off for Pelinka and the Lakers.
Rob Pelinka is doing anything he can to help the Lakers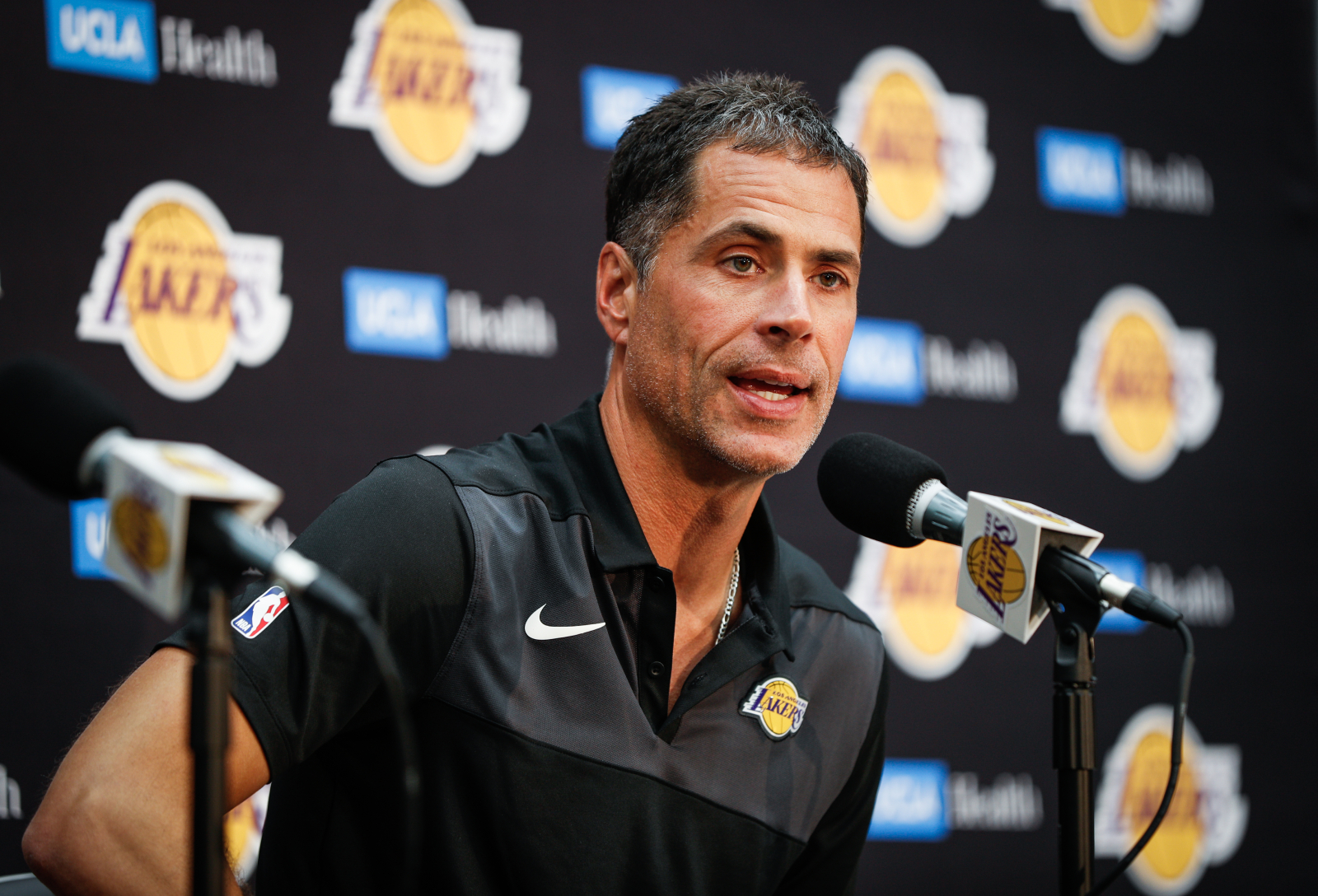 RELATED: What Is Lakers Star Dion Waiters' Salary and How Much Is His Net Worth?
Pelinka not only pulled off one of the biggest trades in NBA history, but he also used to be a really successful agent. According to NBA.com, he represented players like Kobe Bryant, James Harden, Chris Bosh, Channing Frye, Andre Igoudala, Buddy Hield, and Eric Gordon. Before that, Pelinka also played college basketball at the University of Michigan.
Because of all of Pelinka's success, he has a net worth of $25 million, according to Celebrity Net Worth. Despite his massive net worth, he has still reportedly been working hard inside the NBA bubble. According to The Orange County Register, he has been a rebounder, a waterboy, and he has even mopped up sweat at practice.
"There's no task that's too low that we can't come in and help," Pelinka said, according to The Orange County Register. "Especially when it comes to our players and their safety and servicing their needs."
Pelinka appears to be proving that he really cares about his players. Now, it is time for his players to go and win an NBA championship while in the bubble.
Can the Lakers win an NBA championship this season?
RELATED: Anthony Davis and Paul George: Which LA Superstar Has a Higher Net Worth?
Prior to the NBA season getting suspended due to COVID-19, the Lakers were absolutely rolling. They had a 49-14 record, and they were first place in the Western Conference.
They have since clinched the No. 1 seed in the Western Conference while in the NBA bubble, but they have also struggled since restarting play, going 2-3 in their first five games. On the season, the Lakers are shooting 47.9% from the field and 34.6% from 3-point range, in addition to scoring 113.2 points per game. However, in the bubble, they are shooting 40.8% from the field and 23.4% from 3-point range. They are also only scoring 98.8 points per game.
LeBron James has also struggled in his first four games (he didn't play against Houston). He is just averaging 19.3 points per game and 6.3 assists, and is just shooting 42% from the field and 27.3% from 3-point range. Prior to play getting suspended, he had shot 49.8% from the field and 34.9% from 3-point range. He was also averaging 25.7 points per game, 7.9 rebounds, and an NBA-leading 10.6 assists.
If James and the Lakers can figure things out, though, they certainly have a shot to go all the way. In addition to James and Davis, the Lakers also have Kyle Kuzma, who is scoring 12.6 points per game, and Dion Waiters, who is averaging 10.4 points per game. They also have several nice role players like Kentavious Caldwell-Pope, Danny Green, and Dwight Howard.
It will be a tough road with teams like the LA Clippers, Houston Rockets, and Milwaukee Bucks. If the Lakers can click on all cylinders, though, they definitely have a shot to go all the way.
Stats courtesy of Basketball Reference