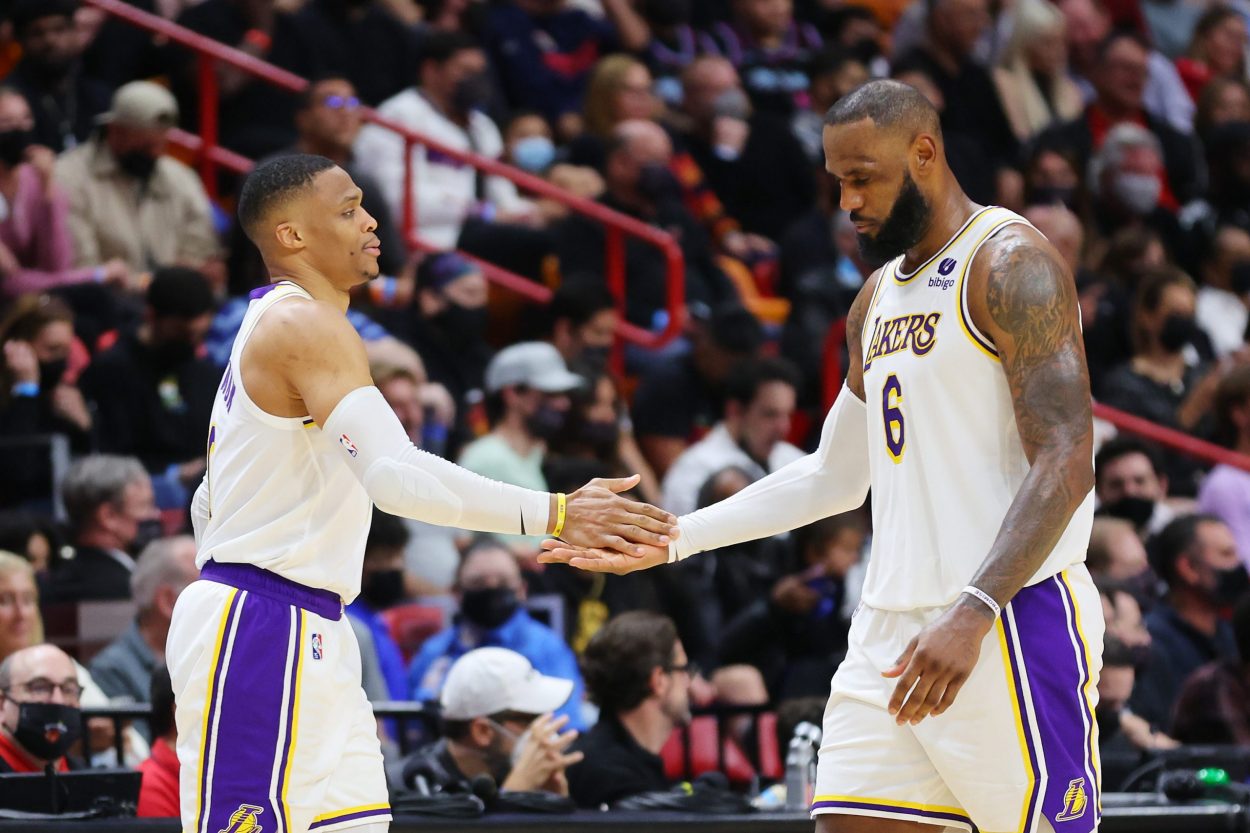 The Lakers Implode as LeBron James and Russell Westbrook Contradict Each Other After Blowout Loss to Bucks
The Los Angeles Lakers are falling apart at the seams, as LeBron James and Russell Westbrook showed no semblance of synergy after a blowout loss to the Milwaukee Bucks.
The Los Angeles Lakers have stood on unstable ground for quite some time now. Between injuries and a veteran roster that simply doesn't work, the Purple and Gold are struggling to even remain competitive. Now, they're coming unglued from within.
The Milwaukee Bucks blew the Lakers out of their own building on Tuesday night. But the 131-116 final score paled in comparison to the contrasting messages LeBron James and Russell Westbrook offered after the contest.
James once again preached accountability and demanded that everyone on the roster maximize their output regardless of lineup construction. However, Westbrook took implicit shots at Frank Vogel, indicating a difference of opinion that leaves LA on the verge of collapsing.
LeBron James insisted the Lakers have to be better on an individual and collective level
If nothing else, Lakers fans can typically expect brutal honesty from James. He offered even more up after Tuesday's loss.
James insinuated (h/t Harrison Faigen of SB Nation) that Lakers players cannot let perceived role limitations impact their performance on the court. He also issued a show of support for Vogel and the rest of LA's coaching staff.
"It doesn't matter what lineups are out there, you've got to go out there and do your job… We're all trying to figure it out. Including the coaching staff."

–LeBron James
It's becoming habitual for James to defend Vogel. He did so in December, then likely played a role in keeping the head coach's seat from erupting into flames in January.
Lakers fans can discuss Vogel's credentials all day. At the very least, LeBron has done his job this season.
King James scored 27 points on 11-of-19 shooting in the loss to the Bucks, also dishing out eight assists and grabbing five rebounds. Through 38 games, he is averaging 29.0 points, 7.7 boards, and 6.4 dimes with a 61.8% true shooting mark and 27.0 player efficiency rating.
LeBron seems to know this roster doesn't work. He suggested earlier this week that LA needed to show some aggressiveness at the deadline and then made more comments about not being on Milwaukee's level following the loss.
Russell Westbrook seems to disagree. He just wants longer runs with the closing lineup.
Russell Westbrook took implicit shots at Frank Vogel
During the fourth quarter of Tuesday's contest, the camera panned over to the Lakers bench, where Westbrook could be seen trying to cheer up LeBron James and Anthony Davis. As the Brodie revealed after the game, the message was meant as a reassuring one.
However, Westbrook's comments only further illustrate the gulf between his mindset and LBJ trying to get everyone else on board.
Westbrook said he told James and Davis that he wished he could have helped them try to spark a comeback. But he did not play a single minute in the fourth quarter and has increasingly missed out on playing with LA's closing lineups.
The 2016-17 NBA MVP sounded miffed about it all.
"I told them I wished I could help them. Unfortunately, I wasn't in the game to be able to help them & that's why I came here. Unfortunately, I haven't been able to do that for them but that's not my call."

–Russell Westbrook, via Ballislife.com
Frank Vogel hasn't shown any fear of repercussions in benching Westbrook late in games. More often than not, he has deemed that as the best option.
At times, Westbrook has displayed humility in response to benchings. He attempted to do the same during Tuesday's postgame press conference, but the "not my call" aspect is a pretty glaring subliminal shot at Vogel.
LeBron wants everyone to buy in regardless of role. But Westbrook sounds as though the new role is a sticking point for him.
The contrasting messages offer dissonance. Is there anything the Lakers can do to solve the issue?
Between a rock and a hard place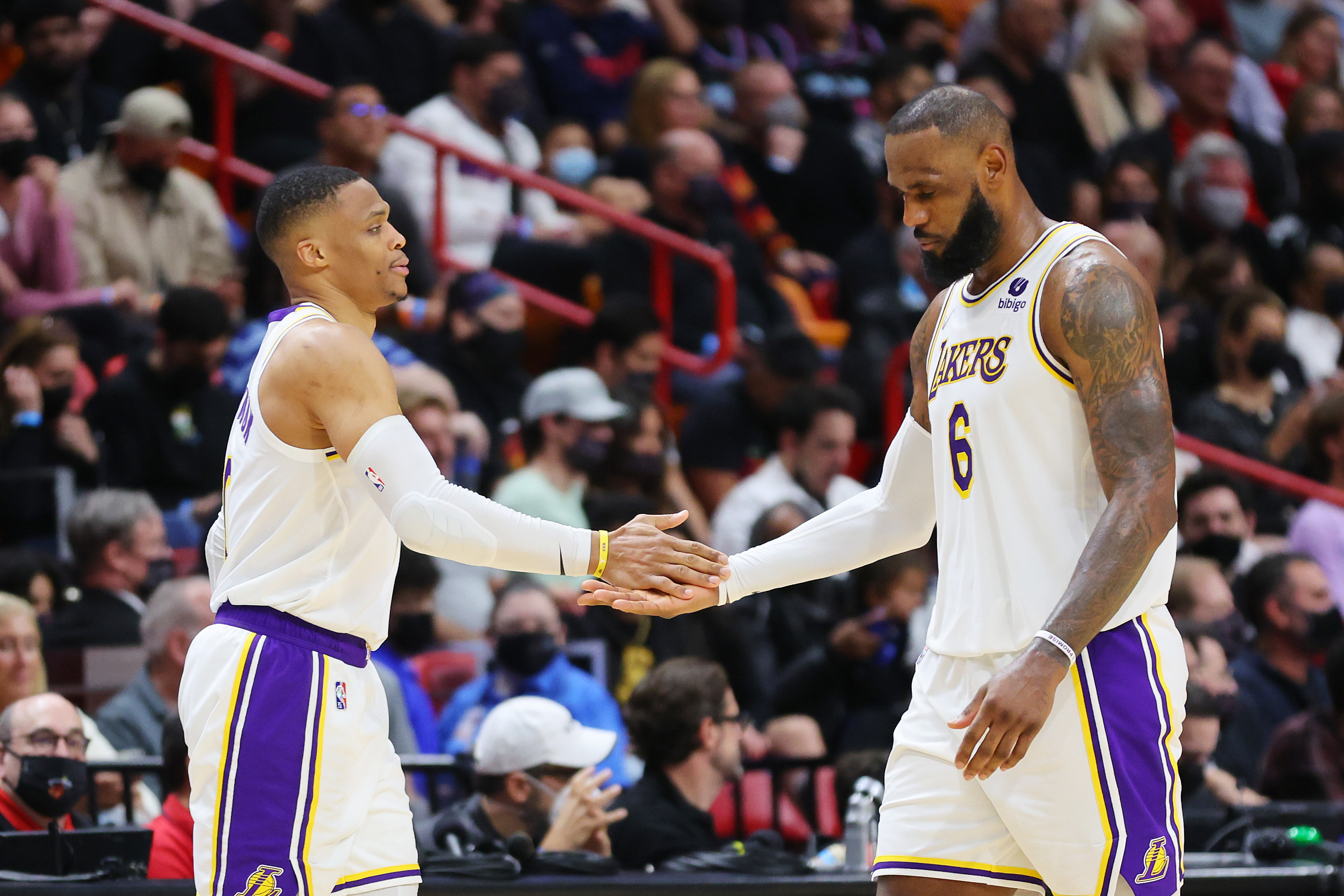 The situation with Westbrook and the current roster feels untenable. But there's little LeBron James and the Lakers can do to remedy that situation.
General manager Rob Pelinka probably won't find any interested suitors for Westbrook unless he shows a willingness to attach the organization's 2027 first-round pick, but that draft capital looks precious in light of this season's struggles and the aging roster. A buyout simply isn't on the cards because of money owed to the Brodie.
The Lakers probably have to add on the margins. They've reportedly discussed a deal for Boston Celtics swingman Josh Richardson and could show interest in a bench scorer like Orlando Magic swingman Terrence Ross.
However, a total roster shakeup is unlikely. That means either Westbrook heeds James' advice and starts excelling in his allotted minutes, or the Lakers crash and burn.
Stats courtesy of Basketball Reference.