Lakers Insider Believes There's a '90% Chance' LeBron James Stays Past Current Contract
LeBron James purposely generated more concern around the Los Angeles Lakers after floating around the possibility of leaving after his current deal finishes next season. The star forward's remarks shouldn't come as a surprise as his words serve as a warning to the Lakers.
The scenario is on the table puts general manager Rob Pelinka on the hot seat to retool the roster. The outside noise aside here's why longtime NBA reporter Ramona Shelburne doesn't see James going anywhere any time soon.
LeBron James stirs the pot by teasing a Cavaliers return
LeBron James entered the All-Star break with the chance to clear his mind away from the Lakers' disappointing campaign.
The 37-year-old stirred up the conversation by admitting to The Athletic's Jason Lloyd that there is a possibility that he could return to the Cleveland Cavaliers.
"The door's not closed on that," James said. "I'm not saying I'm coming back and playing, I don't know. I don't know what my future holds. I don't even know when I'm free."
He also indicated that he wants to play his final NBA season with his son Bronny James if the opportunity arises. All that further shook up the future for the Lakers, as James previously stated that he wanted to spend the rest of his career with the franchise.
Those remarks aside, at least one longtime NBA reporter believes that star forward isn't going anywhere.
Ramona Shelburne believes there is a 90% chance LeBron James stays with Lakers beyond his current contract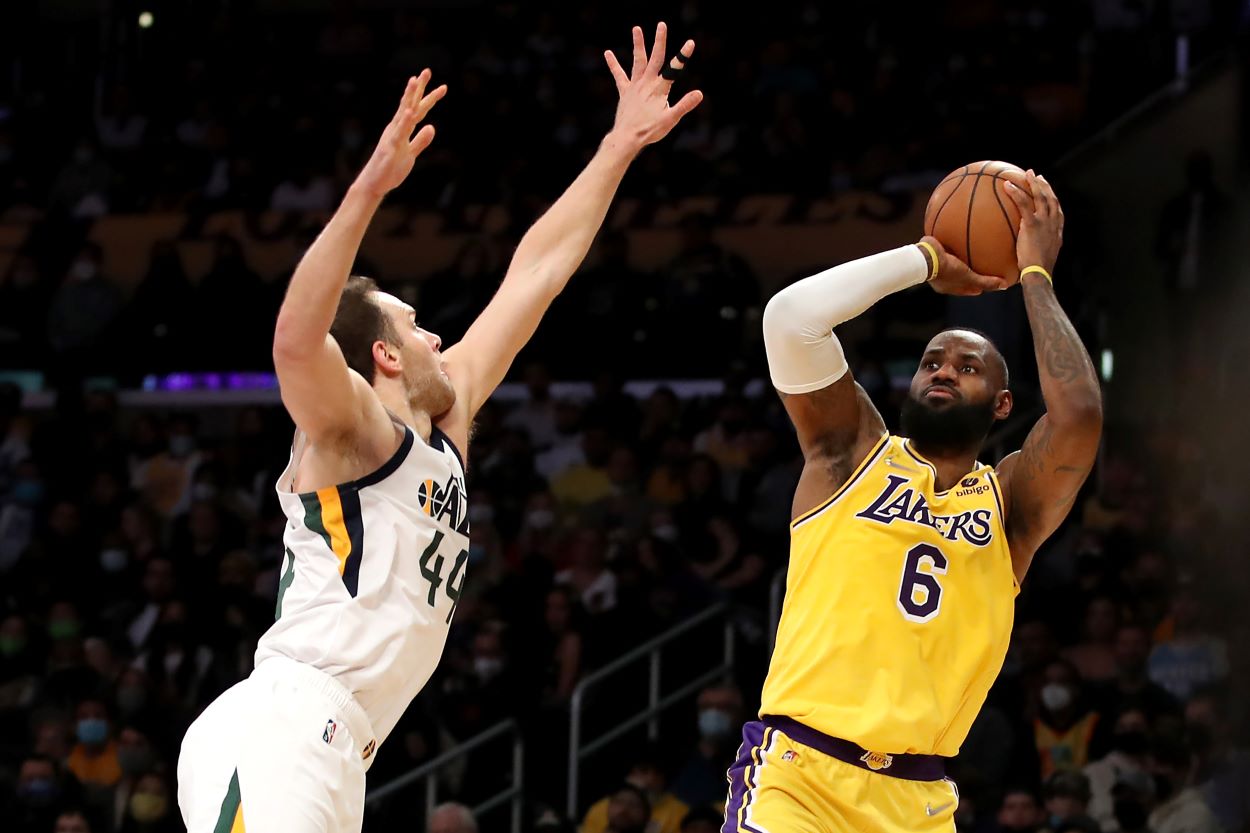 All the chatter about LeBron James potentially leaving after next season presents a gloomy future ahead in Los Angeles.
Despite James openly discussing the possibility of heading back to the Cavaliers for a third stint, ESPN's Ramona Shelburne stated on The Mason & Ireland Show on 710 AM ESPNLA radio on Wednesday that she highly believes the 18-time All-Star will extend his stay beyond his current contract.
"90 percent [chance]," Shelburne said. "He doesn't want to leave LA. He came here for a reason. This is was a real reaction from someone I talked to this weekend, 'Hey, that Cleveland talk was interesting.' This is from a person who would know.
"What did you expect LeBron say, 'No I am never coming back here.' This is his hometown. He won a championship here. He has a house there. His high school friends are there. He's going back to his hometown and say, 'ugh I left that behind.' No. It was nostalgia."
Much of what Shelburne voiced makes logical sense as James sat in the position of having to praise his hometown team. The 2022 All-Star game was in Cleveland, and the Cavaliers are playing exceptionally well, holding the fourth spot in the Eastern Conference standings.
James wasn't going to outright shoot down the scenario of a return, especially with his contract situation. Shelburne pointed out that he could leave if the team is terrible, but she doesn't envision that.
"He likes leaving in LA," Shelburne said. "Now if the team is horrible, okay, but I don't think they are going to be horrible. I think they are going to reboot over the summer. They are going to have LeBron and AD again, which is always a good combination."
James may not want to uproot his family from Los Angeles, but it doesn't mean the scenario is out of the window entirely. If anything, the pressure is on the Lakers to build another championship contender.
Lakers need to rebuild a championship-caliber roster
James will likely extend his tenure in Los Angeles beyond next season, but that scenario will only be cemented with a busy offseason.
The Lakers need to retool the roster, as it's become clear that the supporting cast isn't enough to vie for a championship. Russell Westbrook doesn't fit into the mix, making moving him priority No.1 to clear up salary-cap space.
General manager Rob Pelinka can't rely heavily again on veteran's minimum contracts, which limited their options significantly. Malik Monk and Carmelo Anthony have proven to be steals at that price, but the team hasn't garnered significant stability elsewhere.
The Lakers have no margin for error if they want to give James a reason to ink another contract.
Like Sportscasting on Facebook. Follow us on Twitter @sportscasting19.
RELATED: Adam Silver Admits He's Not Ready for LeBron James to Retire