The Lakers Just Likely Missed yet Another Opportunity to Improve Their Disastrous Roster
The Los Angeles Lakers need as much help as possible. Instead of making moves to improve at the NBA trade deadline, though, they chose to stick with the odd, old, and disastrous roster they have now.
The team's plan to collect as much veteran talent available hasn't worked. And its Big Three of LeBron James, Anthony Davis, and Russell Westbrook has been more disappointing than Kevin Durant, Kyrie Irving, and James Harden on the Brooklyn Nets (yes, really).
So, since the Lakers essentially played possum at the deadline, they are expected to use the buyout market to add a piece or two. But it doesn't look like they'll get a chance to bring back an old friend in Dennis Schroder.
The Lakers reportedly tried bringing Dennis Schroder back to LA
Dennis Schroder had an odd tenure with the Lakers.
In his lone season with the team in 2020-21, he averaged 15.4 points and 5.8 assists, but he shot a mediocre 43.7% from the field and 33.5% from three-point range. His play was still good enough for the team to offer him an $84 million extension, but he infamously turned it down and became a liability in the playoffs.
Schroder averaged 14.3 points in the postseason and shot just 40% from the field. He also had zero-point performance in Game 5 of the team's first-round series against the Phoenix Suns, shooting 0-of-9 during the game. His play even garnered heavy criticism from Lakers legend Magic Johnson.
LA and Schroder parted ways this offseason, and he went to the Boston Celtics, but the Lakers reportedly thought about bringing him back at the trade deadline, per The Athletic's Bill Oram.
However, Boston dealt Schroder to the Houston Rockets, who can buy out his contract and let him go to any team of his choice. That scenario, though, now looks unlikely.
A reunion with Dennis Schroder looks unlikely for LA
According to The Athletic's Jovan Buha, the Lakers have been divided on bringing Dennis Schroder back due to his "uncomfortable departure last summer." Still, they were interested in reuniting with him via the buyout market.
But according to NBA reporter Marc Stein, Schroder will likely stay with the Rockets.
"Neither the Rockets nor Schroder favor a buyout, sources say," Stein posted on Twitter.
Schroder isn't necessarily a better option offensively than Russell Westbrook or Malik Monk. He doesn't rebound or pass as effectively as Westbrook, and they have similar shooting numbers from the field. Schroder is slightly better from three-point range than Russ, and he's a better facilitator than Monk, but the latter is a more efficient player.
However, the 2013 first-round pick would have given LA another scoring option, especially while the team waits on Anthony Davis to get healthy again. Schroder also takes care of the ball and would have provided the Lakers with stability in late-game situations. He averages just 2.4 turnovers for his career, while Westbrook is averaging 4.1 this season.
The reunion, though, wasn't meant to be, and it looks like the Lakers have struck out yet again.
Who else can the Lakers try to add to help LeBron James?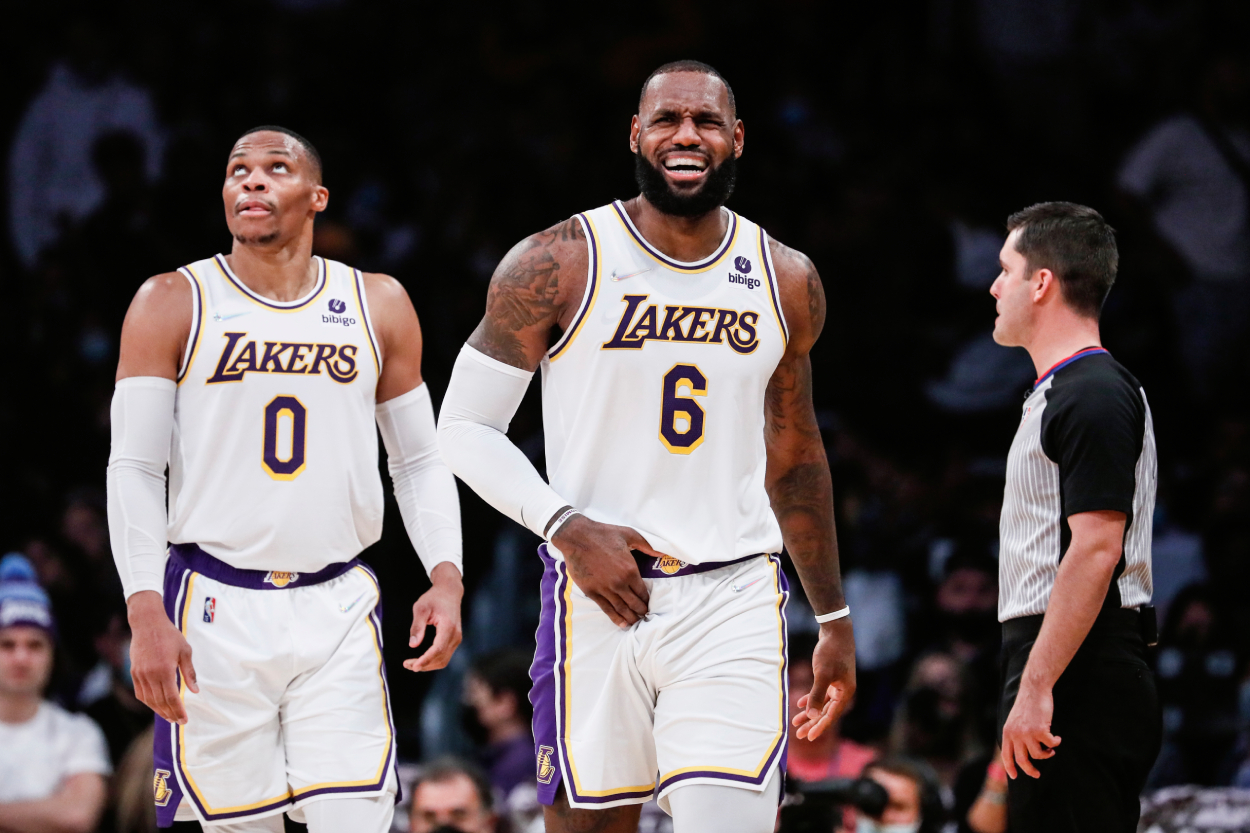 LeBron James put the Lakers on notice this weekend. The team is 27-31 and sits at ninth place in the Western Conference. It's running out of time to get better, and he wants it to improve.
So, who can LA look at in the buyout market?
Buha mentioned Gary Harris, Eric Bledsoe, Paul Millsap, Mike Muscala, and Tomas Satoransky as potential buyout candidates for the Lakers, but it's unclear which players will be available.
And do any of them move the needle that much?
All in all, the trade deadline was the time for the Lakers to make a move. However, they stood pat and now must explore other avenues to improve their roster. It's hard to picture anyone fixing the mess LA is in right now, though, so Laker nation must start preparing for a disappointing end to the season.
Stats courtesy of Basketball Reference
RELATED: Charles Barkley Savagely Trolls Lakers General Manager Rob Pelinka