The Lakers Might Get an Enormous Boost From a Former College Star
The Los Angeles Lakers didn't have a ton of cap flexibility to work with after acquiring Russell Westbrook, though they still needed to surround LeBron James with some bench depth. General manager Rob Pelinka did just that by signing Malik Monk to a one-year minimum deal.
Monk was one of the best players in the country during his blue blood days at Kentucky. His NBA career hasn't panned out nearly as well, but he's still the kind of player who can have a massive impact on LA's success.
Malik Monk can learn from LeBron James
Malik Monk sounded like a guy who understood what he wanted from his career while answering why he decided to sign with the Lakers.
Monk's days with the Charlotte Hornets were a bit mired by character questions and skepticism about his commitment to the game. However, he said there is a hunger and eagerness to learn from LeBron James and the older veterans on LA's roster.
"I'm still learning, I'm still going through life, too," Monk said, via USA TODAY. "I'm 23. So these guys have been doing it a long longer, and so I can ask lot of questions and I can learn. Not just about being on the basketball court but off the court as well. That was the biggest thing."
Perhaps a sense of accountability on and off the floor can help elevate Monk to new heights, even if he's playing more of a bench role in LA.
Remember, Monk was one of the best scorers in the country at Kentucky and made All-America Second Team as a freshman. He was the 11th overall pick in the 2017 NBA Draft. The talent is there. James, Westbrook, and Anthony Davis will undoubtedly be among those consulting with Monk as to how he can unlock that talent.
Monk certainly helps the Lakers in a more immediate sense as well.
Monk gives LA much-needed shooting and bench scoring
The Lakers really struggled to shoot from the perimeter last season, ranking 21st in three-point percentage and just 24th in threes per game. Monk should boost those percentages quite a bit.
The 23-year-old had the best shooting season of his career during the 2020-21 campaign. Monk shot 40.1% from beyond the arc on 5.0 attempts per game. He averaged 11.7 points in just over 20 minutes per contest, which translates to 20.1 points per 36 minutes.
That kind of skill set is exactly what the Lakers need and something they mostly lacked last season. Alex Caruso could shoot it a little, but not at the same volume as Monk. He also doesn't have Monk's pure scoring ability.
Monk should fit right in as a guy who can get minutes in the backcourt and space the floor for an LA squad that figures to dominate in the midrange with James, Westbrook, and Davis stalking around.
Pelinka should be thrilled he could get a guy with Monk's scoring upside for the veteran's minimum. Plus, Monk's openness about wanting to grow as a professional bodes very well in terms of his ability to keep up with the team's veteran leaders.
The bench unit will be critical to LA's success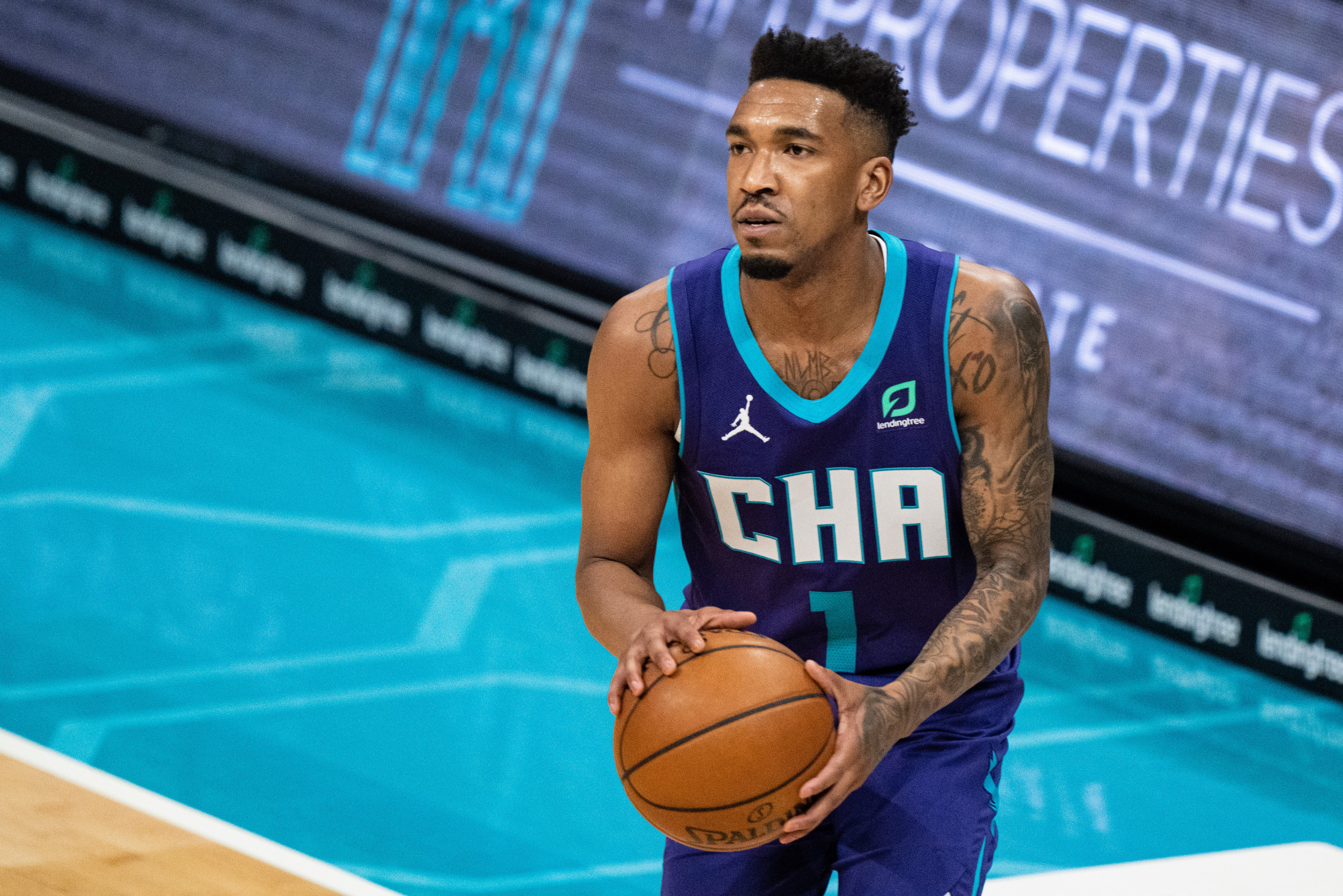 The Lakers' signing of Monk hardly made as much noise as the Westbrook trade or Carmelo Anthony signing. However, he will be part of a bench group that is absolutely vital to LA's success.
Frankly, the Lakers collapsed without Davis in the playoffs. Part of that is because they lacked the scoring depth to account for his absence. But guys like Monk and Anthony can help negate that issue this year.
Other guys will play big roles. Wayne Ellington is another important shooter. Dwight Howard is back for his third stint with the Lakers. Kent Bazemore is a 3-and-D type of player. Yet, Monk might be the most important to the second unit because of his upside and talent.
LeBron James will still steer the ship. Davis and Westbrook will get their share of headlines. Still, Monk has a definite place on this Lakers roster.
Stats courtesy of Basketball Reference.
RELATED: Lakers May Bring Back 1 of Lebron James' Most Trusted Teammates