The Los Angeles Lakers Might Miss Talen Horton-Tucker Even More Than Previously Thought, According to the Latest Reports
The Los Angeles Lakers might be heading into the 2021-22 NBA season at a more considerable disadvantage than previously thought given the latest reports surrounding Talen Horton-Tucker.
The Lakers will be without the guard for the next several weeks as the 20-year-old recovers from torn ligaments in his thumb. It seemed as though THT would satisfy a key reserve role entering the new season. But the latest reports suggest the Lakers had a grander vision for the Chicago native, implying his absence could be potentially significant.
Talen Horton-Tucker underwent surgery on his thumb after signing a three-year, $32 million deal with the Lakers in the offseason
Much as he did in the early parts of last preseason, Talen Horton-Tucker showed signs of growth for the Lakers. His play was especially encouraging considering LA signed him to a three-year, $32 million deal in the offseason.
But a thumb injury disrupted THT's progression. Horton-Tucker was forced to undergo surgery to repair torn ligaments in his right thumb and was ruled out indefinitely.
The Lakers added some backcourt depth by signing veteran point guard Rajon Rondo in the offseason. Naturally, newcomer Russell Westbrook will play a vital role in LA's hopes of winning a championship.
However, the Lakers reportedly had big plans for Horton-Tucker ahead of the regular season, which could make his injury all the more notable as they try to build momentum in the first few weeks of the new campaign.
Horton-Tucker was in consideration for the Lakers' starting rotation
The Lakers placed a lot of marbles in the Talen Horton-Tucker basket by essentially choosing to sign him over Alex Caruso, who inked a free-agent deal with the Chicago Bulls. The former Iowa State product had apparently done enough to merit starting consideration.
Zach Lowe of ESPN reported the Lakers were weighing including THT in the starting lineup before the thumb injury. As Lowe noted, Horton-Tucker's ability to guard multiple positions is imperative for head coach Frank Vogel's team, especially if Vogel chooses to allocate heavy minutes to Anthony Davis at the center position.
Moreover, Horton-Tucker's abilities as a secondary ball-handler could have taken additional pressure off Westbrook and LeBron James to create everything on the offensive end of the floor. He has struggled to shoot from the perimeter early in his career (just 28.5% from beyond the arc) but still maintains promise as a slasher and playmaker who can leverage his bigger physical frame to get into the paint. Horton-Tucker also has value as a screener and off-ball cutter.
Horton-Tucker could have been a swing player for Vogel, a guy who allowed the Lakers to give opponents different looks and provide value on both ends. His injury might make things more complex in terms of rotation construction, at least in the short term.
Who will Frank Vogel start at the 2-guard?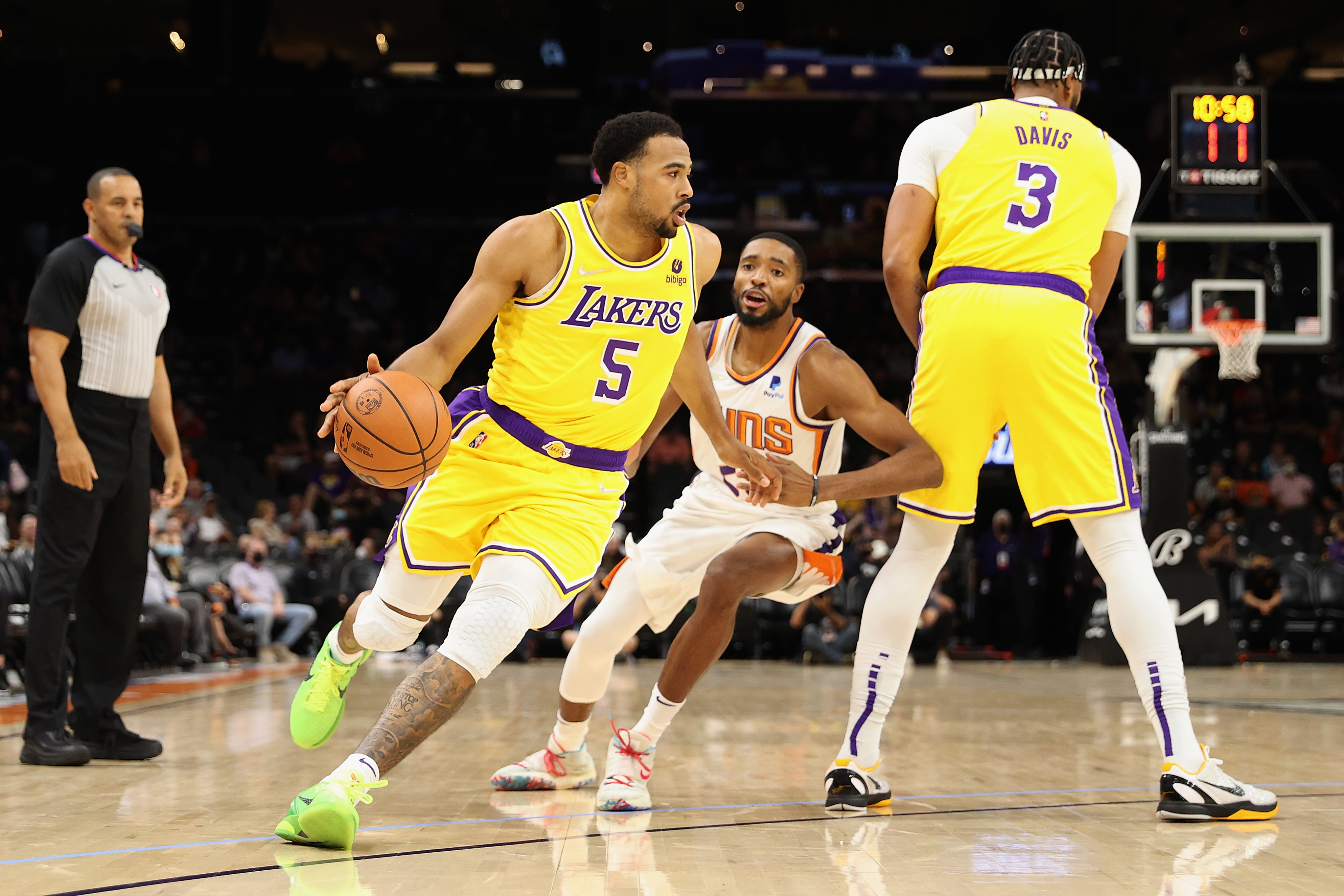 Talen Horton-Tucker's injury opens up a void at the 2-guard spot. Who will Vogel choose to fill it?
Vogel had yet to make a firm determination on the starting lineup as of Monday night. It's likely that he chooses one of Kent Bazemore or Kendrick Nunn to start in the backcourt alongside Westbrook. Both players have their deterrents.
Nunn averaged 15.0 points in the first two seasons of his career and shot 38.7% from deep during the 2020-21 campaign on a healthy 5.7 attempts per game. But he's a 6-foot-2 guard with limitations in terms of ball-handling and defense. Bazemore could give LA a bit more length and provide floor-spacing, though he's not much of a creator, either. Malik Monk should soak up minutes, but it remains to be seen what exactly his role entails.
Horton-Tucker might have been the most suitable fit to play with James, Westbrook, and Davis in the starting five. Instead, Vogel will have to find ways to mix and match to get the most out of his rotations.
Stats courtesy of Basketball Reference.
RELATED: Lakers Just Stole Away a Proven Veteran Stephen Curry Desperately Wanted the Warriors to Keep