Lakers News: D.J. Augustin Signing Spells Trouble for Russell Westbrook
When Russell Westbrook was struggling throughout his first few games with the Los Angeles Lakers, it was easy to make excuses. The All-Star needed time to build chemistry with superstars LeBron James and Anthony Davis. LA didn't have a full roster at its disposal. Russ is a second-half player.
We're now 60 games in, and everything that plagued Westbrook early on is plaguing him still. Not only are fans frustrated, but the Lakers are suffering as a result, heading into the new week with a pathetic 27-33 record.
There's admittedly not much the Lakers can do to overhaul their roster. But they did find a way to put the heat on Westbrook and challenge the decorated guard to step up or risk sitting out.
The Lakers signed D.J. Augustin for the remainder of the season
Much to the chagrin of many fans (and even a few players), the Lakers made no moves at the deadline. However, they were always expected to pursue free agents on the buyout market or otherwise. On Tuesday, they made their hopes a reality.
LA signed veteran point guard D.J. Augustin hours after Shams Charania of The Athletic broke the story the night prior. The Purple and Gold also signed big man Wenyen Gabriel to a two-way contract. In order to clear space for Augustin, the team waived center De'Andre Jordan.
Augustin, 34, has had a long career with many different teams. Since entering the league as the ninth pick of the Charlotte Bobcats in 2008, Augustin has played for 10 clubs. He was previously with the Houston Rockets, averaging 5.4 points and 2.2 assists in 15.0 minutes per game.
It's not the first time Augustin has backed up Westbrook. The former Texas Longhorn spent parts of the 2014-15 and 2015-16 seasons with the Oklahoma City Thunder, averaging 5.6 points and 19.3 minutes in 62 games.
Augustin is there to hold Russell Westbrook's feet to the fire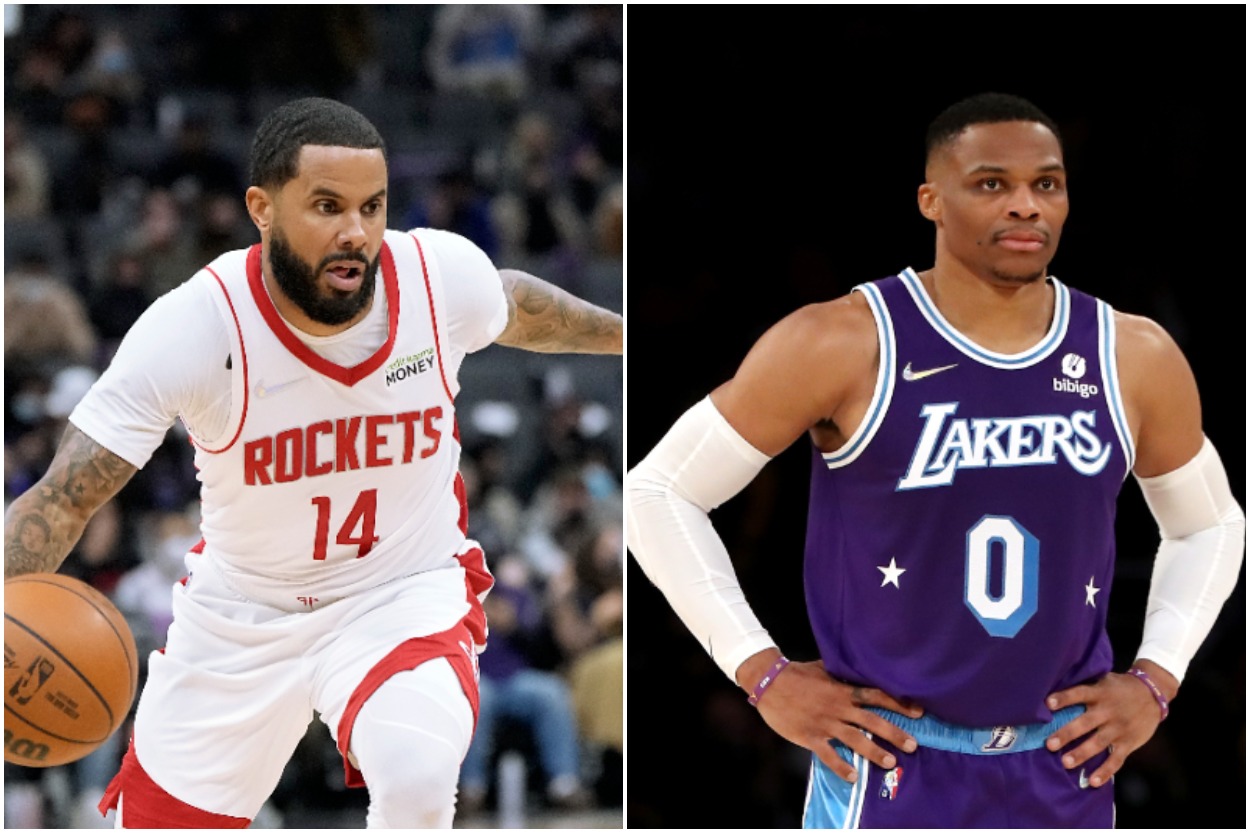 Let's get this out of the way right now. D.J. Augustin is not at the same level as Russell Westbrook. At the end of the day, there's a reason the 34-year-old was placed on waivers by Houston back on Feb. 10.
However, don't assume Westbrook's playing time won't take a serious hit following the veteran's arrival.
Right off the bat, Augustin can do something Russ can't do — shoot. In 34 games with the Rockets, the 14-year vet hit 40.6% of his three-point attempts. He's shot 38.0% beyond the arc for his career. Westbrook has never come close to hitting 38.0% of his threes, as he's now making 29.2% of his long-range attempts in 2021-22.
Augustin also takes care of the basketball. Granted, he's largely been used in a reserve capacity since 2019-20 with the Orlando Magic. However, even when he was getting around 25 to 30 minutes a night, he never tossed away more than 2.3 turnovers a game. As for Russ, the 2016-17 MVP has averaged 4.1 turnovers for his career and has 4.0 this season, ironically his lowest since 2013-14.
The Lakers clearly see Augustin as a guard who can make up for some of Westbrook's significant shortcomings. Even if he is consistently brought off the bench, LA hasn't had a true point guard backing up Russ since Rajon Rondo, who sparingly played and was dealt to the Cleveland Cavaliers in early January. That means Westbrook's spot in the starting five has never been legitimately threatened.
Augustin should gradually work his way into LA's rotation, but don't be surprised if he earns more playing time once Westbrook continues his season-long struggles.
The Lakers' addition of Augustin also pertains to Anthony Davis
What does the addition of a 5-foot-11 guard have to do with the 6-foot-10 Davis? More than you would expect.
Even though the Lakers haven't had a "true" backup point guard for the bulk of the season, James is really the team's de facto floor general when Westbrook is off the court. However, with Davis sidelined due to a mid-foot sprain, LeBron will have to take more of a role within the frontcourt.
By dropping the 7-footer Jordan in exchange for Augustin, the Lakers sent a clear message to Westbrook. But they could also feel AD is nowhere close to returning, leaving them little option but to task James with starting at the 5-spot. Davis won't be re-evaluated for another 2+ weeks after injuring himself on Feb. 16, but this could mean his situation is worse than initially expected.
Regardless, things aren't a lot of fun in Laker Land.
All statistics courtesy of Basketball Reference and contract figures courtesy of Spotrac.
RELATED: Russell Westbrook is Taking a Break From Social Media Amid Lakers Dysfunction