The Lakers Silly Obsession With Superstars Is Blowing up in Their Face as Russell Westbrook Flails and Buddy Hield Soars
George R.R. Martin's fictional world depicted in Game of Thrones revolved around the pursuit of absolute power. But LA is not a fictional medieval world of empires. Instead, one could call it the Game of Star Power. It's a game the Los Angeles Lakers have long played and often played well. Many of the NBA's immortals have donned the purple-and-gold, and acquiring the next superstar has become an obsession. However, last summer's quest to add Russell Westbrook to the Laker Hall of Big Names proves that sometimes just because the bag has "Gucci" on the label doesn't mean it's not ugly as heck.
Westbrook extended his NBA record for the most unofficial quadruple-doubles (points, assists, rebounds, and (gulp!) turnovers) with his sixth in a hideous loss on Oct. 27 to the Oklahoma City Thunder that dropped the Lakers to 2–3. The 2016–17 NBA MVP and king of the triple-double is averaging 6.0 turnovers per game so far, more than anyone in the NBA not named "Kevin Porter Jr." The old Lakers are injury-riddled and playing poorly. And it didn't have to be this way.
The Lakers had a deal for another guard not named Russell Westbrook
Last season, the Lakers fell from NBA champions to play-in tournament participants. Injuries played a role, but so did their spotty 3-point shooting. LA was in the bottom 10 in the league in 3-point percentage, makes, and attempts.
Early in the offseason, rumors circulated that the Lakers were close to a trade with the Sacramento Kings to fix that ailment. Buddy Hield may only be a household name in the Hield household, but he's a savant when it comes to long-distance shooting. A career 40.6% shooter from deep through last season, Hield was the volume-shooting deep threat LA desperately needed to create space for LeBron James and Anthony Davis.
That's when the Game of Star Power mentality crept into view. Hield is a solid player and would have fit the Lakers' personnel like a custom-fitted glove (like one can order on Rodeo Drive for the right price). Instead, LA vice president of basketball operations and general manager Rob Pelinka got stars in his eyes. Rather than acquiring the terrific-fitting Hield, he took a swing at Russell Westbrook.
That would be Westbrook, the career 30.5% 3-point shooter. Spacing, shmacing, Pelinka said. Just get another big name to excite the fickle fan base that suffered through six whole years of playoff-free basketball.
Westbrook has outdone himself in LA, and not in a good way. He's shooting 17.4% from deep, though he keeps chucking them (4.6 attempts per game). Yes, he's averaging 9.4 rebounds and 9.4 assists. But the 6.0 turnovers, 4.2 personal fouls, and odd adherence to unwritten rules have done more damage than good.
As for Hield? A longing gaze toward Northern California could prove discouraging to Lakers fans.
Hield is lighting it up from deep
The Sacramento Kings are 2–2 and are showing signs of potentially ending one of the two longest streaks of futility in NBA history. The Kings haven't been to the playoffs since 2006, a 15-year drought that matches that of the Buffalo Braves/San Diego/Los Angeles Clippers of the bad old days from 1977–91.
Hield is a big reason why. He's taking a career-high 10.8 3-pointers per game because that's his job, and that's what he does. He's making a career-high 4.8 of those attempts, a sizzling 44.2% rate that is also on a career-best pace.
He doesn't take a lot of 2s (3.8 a night) or make a lot of them (1.3, 33.3%). But Hield is the space whisperer in California's capital. It's a good thing, too, because even with him taking more than a quarter of the 3s attempted by the Kings, Sacramento's percentage is only 34.2%.
All of that spacing was there for the taking for the Lakers. And they chose Russell Westbrook.
But this wouldn't be the first time that superstar acquisitions fell flat in LA.
For all their great superstars, the Lakers have some notable swings and misses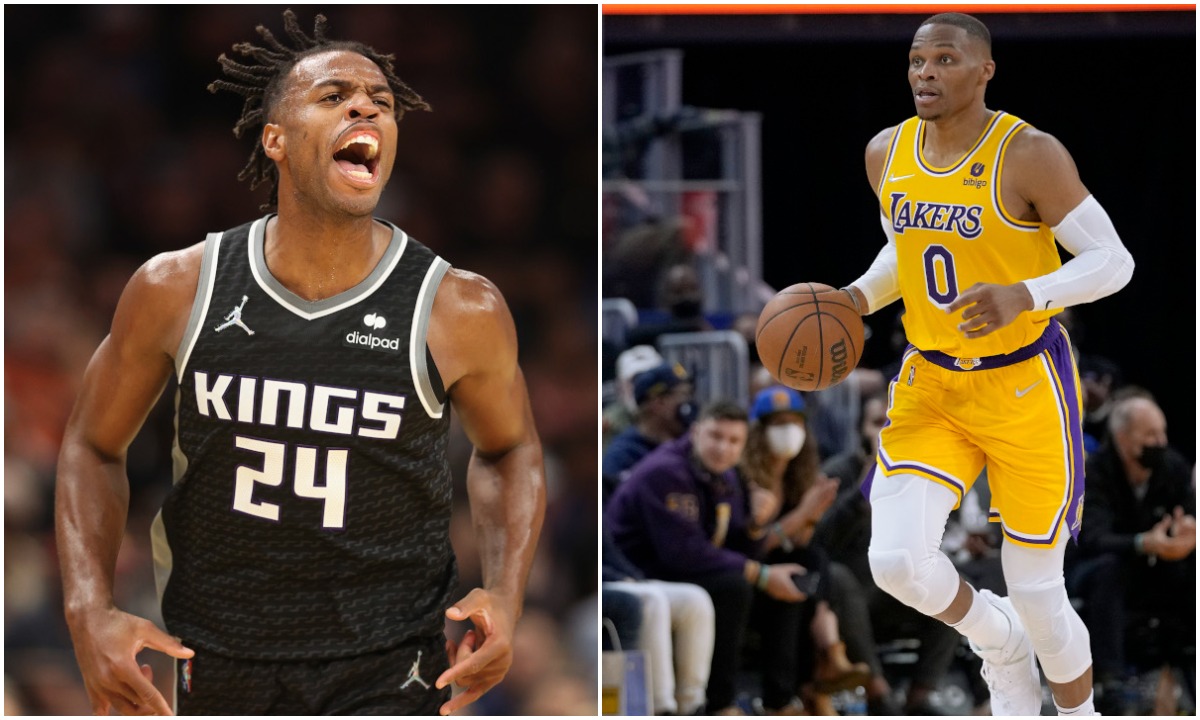 In the summer of 2012, then-general manager Mitch Kupchak had a plan. The aging Lakers were thumped in five games by the emerging Oklahoma City Thunder in the Western Conference semifinals. Kobe Bryant was 34, and the championship window was closing. (Kupchak had yet to tumble to the reality; nails already sealed that window.)
The GM landed a superstar tandem, getting Dwight Howard — fresh off back surgery and finished as a top-10 player in the NBA — and two-time NBA MVP Steve Nash, 37 years old with a career-ending nerve problem in his leg.
Bryant tore his Achilles' late in the season, Nash played in only 50 games, Howard clashed with everyone, and the season ended in a first-round sweep at the hands of the San Antonio Spurs.
It was like the first season James was in LA, only with more drama. The Lakers went into their spiral to the bottom of the NBA shortly after that. A parade of lottery picks came, disappointed, and left.
This offseason, the Lakers acquired Westbrook. They later signed Carmelo Anthony and appeared to be casting a reboot of the 1980s drama 30something.
Buddy Hield was there for the taking. Instead, Pelinka got distracted by the shinier thing in his field of vision and ended up with Russell Westbrook. The early returns are less than encouraging. If only the LA Lakers had someone to space the floor better. Oh, wait. They almost did.
Statistics courtesy of Basketball Reference and Stathead.
RELATED: LeBron James' Latest Injury Update Would See the King Holding Court Against His Former Team: 'There's Some Optimism'