Lakers Owner Jeanie Buss Sends out a Simple but Strong Message to the Nets: 'Bring It On'
The Los Angeles Lakers are looking to defend their title as NBA champions. The Brooklyn Nets, though, appear to be coming for that crown. The Nets were already one of the league's top teams before the season began with Kyrie Irving and Kevin Durant, but they have since added James Harden, Blake Griffin, and LaMarcus Aldridge. They may truly be unbeatable once the postseason rolls around. However, LA Lakers owner Jeanie Buss has a simple but strong message for the Nets as the NBA playoffs near.
The Brooklyn Nets recently added LaMarcus Aldridge and Blake Griffin
RELATED: Stephen A. Smith Sends Stern Message to LaMarcus Aldridge, Admits He Has Rubbed Him 'the Wrong Way'
Before the season began, the Nets were already a contender for the Eastern Conference crown with Kevin Durant and Kyrie Irving. Trading for James Harden, though, easily made them the favorites to win the Eastern Conference.
However, the team's recent acquisitions have turned them into a scary superteam. Those new additions include six-time NBA All-Star Blake Griffin, who came over to the Nets after agreeing to a contract buyout with the Detroit Pistons, and seven-time All-Star LaMarcus Aldridge, who recently parted ways with the Spurs.
The Lakers should certainly be able to compete with the Nets. When healthy, they are an incredibly talented team with LeBron James, Anthony Davis, Andre Drummond, Montrezl Harrell, Dennis Schroder, and other guys like Kyle Kuzma. But the Nets may just be too loaded at this point for anyone to really have a chance at beating them.
Lakers owner Jeanie Buss, though, doesn't appear to be too bothered by the Nets' latest moves.
Lakers owner Jeanie Buss has a simple message for the Nets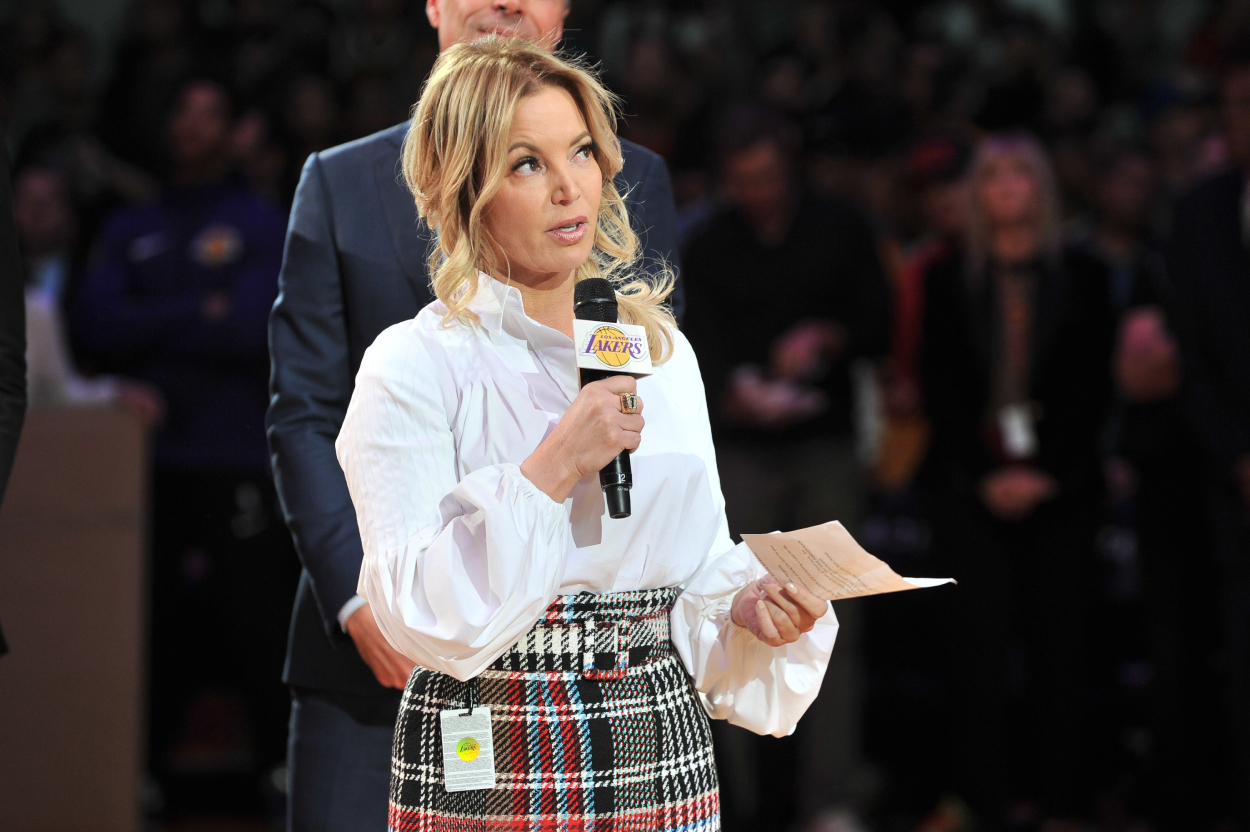 RELATED: Lakers Owner Jeanie Buss Just Revealed LeBron James' Ideal Retirement Window
Jeanie Buss, the owner of the LA Lakers, recently appeared on Stephen A. Smith's ESPN show, Stephen A's World, and she discussed the Nets' recent moves.
"It brings out the best in us," she said on the March 29 episode. "If teams identify us as the team to beat and they're gearing up to go at us head-to-head, that makes us work harder. I think our coaching staff … they love the challenge. That's what they do; that's why they're in this business."
She then had three words for the Nets.
"Bring it on."
She continued: "I wish everybody well as we lead into the playoffs. That's what makes this so exciting; you gotta watch what's going to happen next in the NBA."
Jeanie Buss certainly seems confident in her team. And she should; she has two of the best players in the world in LeBron James and Anthony Davis. However, if the LA Lakers want to win another NBA championship, they need to be healthy, and, right now, both James and Davis are out with injury.
So, what does the Lakers' owner have to say about these injuries?
Jeanie Buss discussed the injuries to LeBron James and Anthony Davis
RELATED: Kobe Bryant's Relationship With Michael Jordan Was Summed up in 1 Question He'd Frequently Ask an ESPN Reporter
LeBron James suffered a high right ankle sprain earlier this month, and a recent report suggests that he could be out for about four more weeks, per USA Today. Anthony Davis, though, hasn't played since Feb. 14 with a calf strain, and a legitimate timetable for his return has yet to come out.
Stephen A. Smith ultimately asked Buss about these injuries.
"It's not fun having your two top players out," Buss said. "… I think LeBron will come back even better than he was before, and ready for the challenge to defend the title. That's what's important, is that they get back healthy, 100% healthy before they come back so that they stay healthy for the playoffs."
Well, that didn't really give an update on Anthony Davis' injury. She does seem confident in LeBron James' situation, though.
Jeanie Buss' LA Lakers team certainly has a chance to get back to the NBA Finals this year, and could maybe win it all. However, without LeBron James or Anthony Davis, the Lakers could be in trouble.
Like Sportscasting on Facebook. Follow us on Twitter @sportscasting19.