Lakers Owner Jeanie Buss Makes Stunning Admission About Starting a Relationship With Phil Jackson: 'He Wasn't My Type'
NBA fans know Phil Jackson for his success as the Chicago Bulls and Los Angeles Lakers' head coach. They know Jeanie Buss, on the other hand, as the Lakers' owner and becoming the first female controlling owner to win an NBA championship. However, basketball enthusiasts recognize them both for their high-profile relationship that lasted nearly 17 years.
It's been over four years since Jackson and Buss called it quits, but Buss recently discussed their relationship and revealed her initial thoughts of Jackson.
Phil Jackson and Jeanie Buss dated for nearly 17 years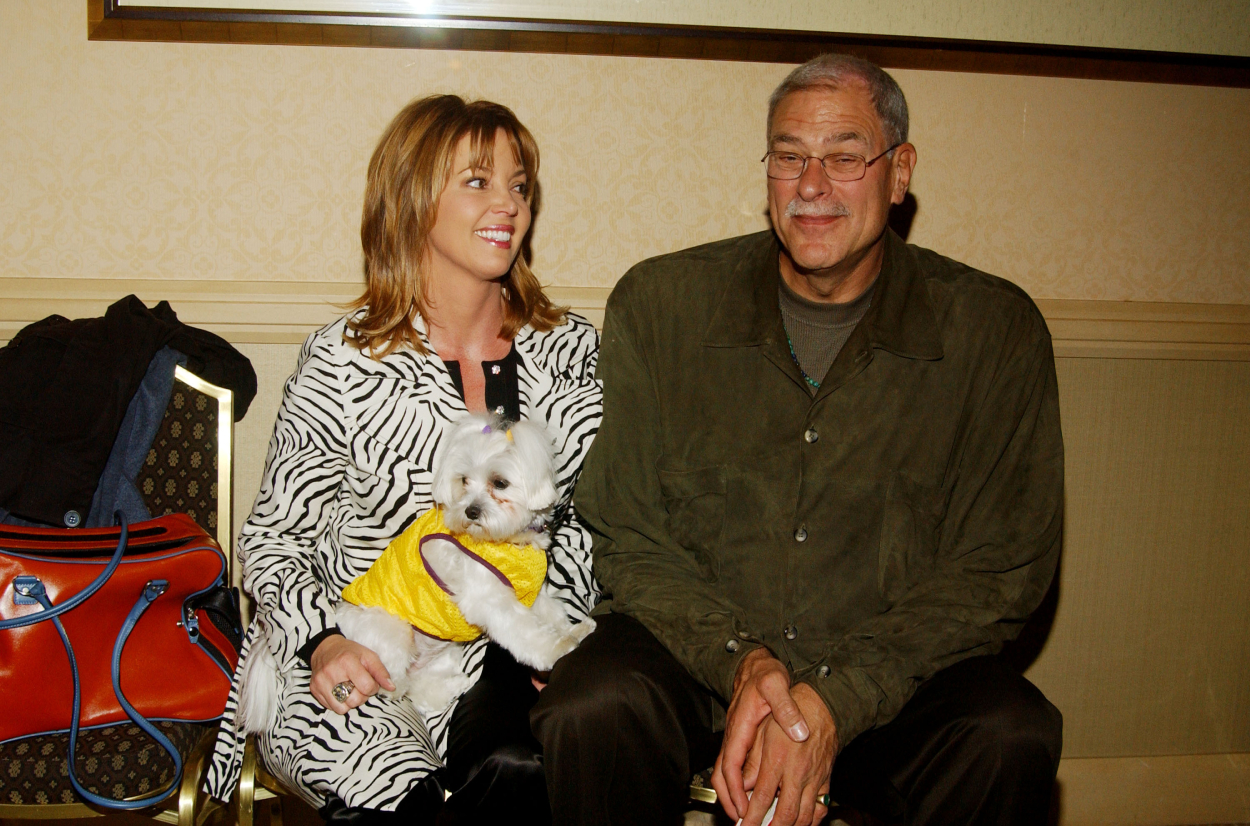 RELATED: Lakers Owner Jeanie Buss Just Revealed LeBron James' Ideal Retirement Window
After a nice NBA playing career, Phil Jackson became the Chicago Bulls' head coach in 1989-90. A decade later in 1999-2000, Jackson became the LA Lakers' head coach.
Dr. Jerry Buss was the Lakers' owner at the time. He, of course, was the father of current Lakers owner Jeanie Buss, and Jeanie had just become the executive vice president of business operations for the team, per USA Today's For The Win. During that same year, Jeanie started dating Jackson.
The two hit it off and dated for over a decade before Jackson proposed in 2012. However, Jackson became the New York Knicks' president in 2014, and, according to ESPN, he and Jeanie had to sign documents to say there wouldn't be any conflicts of interest between the Lakers and Knicks. This led to them living apart and not being allowed to talk about work.
The NBA power couple called it quits in 2016.
Jeanie discussed their relationship
RELATED: Phil Jackson Is Worth $430 Million Less Than His Ex-Fiancé
Jeanie Buss recently appeared on the All The Smoke podcast, and while discussing various topics like the Lakers and Kobe Bryant, she also discussed Phil Jackson.
"When my dad was thinking about hiring Phil, I was really against it," Buss said on the April 22 episode. "We had had another high-profile coach in Pat Riley, and at that time on our team, we had Shaquille O'Neal, the biggest personality in the league, and a young Kobe Bryant. I thought having another big personality would upset things. But, of course, my dad didn't listen to me."
So, how did they start dating?
"When I met Phil, there was something about his voice that just, I was like, 'Woah, who is this guy?" Buss said. "'Is he single?' I didn't know what his deal was. He was going through a divorce. There was a spark between us, and he asked me to dinner, and I said, 'I am interested in a relationship with you, but I'm not interested in keeping it on the down-low. If we're going to see each other, then it has to be with full disclosure. Otherwise, I could compromise the organization, and I would never do that. I'm going to have to tell my dad. How am I going to do this?'"
Buss then revealed how her dad took the news of his daughter dating his team's head coach.
"He took a second, and he said, 'You know, I've always thought you should date someone older than you because he'll appreciate you," Buss added.
She continued: "Of course, I had heard of Phil Jackson, but I thought he was just some hippie dude that listened to the Grateful Dead. He wasn't my type. We were together almost 17 years. Really one of the most important relationships of my life."
Phil Jackson and Jeanie Buss have had tremendous NBA success
RELATED: Lakers Owner Jeanie Buss Sends out a Simple but Strong Message to the Nets: 'Bring It On'
They may no longer be the NBA's power couple, but Hall of Famer Phil Jackson and Lakers owner Jeanie Buss are basketball icons.
Jackson coached the Chicago Bulls from 1989-90 through 1997-98 and won six NBA championships with Michael Jordan. In 1999-2000, though, he became the Lakers' coach and won three more straight titles from 1999-2000 through 2001-02 with Kobe Bryant and Shaquille O'Neal. Jackson also led the Lakers to four other Finals appearances and two more championships.
The Lakers ultimately had some down years once Kobe Bryant got older and eventually retired. However, Buss has made them a powerhouse yet again. LA added LeBron James in 2018, and, after missing the playoffs in 2018-19, the Lakers won the franchise's 17th NBA championship in 2019-20. This helped Buss become the first-ever female controlling owner to win a championship.
Buss may no longer have that engagement ring with Jackson, but their success has led to them both having plenty of championship rings.
Stats courtesy of Basketball Reference