Lakers Rumored to Be Considering Blockbuster Deal for Hometown Star
The Los Angeles Lakers are rumored to be pursuing an upgrade at the point guard position, and a blockbuster trade for an LA-area native might be in the cards.
The Purple and Gold have several challenges to navigate this offseason. Dennis Schroder and Andre Drummond are among those slated to become unrestricted free agents. Kyle Kuzma's future with the organization could be up for grabs, and the Lakers generally need more impact guys around LeBron James and Anthony Davis.
The Los Angeles Lakers are intent on adding a point guard
Adding more of a playmaking guard appears to be at the top of LA's wish list this offseason.
Marc J. Spears of The Undefeated reported the Lakers will be "on the hunt" for a veteran point guard this summer. That would seem to indicate they plan to move on from Schroder, who reportedly declined their extension offer earlier in the offseason.
Schroder produced mixed results in his first season in LA. The 27-year-old averaged 15.4 points, 5.8 assists, and 3.5 rebounds per contest. However, he struggled to provide adequate spacing, shooting just 33.5% from beyond the arc.
While the 5.8 assists marked the third-highest average of Schroder's career, the Lakers might need a more explosive threat who can make plays in transition or the half court. General manager Rob Pelinka could be after one of the most dynamic guards in the NBA.
Lakers could make a blockbuster trade for Russell Westbrook
Russell Westbrook has bounced around quite a bit in the past couple of seasons.
Westbrook was traded from the Oklahoma City Thunder to the Houston Rockets in 2019 when OKC began rebuilding in earnest. His partnership with James Harden failed, and unrest over the Rockets' culture resulted in Westbrook being traded to the Washington Wizards.
Could The Brodie be on the move once again?
Spears reported that the Lakers are interested in Westbrook and could swing a massive trade to bring him home to LA. According to Spears, there have been "talks" about the Lakers orchestrating a sign-and-trade deal that could include Schroder, Kuzma, and Talen Horton-Tucker.
Westbrook would be an intriguing fit in LA. He wouldn't provide much spacing given his inefficiency from beyond the arc. However, he'd take James and Davis off the ball and hunt transition opportunities. If Pelinka found a way to add more shooting, a trio of Westbrook, James, and Davis would likely terrorize opponents.
Would the Wizards take this deal?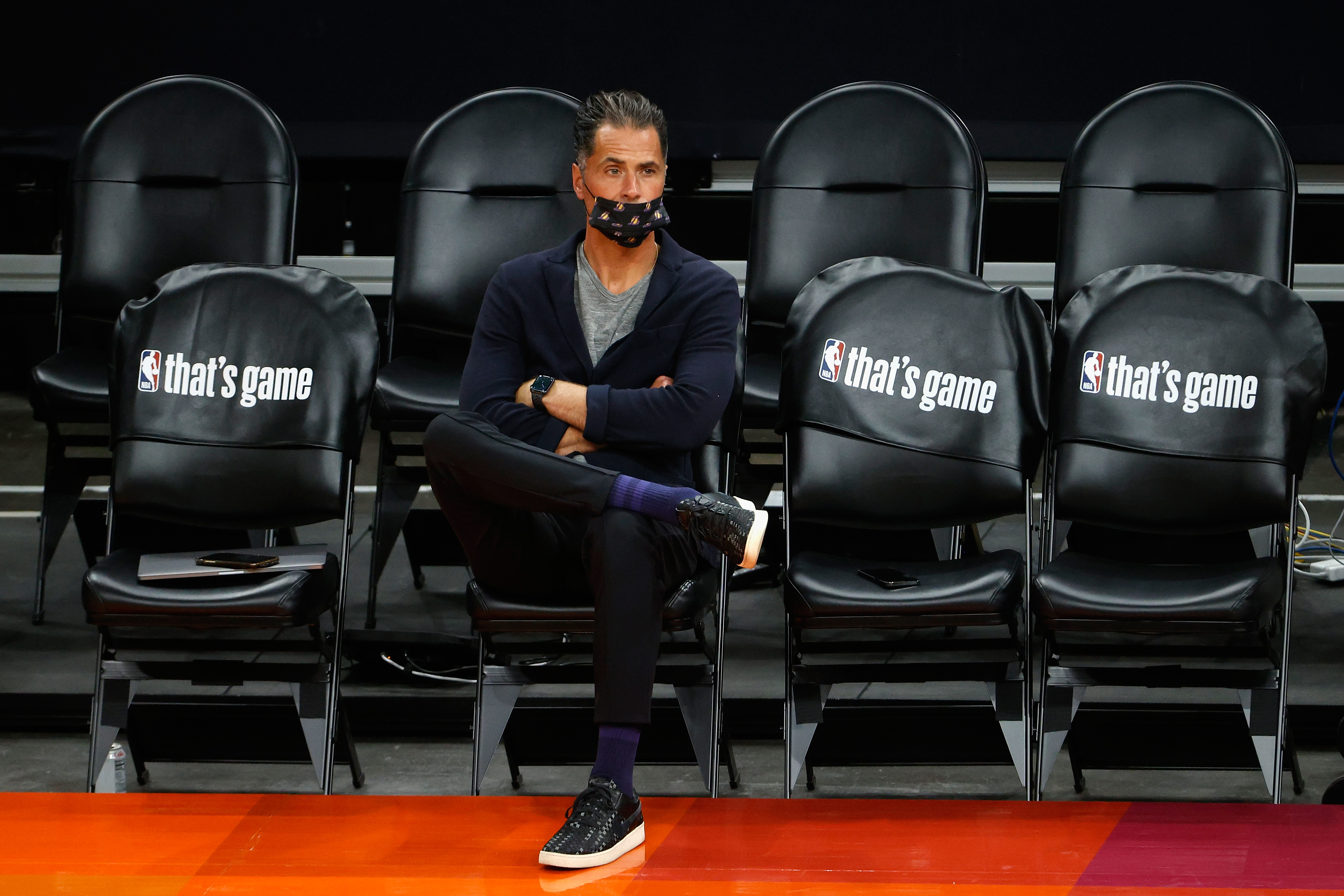 The Lakers might hope to add someone like Westbrook via trade, but it takes two to tango.
There are reasons the Wizards might like a deal for Schroder, Kuzma, and Horton-Tucker. Washington's quick-trigger offense could appeal to Schroder. Kuzma might have more freedom to look for his own offense, while Horton-Tucker could be a future backcourt piece.
However, the money might be tricky. Armin Andres, Vice President of the German Basketball Federation, said last month (per TalkBasket.net) that Schroder wants between $100-$120 million in free agency. Then there's Horton-Tucker, who could sign an offer sheet at a maximum of four years and $82 million because of the Gilbert Arenas Provision. Finally, Kuzma will make $13 million in the first two seasons of his contract extension, with a player option in the third year.
Washington might eventually feel an urgency to move off Westbrook's salary. But do the Wizards really want to be tied up in money owed to the above three guys? Additionally, is it wise to trade Westbrook after he and Bradley Beal appeared to develop a rapport last season?
Time will tell whether LA can make a splash, but it appears the Lakers would go to great lengths to acquire Westbrook.
Stats and contract information courtesy of Basketball Reference.
RELATED: LeBron James' Former Nemesis Reveals Just How Much The King Eventually Helped Him: 'I Learned a Lot From Him'