Lakers Rumored to Be Dangling Kyle Kuzma in Deal for Sweet-Shooting Guard
The Los Angeles Lakers are already churning out possible avenues to improve the roster, with one such avenue possibly including trading Kyle Kuzma for Sacramento Kings guard Kyle Kuzma.
The Lakers might prefer to add a star-caliber talent such as Chris Paul or Russell Westbrook, should either of those two veteran stars be available. Perhaps LA can swing a move for free agents DeMar DeRozan or Kyle Lowry.
In any case, LA will likely need to make sign-and-trade moves to navigate potential financial pitfalls, and Kuzma looks increasingly like an asset who could be included in such a sign-and-trade, if not an outright deal.
Kyle Kuzma has expierienced a role reduction in recent seasons
There was a time when Kuzma looked like a potential building block for the Purple and Gold.
The Lakers selected Kuzma with the 27th overall pick in the 2017 NBA Draft. The former Utah product excelled in his rookie season, averaging 16.1 points and 6.3 rebounds while shooting 36.6% from beyond the arc. He exhibited more encouraging signs in his sophomore season, averaging 18.7 points and developing a rapport with Lakers newcomer LeBron James.
While LA was comfortable including Brandon Ingram and Lonzo Ball in the Anthony Davis trade, Kuzma stayed in the City of Stars. It seemed as though the Lakers were high on his upside as a No. 3 guy alongside James and Davis.
However, Kuzma's role has been reduced over the course of the last two seasons. He primarily came off the bench as a sixth man during the 2019-20 campaign and saw his minutes decrease during the team's first-round playoff series against the Phoenix Suns.
Kuzma has also been the subject of trade chatter, and the noise has continued this offseason. Shams Charania of The Athletic reported the Lakers have received interest from "several teams" regarding Kuzma, with LA possibly looking to leverage that interest to swing a big deal.
The Lakers have discussed a deal for Buddy Hield
If the Lakers miss out on a star, they could probably do worse than adding a scorer like Buddy Hield.
Charania reported the Lakers have discussed a deal for the Sacramento Kings 2-guard, with Kuzma headlining the potential return package for Sacramento. Hield would certainly address one of LA's big needs.
The Lakers ranked 24th in three-point attempts and 21st in three-point percentage. Those aren't great numbers, considering James tends to be better served when surrounded by shooters. Well, Hield can light it up from deep.
Hield is shooting 40.6% from beyond the arc for his career. He shot over 39% from deep on 10.2 attempts per game this past season and is capable of knocking down catch-and-shoot triples as well as making threes off the dribble.
The 28-year-old has also displayed improved playmaking on the ball. Hield averaged a career-high 3.6 assists this past season after averaging 3.0 dimes during the 2019-20 campaign. His ability to create a bit off the bounce could lessen the playmaking burden on James.
Can the Lakers do better?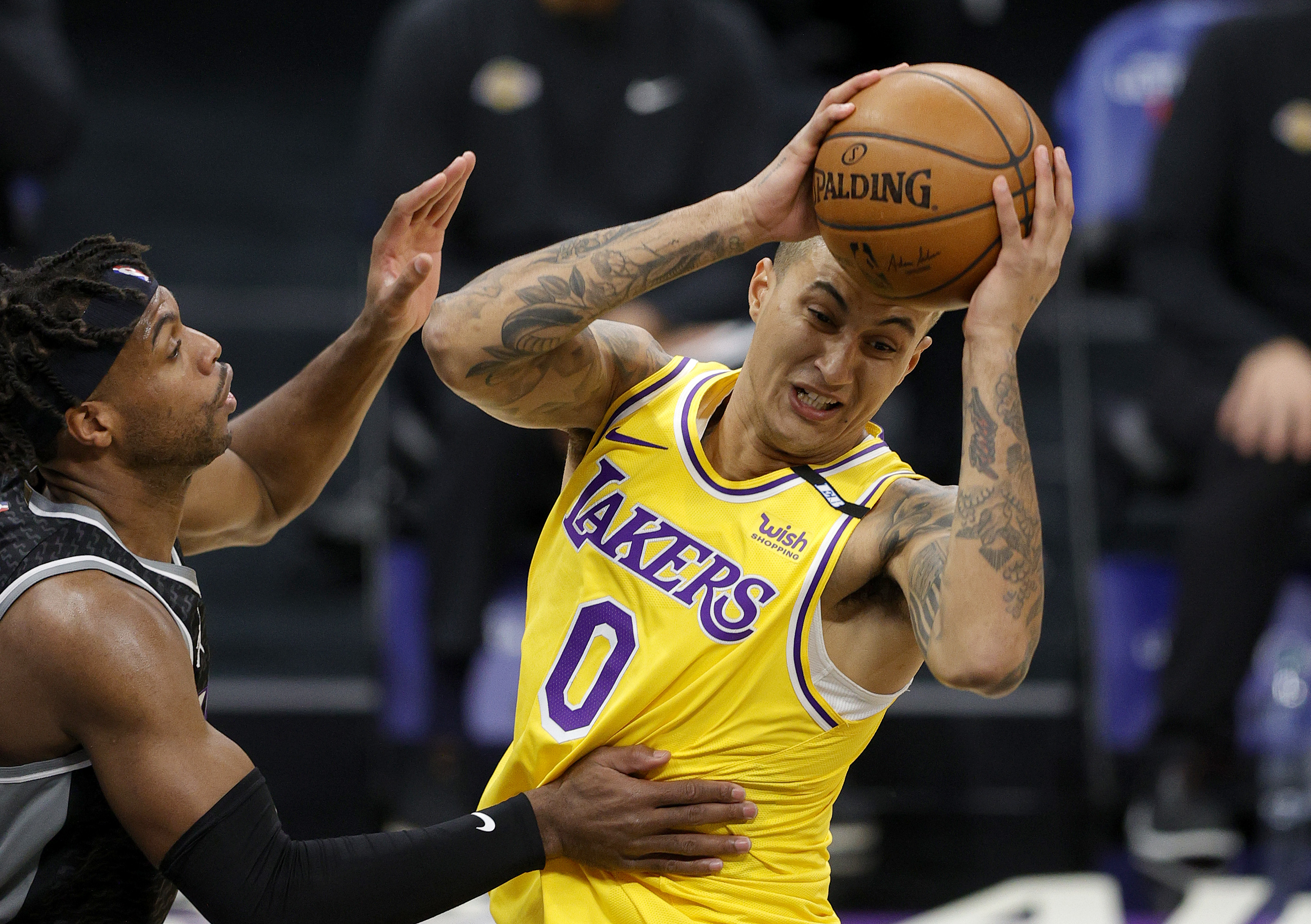 The Lakers are casting a wide net, perhaps with the hopes they can somehow use assets like Kuzma and others to acquire a star.
Adrian Wojnarowski of ESPN (via Jacob Rude of SB Nation) reported LA has offered some combination of Kuzma and Kentavious Caldwell-Pope to numerous teams around the league. It's abundantly clear the Lakers are trying to assess the trade value of their guys and whether they can somehow finagle a star talent out of a possible deal.
However, acquiring Hield would likely require less in the way of assets and draft capital. He is an impact player, to be sure, but hardly a star talent like Paul or Westbrook.
Lakers general manager Rob Pelinka will likely continue to purvey his options. Yet, it's possible that pulling the trigger on a deal for Hield is the move that could make the most sense right now, especially considering all the challenges in acquiring a star or signing a free agent such as DeRozan or Lowry.
Stats courtesy of Basketball Reference.
RELATED: LeBron James and Anthony Davis Could Reportedly Play With DeMar DeRozan and Kyle Lowry on the Lakers