Lakers Rumored to Be Seeking a Reunion With Former LeBron James Teammate
The Los Angeles Lakers might be hoping to add more shooting this offseason, and they are rumored to be interested in a former LeBron James teammate.
James has often had a certain comfort level in playing with guys he has played with before. He has an understanding of their tendencies and vice-versa. It's not a huge surprise that the Lakers would try to upgrade the roster by bringing one of his old teammates into the fold, especially if general manager Rob Pelinka cannot land a star-caliber player.
LA's free-agent target would also help the team in a serious area of need.
The Los Angeles Lakers desperately need more shooting
It's not a secret the NBA is becoming more and more of a perimeter-oriented league.
Consider: the NBA champion Milwaukee Bucks ranked fifth in three-point percentage during the regular season. Their NBA Finals opponents, the Phoenix Suns, ranked seventh in that category during the regular season.
Phoenix needed to score from the perimeter and in the midrange to offset its inability to compete with the Bucks on the glass. But the Suns went 6-for-25 from the three-point line in Game 6, which played a big role considering they were outrebounded 53-37 for the contest.
This is all a way of saying shooting can be imperative. It's also something the Lakers lack.
The Purple and Gold ranked 24th in three-point attempts per game during the regular season and 21st in three-point percentage. That wouldn't seem to be a good recipe for James, who has typically had more success when surrounded by shooters.
Pelinka is likely to prioritize shooting when filling out the roster this offseason, and one such sniper might also be a good fit for Frank Vogel's team defense.
The Lakers are interested in Reggie Bullock
LeBron James and Reggie Bullock were teammates during James' first season with the Lakers, and LA is rumored to be interested in signing Bullock in free agency.
Marc Berman of the New York Post reported the Lakers are among several teams with an eye on Bullock this summer. Berman noted Bullock's preference is to stay with the Knicks but said New York could lose him if he commands a multiyear contract on the open market.
Bullock was a terrific "3-and-D" player for the Knicks. He averaged 10.9 points and 3.4 rebounds this past season, shooting 41% from beyond the arc on 6.1 attempts per game. The 30-year-old is shooting close to 40% from deep for his career.
Ideally, Bullock would give the Lakers more spacing. He'd be dangerous as a guy who hunts corner triples. Bullock shot 44.2% from the left corner and 46.3% from the right corner, per NBA.com.
Defenses would have to respect his presence on the perimeter while also being concerned about James and Anthony Davis dominating the painted area. Bullock also has value in that he can play the 2-guard or small forward.
How the Lakers might try to sign Bullock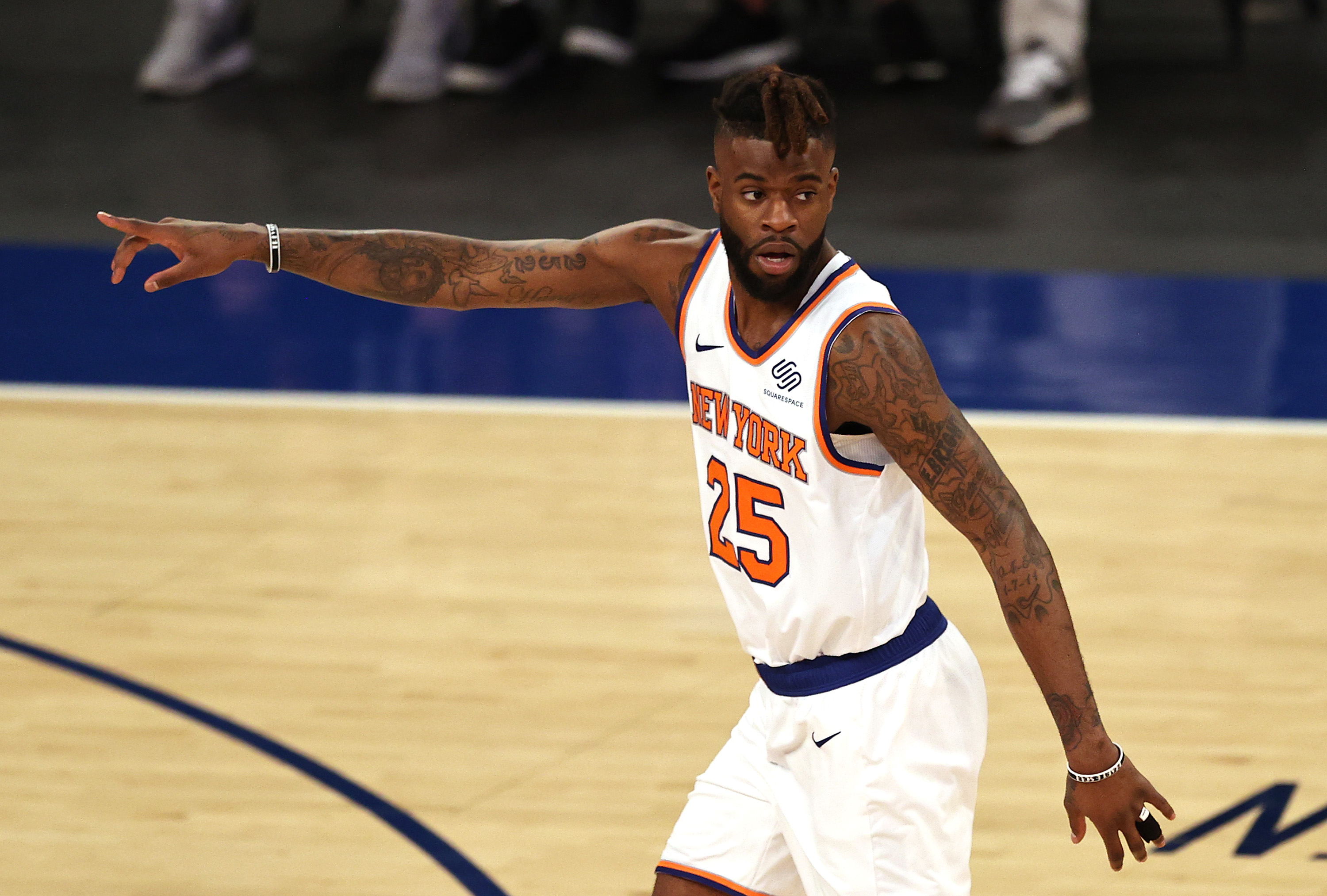 A lot of what the Lakers do this offseason could hinge on their ability to orchestrate a sign-and-trade involving Dennis Schroder. Pelinka might also see what he can get for Kyle Kuzma.
In other words, the Lakers will have to be creative in creating cap space for someone like Bullock because it's going to take a strong offer to sign him.
Berman noted the Knicks have Bullock's Early-Bird rights, so they can go over the cap to re-sign him. The Lakers might also face competition from contenders like the Philadelphia 76ers and Boston Celtics, two teams Berman reported are also interested in Bullock.
Is there a way the Lakers and Knicks could fold Schroder and Bullock into separate sign-and-trade deals? Bleacher Report's Jake Fischer reported the Knicks are expected to pursue Schroder in free agency. New York could sign him outright, but maybe there's a trade to be had there.
Regardless, the Lakers are after more shooting this offseason, and Bullock is one of the names on their list.
Stats courtesy of Basketball Reference unless otherwise noted.