What the Lakers Should Gift LeBron James This Holiday Season
The Los Angeles Lakers make building a team around LeBron James and Anthony Davis look like the hardest task in basketball. The team won a title in the bubble in 2020, but the franchise has spent the past couple of seasons putting together a roster that looks nothing like that championship-winning squad.
It turns out perimeter shooting is quite valuable in the modern NBA. Their poor roster construction doomed the Lakers last season, and their offensive struggles are still apparent this year. With Christmas on the horizon, there's no better present Jeanie Buss and Rob Pelinka could gift James than a couple of players who could stretch the floor.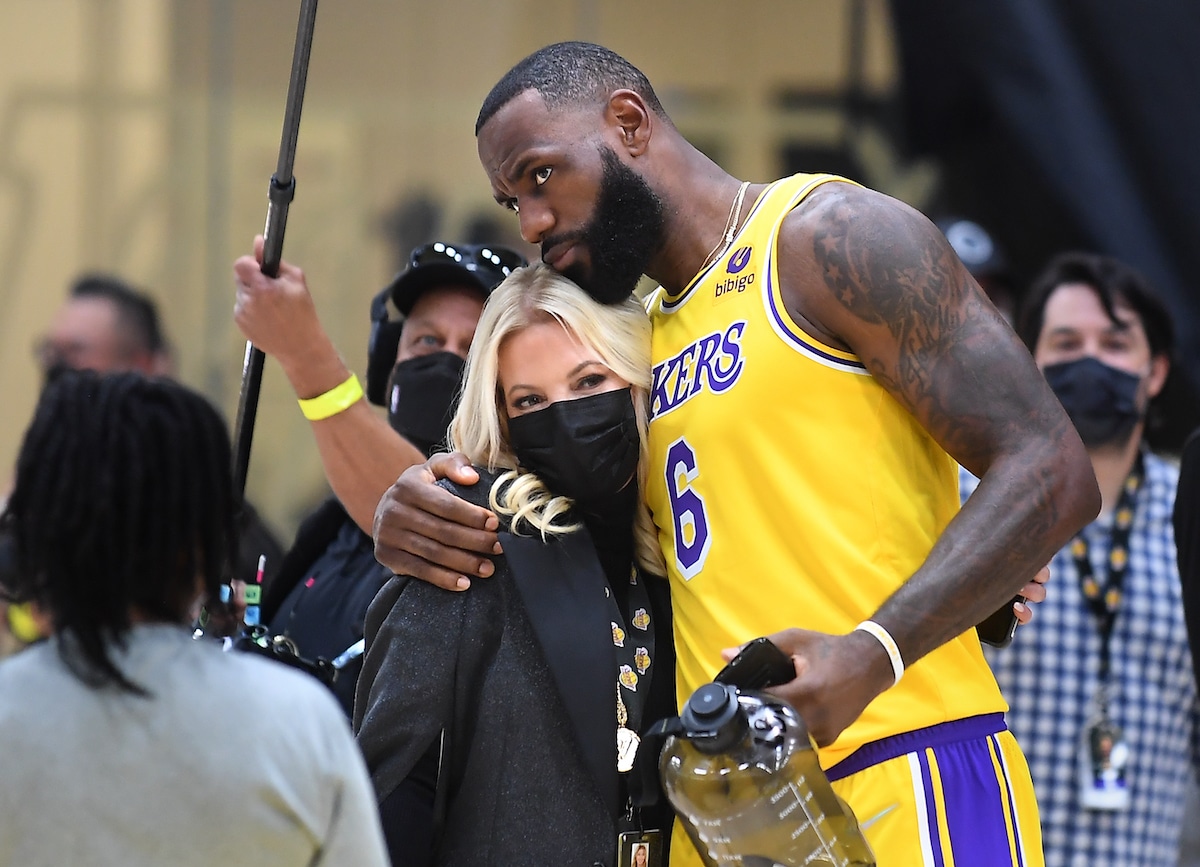 The same issues as last season plague the Lakers
Last year's Lakers season went as badly as it could have without a global pandemic in the middle of it. The addition of Russell Westbrook proved to be an unmitigated disaster. James and Anthony Davis suffered substantial injuries throughout the season. And everyone involved with the team seemed miserable for most of the year.  
Major changes were made over the summer. Darvin Ham replaced Frank Vogel as head coach and swapped out more than half of the roster. Lonnie Walker IV, Troy Brown Jr., and yes, even Patrick Beverly have their merits. But they have one unfortunate trait in common: None of them can shoot. 
The deficiencies of the Lakers' additions in the offseason were apparent to everyone with a basic understanding of statistics. But foresight doesn't make the bricks any less painful for fans. The Lakers started the season historically awful and are still pretty bad after winning six of their last eight games.
According to the NBA Stats, they are 25th in offensive rating and 28th in three-point percentage (32.4%) at the time of publication. Austin Reaves (40%) is the only player shooting comfortably above league average from three — and he only shoots three long-range shots a game. 
James is still capable of excellence, but he can't force his will on the game on both ends of the floor in the same way anymore. Davis's offensive game isn't well-rounded enough to make his teammates better. Even Westbrook has improved recently in his role as a sixth man. But he'll never provide enough spacing to make lineups involving him, James, and Davis viable for any stretch of time. The Lakers are 13th in the Western Conference with little hope of major improvement on the horizon. 
LeBron James + shooters = good offense
That formula has been proven to work for over a decade. The most glaring example of modern Lakers incompetence is that they have actively avoided surrounding James with respected perimeter threats. 
The Miami Heat and Cleveland Cavaliers understood how effective James could be with three or four spot-up shooters surrounding him. James always requires the attention of multiple defenders on the court. When teams try to double him or focus too strongly on him, opponents are left to decide between guarding arguably the best player of all time with little help defensively or leaving someone else open.
You need more than two hands to count all of the role players who got to shine in big moments (and get nice contracts as a result) by playing with King James. Shane Battier, Matthew Dellavedova, and J.R. Smith are some of the biggest examples. Accomplished big men like Chris Bosh and Kevin Love had to reorient their games around what was best for James. 
When the Lakers won the championship, the strengths of James and Davis were augmented by the likes of Alex Caruso, Kyle Kuzma, and Kentavious Caldwell-Pope. The latter two were traded away in the deal that brought Westbrook back home. Caruso was allowed to leave due to money concerns. The Lakers have missed these exact types of players ever since. 
It could've all been so different if Pelinka and Buss followed through on their initial plan and traded for then-Sacramento Kings guard Buddy Hield, a career 40% three-point shooter. (Their proposal reportedly revolved around Kuzma and Montrezl Harrell.) Westbrook was a huge gamble that was easy to imagine failing. James knows how to find players like Hield with his eyes closed. 
Options are available in the trade market, but is the Lakers' season salvageable? 
The Lakers have a second opportunity to acquire Hield if they're willing to part with their few remaining trade assets. That stipulation has been the sticking point for months. It has been widely reported that the Pacers would send Hield and his teammate Myles Turner to LA if the Lakers would give them a package involving their 2027 and 2029 first-round picks with minimal protections. (Westbrook would also have to be in the trade to match the salaries.) They've also been linked to Charlotte Hornets guard Terry Rozier, although those rumors are less consistent. 
All these players would immediately make the Lakers better. But that draft capital could be more useful to LA in the long run. James can't outpace Father Time forever. Given the track record of this front office, it wouldn't surprise anyone if those picks ended up being in the top five. 
And even if the Lakers made that trade, how high can this team go? One midseason deal can't fix all of their problems. There's no reality where this team can make a run in the postseason. The talent level outside of their top two guys is just too low. In fact, there's an argument that the Lakers would be better off trading Davis to accrue more assets and get involved in the Victor Wembanyama sweepstakes. 
Stats courtesy of Basketball Reference.