Lakers Trade Rumors: Russell Westbrook's Fate Is Solely at the Mercy of King LeBron James
As the trade deadline nears, the Los Angeles Lakers would be lucky to win a single playoff series, let alone an NBA title. Despite elite efforts from LeBron James, LA's roster has been an abject failure. And no person symbolizes that failure more than the embattled point guard Russell Westbrook.
For weeks, it's looked less and less likely the Lakers would be able to solve their Westbrook dilemma. Not only is the nine-time All-Star a liability on offense, but his undesirable $47 million salary for 2022-23 makes him borderline untradeable.
And yet, the Lakers might finally have a pathway to ridding themselves of Russ for good and starting fresh with just 27 games to go. All it will take is the swift approval of James, aka "The King."
There is one team willing to take Russell Westbrook off the Lakers' hands
No contender in their right mind would ever engage the Lakers in Westbrook trade dialogue. The 33-year-old is making $44.2 million this year, making him the fourth-highest-paid player in the NBA. But he's hardly earning his money, averaging 18.3 points on 43.5% shooting.
The last few outings have been especially miserable. Through his four games in February, Russ has as many made baskets (14) as turnovers. In that span, he's hitting just 27.5% of his shots from the field and 15.4% from three. He's even made just 55.0% of his 20 free-throw attempts.
As we said, no contender would want Russ with what he's making. But what about a non-contender? Enter the Houston Rockets.
The Rockets, Westbrook's team in 2019-20, have previously been rumored as a destination for the disappointing star. And they're still interested, according to Eric Pincus of Bleacher Report.
"The Rockets are open to making a deal, but only if the Lakers are willing to pay to play," Pincus writes. "But top Lakers executive Rob Pelinka may be hesitant to acknowledge the Westbrook move was a failure, let alone give up the team's sparse assets to make him go away."
LeBron James has the power and influence to send Westbrook packing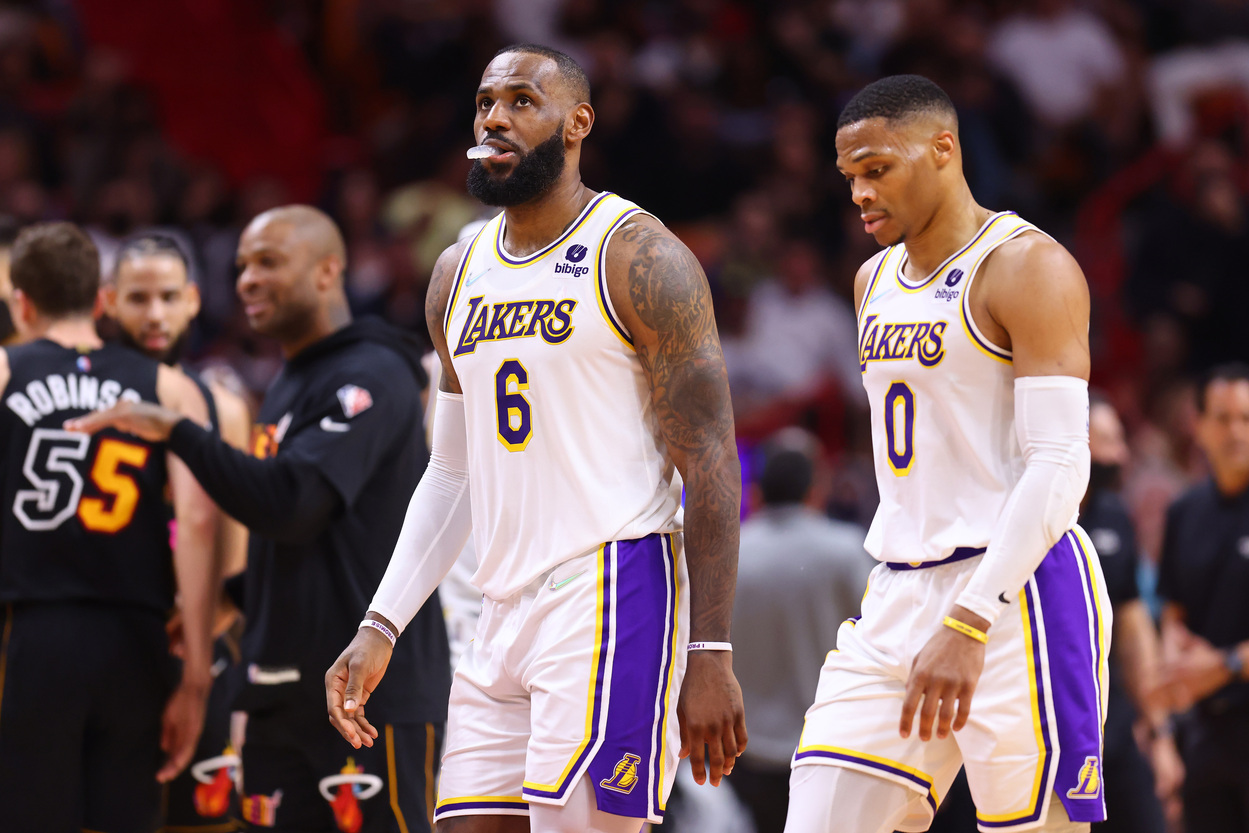 It works out for LA that Houston is willing to play ball. But there are a few demands the Lakers might be reluctant to meet.
First, LA must attach a 2027 first-round pick to Russ. Additionally, it must be open to taking on Daniel Theis' multi-year contract, a tough ask given its limited budget as is.
On the surface, those asks make any prospective deal unlikely. But that's assuming LeBron doesn't snap his fingers Thanos-style (h/t: Bleacher Report).
"If LeBron James decides that fellow Klutch Sports client John Wall could be a better fit and is willing to push extremely hard for Westbrook's exit, the Lakers might consider a deal with the Houston Rockets."

Eric Pincus
With less than 24 hours until the trade deadline, all James must do to get the Lakers to push for a Westbrook trade is ask for it. Beg for it. Demand it. If he says swapping Westbrook for Wall is the season-altering move LA needs, Houston's asks suddenly become less daunting.
LeBron and Anthony Davis famously pushed for general manager Rob Pelinka to target Westbrook last offseason. So it's only fair the King keeps controlling the guard's destiny.
Would John Wall be an upgrade over Russell Westbrook?
The reason Houston has made sense for Westbrook from the beginning isn't because of their fond memories together from two seasons ago. It's because the Rockets are armed with Wall, one of three players actually making more money than Russ.
The 31-year-old Wall is making $44.3 million this year with a player option for $47.3 million next year. Acquiring him places LA in the exact same financial situation as it's currently in with Westbrook. So it ultimately boils down to Wall's fit alongside LeBron and AD.
Wall hasn't taken the court all season after coming to an understanding with the rebuilding Rockets. When he's playing, the five-time All-Star is a guy capable of getting 20 points and seven assists a night. Though his shooting numbers mimic Westbrook, as the 6-foot-3 point guard shot just 40.4% from the field and 31.7% from three last season.
Far too often, Russ has shot LA out of the game in an attempt to be the hero. For Wall to be an upgrade over Westbrook, he would have to sacrifice a good deal of shots and serve as the team's primary facilitator. Shooting 40.4% from the field again simply won't cut it.
You can almost guarantee LeBron has reached out to Wall by this point to feel him out. If he likes what he hears, the King could then give Pelinka the green light to go all-in on a mega swap of overpaid point guards.
All statistics courtesy of Basketball Reference and contract figures courtesy of Spotrac.
RELATED: LeBron James' Searing Message to the Drowning Lakers Could Spur a Desperate NBA Trade Deadline Move