Lamar Jackson and Kyler Murray Are Changing the Way We Think About NFL Quarterbacks
Pro football in the NFL now is played the same way since 1970, the early part of the Super Bowl era. Except for a few rules changes, that is, like what constitutes roughing the passer and overtime rules. There are four quarters; each one is 15 minutes in length. There are four plays in a series to gain 10 yards within those sequences. A touchdown is worth six points; a point after is one point, and a two-point conversion is worth, well, two points.
Despite its bedrock consistency, the NFL has gone through specific eras dominated by various styles of play. In the early '70s, defenses such as Pittsburgh's Steel Curtain dominated. In 1999 and 2000, the wide-open style of the St. Louis Rams — The Greatest Show on Turf — focused on elusive runners and long pass plays. One thing in common through most of these eras is the strong-armed quarterback role as a field general. For his entire 15-year career, San Diego Chargers QB Dan Fouts threw for over 43,000 yards but rushed for only 476 yards. Young passers, such as Lamar Jackson, Kyler Murray, and Patrick Mahomes, are using their legs to change the way we think about NFL quarterbacks.
The emergence of the two-way quarterback
Starting with Atlanta Falcons quarterback Michael Vick in 2002, the era of the quarterback with running skills began. Vick was more than a scrambler who made defensive players miss, and he twice rushed for more than 900 yards in a season, eclipsing 1,000 yards in 2006. It would be a record held for 17 years until dual-threat Lamar Jackson ran for more than 1,000 yards.
With the rushing success of Jackson, Kyler Murray, Russell Wilson, Patrick Mahomes, and Cam Newton, teams are rethinking their offensive strategies. Two factors collide to drive general managers and coaches to draft college quarterbacks who not only can pass with accuracy but act as a quasi-running back. One is the fragility of NFL running backs, the other being accepting the approach that successful college teams deploy. These days, QBs like Lamar Jackson and Patrick Mahomes display elite passing talent, but their ability to run separates them from gunslingers of the past.
Patrick Mahomes's and Lamar Jackson's stats are telling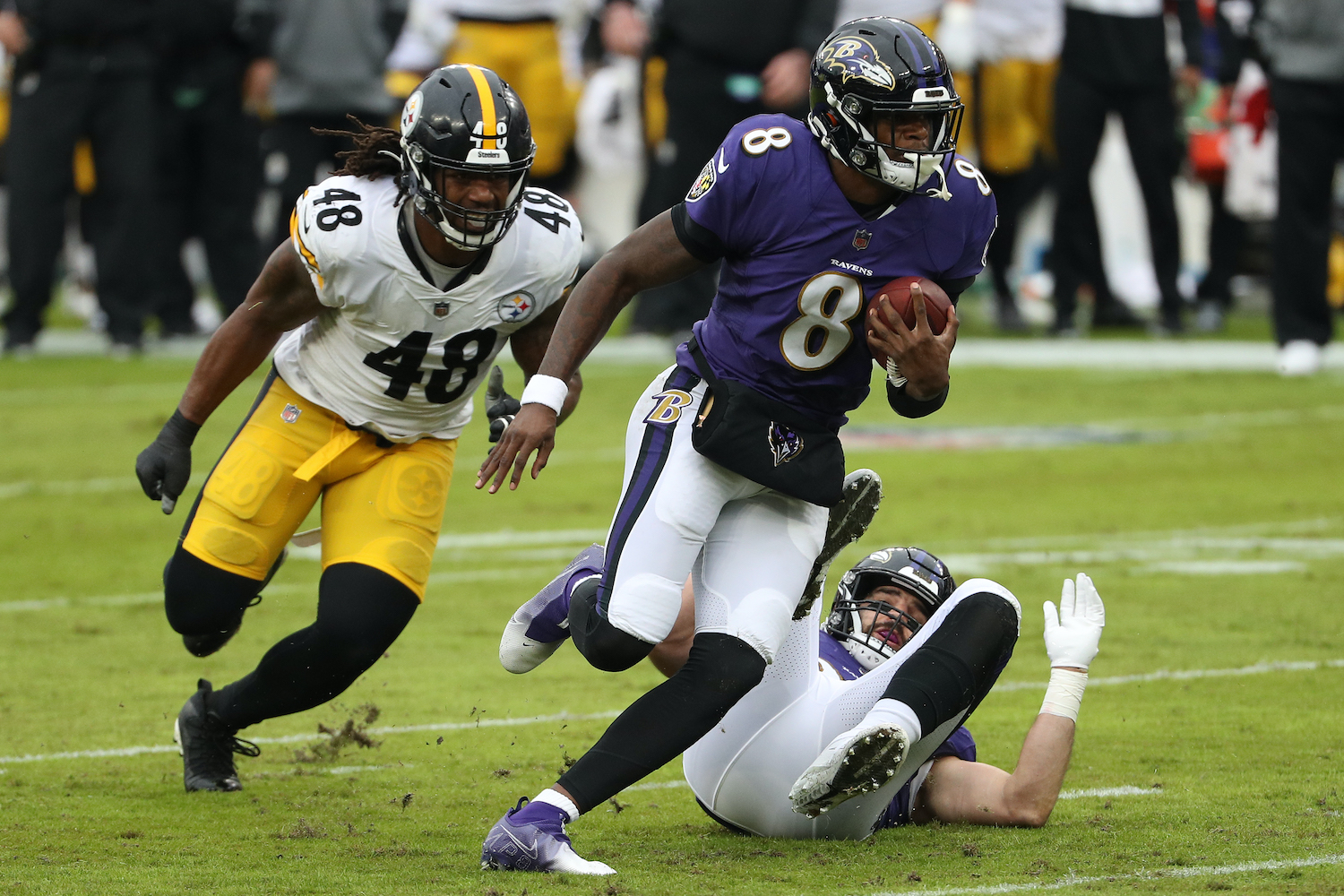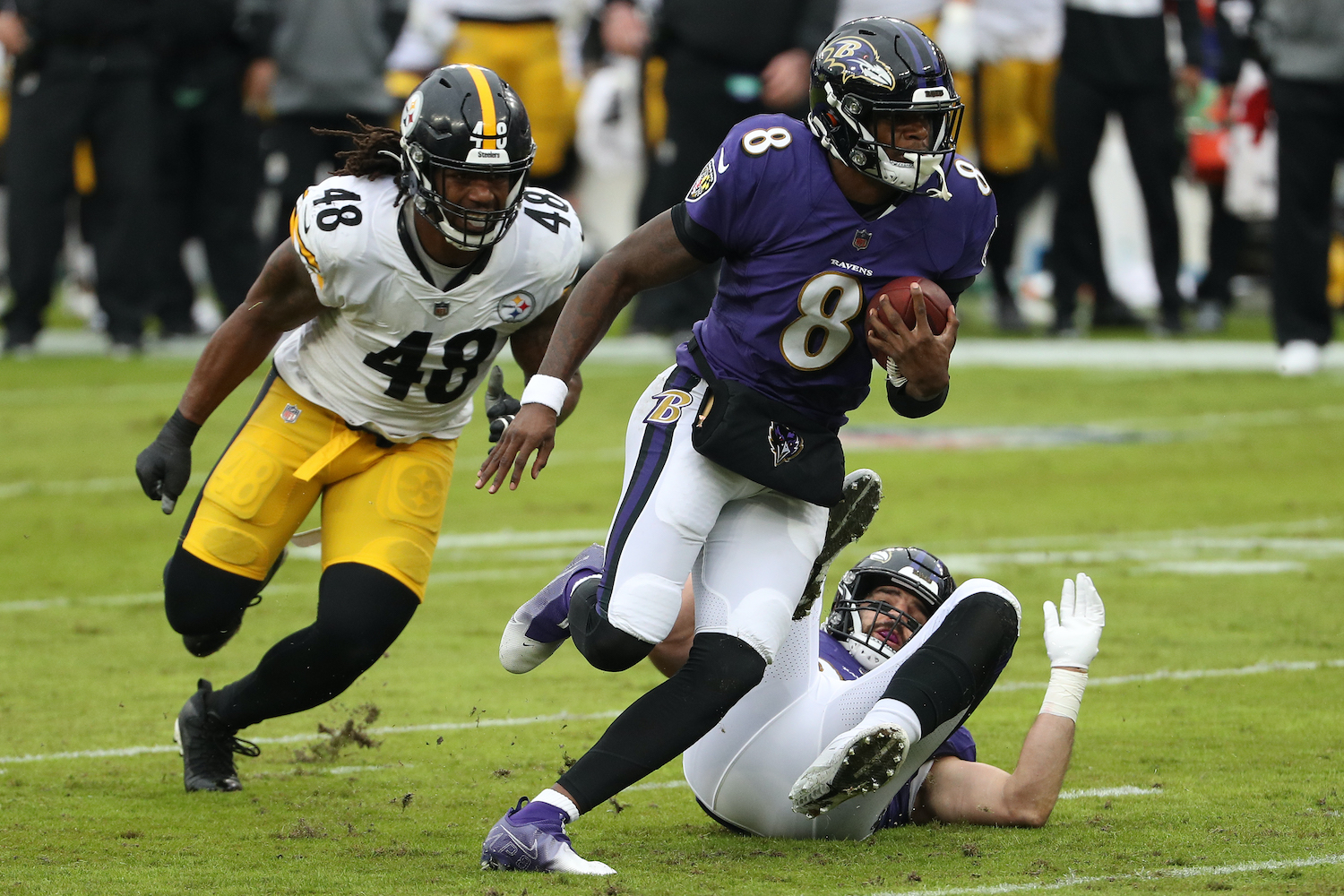 Of the current crop of NFL quarterbacks, players with two-way capability dominate. Of the top 10 in QBR rating, five are pure two-way players, while two others have strong running skills.
Aaron Rodgers, for example, has only rushed for 61 yards this season, but in the past, he's run for more than 300 yards in a season four times. Rodgers uses his athletic prowess to escape sacks and extend plays with the current more-balanced Green Bay offense. The same goes for Ryan Tannehill, who once rushed for more than 300 yards and averages close to a 5 yards per carry in his career.
Kyler Murray, Lamar Jackson, and Russell Wilson are the current prime examples of the growing trend of dominant two-way quarterbacks. Each of their teams has winning records and are in serious playoff contention. Patrick Mahomes, the MVP of Super Bowl 54, is the Chiefs No. 2 rusher through Week 9 of the 2020 season.
Wilson is on his way to another season with 500 or more yards rushing. That would be his fifth season with 500 or more yards on the ground. His running skills may be excellent, but his passing ability overshadows his ability to gain yards on the ground. In half a season, Wilson has more than 2,600 yards in the air with a league-leading 28 touchdown passes. He's in line to win his first NFL MVP award, though Mahomes is making it a tight race.
Kyler Murray is up, Lamar Jackson down in 2020
In his 2019 rookie season, Murray rushed for 544 yards, a number he will eclipse in 2020. He is averaging 7.1 yards per run with eight rushing touchdowns. His passing numbers include 16 touchdown throws (twice as many for the full 2019 season) while leading the Cardinals to as many wins in 2020 as they did in his first season as signal-caller.
Lamar Jackson's 2020 numbers are off from his MVP season of 2019. Last season, the Ravens QB ran for a spectacular 1,206 yards while throwing for 36 touchdowns. This year, after eight games, the 2016 Heisman winner has 469 yards on the ground and 12 TD passes. With half a season left, and the Steelers leading the AFC East, the highly competitive Jackson is likely to kick things into high gear.
The case against first-round running backs
As this comment from Arrowhead Pride points out, teams have moved away from drafting running backs in the first round: "The typical shelf life for running backs is incredibly short — meaning that by the time you extend a running back into their second contract, they are likely on the downward slope of their career."
Of the leading rushers in the 2020 season, Dalvin Cook, a star running back at Florida State, was drafted in the second round. Derrick Henry, a former Heisman winner at Alabama, was drafted in the second round. James Robinson of the Jaguars is an undrafted free agent from Illinois State, and Ronald Jones of Tampa Bay was a second-round pick. The only first-round choices in this group are Ezekiel Elliott, in a down year for the Cowboys, the oft-injured Todd Gurley, Josh Jacobs of the Raiders, and Clyde Edwards-Helaire, a rookie from LSU who plays for the Chiefs.
More telling is the list of injured running backs led by the New York Giants Saquon Barkley out with a torn ACL. Joining him are Sony Michel of the Patriots, David Johnson of the Texans, Kenyan Drake of the Cardinals, and Nick Chubb of the Browns.