Lamar Jackson's Arm, Not His Legs, is Going to be the Driving Force Behind the Baltimore Ravens Super Bowl Run
Lamar Jackson won a Heisman Trophy and became a first-round NFL Draft pick. He won the 2019 NFL MVP. He was ranked No. 1 on the NFL's Top 100 list in 2020. The quarterback accomplished all this, almost exclusively, with his legs. One of the best athletes to ever play behind center, Jackson has used his speed and agility to his advantage — and to great success — over the course of his career. But this year, Jackson's arm, not his legs, is going to be the Baltimore Ravens' driving force if they hope for a playoff breakthrough and a run to the Super Bowl.
Despite being named the league's MVP in just his age 22 season, Jackson has been criticized for being a great regular-season player but one who falls short in the postseason. If he's going to change that narrative, and if the Ravens are going to get back to the Super Bowl, the Louisville product is going to have to throw to do it.
Jackson has been critiqued for his lack of playoff success as a quarterback
Supposedly, the NFL has figured Jackson out as a QB. Naturally, the 24 year old disagrees. But what can't be argued with is the fact that Jackson has often dominated regular season games but hasn't yet been able to translate that dominance to the playoffs. If he's confident the league won't be able to slow him down heading into his fourth season, he's going to have to make adjustments in the passing game. His accuracy as a quarterback has been a question mark since his days with the Cardinals and those questions have yet to fade.
Jackson has completed 64% of his passes through his first three regular seasons. In his four playoff games with Baltimore, that drops to 55.9%. Defenses have been able to slow down Jackson and the Ravens' offense in the postseason thus far in his career.
Lamar Jackson is going to need to use his arm instead of his legs if he's going to lead Baltimore to the Super Bowl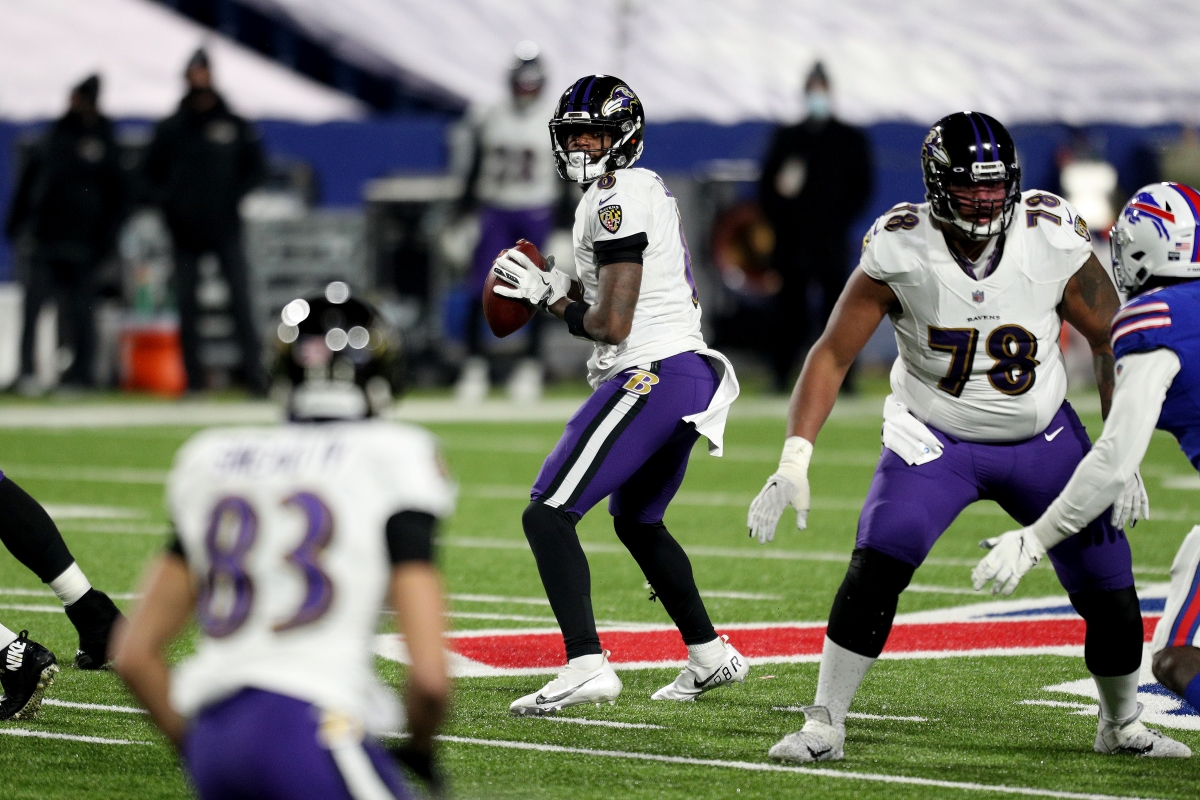 The 6-foot-2 dual-threat quarterback went 14-for-29 with 194 yards to go along with 2 touchdowns and an interception in the Ravens' lone postseason game his rookie year. He averaged 147 yards on the ground that season, but was held to 54 in the playoff loss to the Los Angeles Chargers.
Baltimore was 14-2 and won the AFC North in Jackson's MVP season, but the team was immediately eliminated from the playoffs once again. Jackson threw the ball 59 times and had 20 carries in the divisional-round loss to the Tennessee Titans, but Baltimore only scored 12 points.
The Ravens finally won their first playoff game under Jackson last season, a 20-13 victory in a revenge game at Tennessee. Still, the Baltimore offense sputtered as Jackson threw for only 179 yards, no touchdowns and an interception. He was sacked five times and once again did most of his damage on the ground. This is what will have to change if the Ravens are going to break through in the postseason: Jackson's arm will have to do the talking, not his legs.
He's still only 24 years old, though, and will be entering his fourth season in the league. He's by no means a finished product and has room to improve. Jackson's completion percentage and yards through the air increased every season at Louisville, and his offense this season is built more around his skillset as a passer. Baltimore is ready to feature more running backs and tight ends in the passing game, giving Jackson easier completions and letting his surrounding weapons work for him, according to Ravens.com:
"One of the main points of emphasis has been to involve our running backs in the passing game more. …

"J.K. [Dobbins] and Justice [Hill], specifically, that's what they should be really good at. That should be a big part of their tool kits. That's something we want to emphasize and continue to improve at."

Baltimore Ravens' Head Coach John Harbaugh on the team involving its running backs more in the passing game
The additions of Sammy Watkins in free agency and receiver Rashod Bateman through the draft should also help Baltimore's downfield attack.
Lamar Jackson has been labeled an "athlete" not a quarterback his entire career
The infamous Bill Polian stance that Jackson should change positions and become a wide receiver in the NFL is well-document and has been proven false time and again. The Ravens' QB has all the abilities needed to succeed in the league; it's a matter of continuing to work and continuing to improve his accuracy.
Jackson has proven doubters wrong all the way back to his time at Louisville. As he continues to grow as a player, there's no reason he can't continue to do so in the NFL.
All statistics courtesy of Pro-Football-Reference.