Lamar Jackson Once Cried Over a Career Accomplishment That Had Nothing to Do With Winning the Heisman or NFL MVP: 'I Actually Shed Tears'
Baltimore Ravens quarterback Lamar Jackson has become one of the most decorated football players in the world. Not only has he earned an NFL MVP, but he also even won a Heisman Trophy during his college career with the Louisville Cardinals. However, none of these accomplishments made Jackson cry. The one achievement that did, though, was something completely different than the typical honors most football players receive.
Jackson cried about being on the cover of Madden.
Many NFL stars have been featured on the cover of Madden
Madden has been one of the most successful sports video games throughout the past three decades, and it has become a significant accomplishment for a player to appear on the cover.
Take a look at some of game's past and present cover stars, per NFL.com:
1988, 1991–2000: John Madden
2001: Eddie George
2002: Daunte Culpepper
2003: Marshall Faulk
2004: Michael Vick
2005: Ray Lewis
2006: Donovan McNabb
2007: Shaun Alexander
2008: Vince Young
2009: Brett Favre
2010: Troy Polamalu and Larry Fitzgerald
2011: Drew Brees
2012: Peyton Hillis
2013: Calvin Johnson
2014: Barry Sanders
2015: Richard Sherman
2016: Odell Beckham Jr.
2017: Rob Gronkowski
2018: Tom Brady
2019: Antonio Brown
2020: Patrick Mahomes
2021: Lamar Jackson
2022: Tom Brady and Patrick Mahomes
It's safe to say that there hasn't been a shortage of legends to star on the cover of Madden over the past few decades, and Jackson was one of them.
Lamar Jackson cried when he saw his Madden 21 cover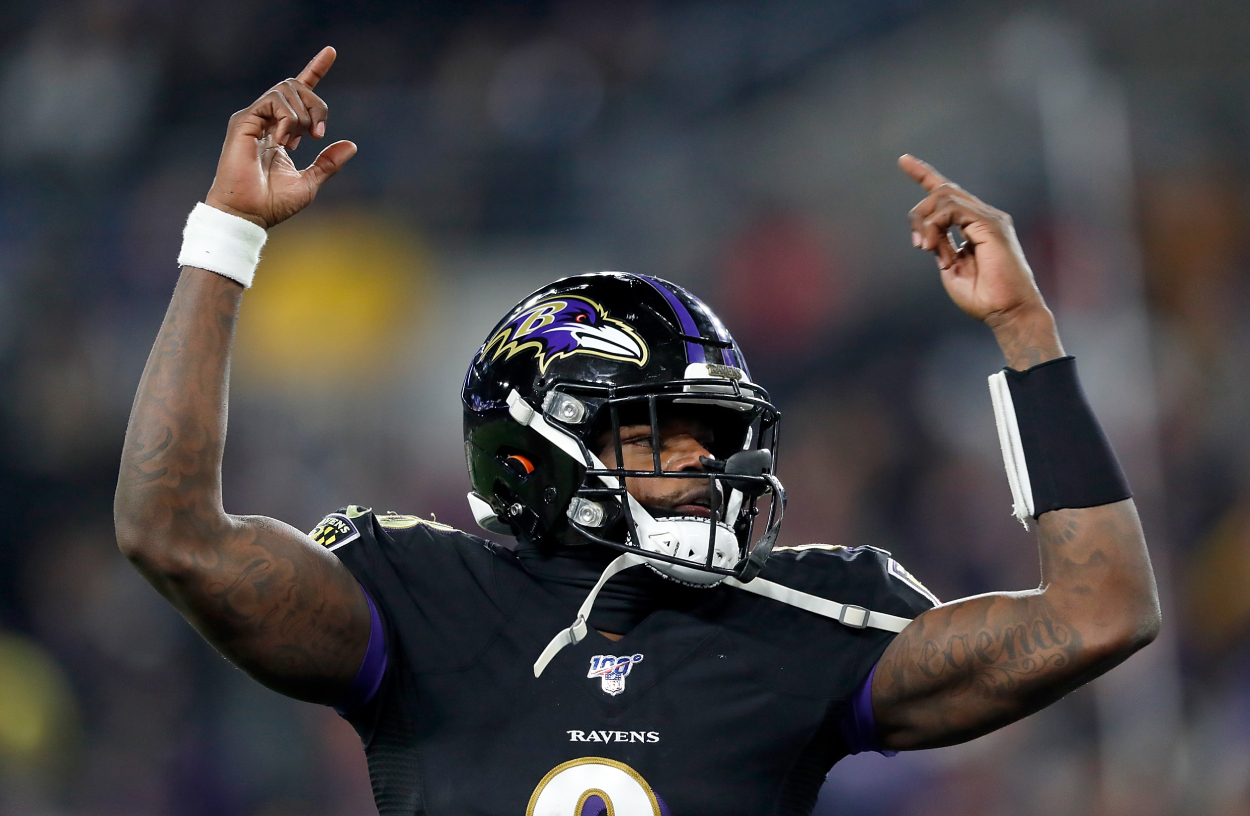 Madden featured Jackson as the cover athlete for Madden 21 after he dominated for the Ravens throughout the 2019 season.
The cover, though, actually brought Jackson to tears.
"They revealed to me the cover early," Jackson said in 2020, per NBC Sports. "I don't cry about stuff. I didn't cry when I won the Heisman, I didn't cry when I won all the other accolades. But when I seen the cover, I actually shed tears, like, 'What the? It's unreal.'"
Players in Jackson's generation probably played Madden throughout their entire childhood and into their adult years, so finding themselves on the cover of the game that they have played their entire lives has to be a surreal moment. It certainly was for Jackson.
However, starring on Madden probably won't be the last big-time accolade Jackson will receive in his football career.
Lamar Jackson has had a successful football career with Louisville and the Ravens
Jackson first proved to be an absolute superstar during his college career at Louisville. In 2016, he took the football world by storm, throwing for 3,543 yards, 30 touchdowns, and nine interceptions while running for 1,571 yards and 21 touchdowns. That performance helped him win the Heisman Trophy.
He then continued to dominate in 2017 by throwing for 3,660 yards, 27 touchdowns, and 10 interceptions while running for 1,601 yards and 18 touchdowns.
Jackson's size and style of play, though, led to him going late in the first round of the 2018 NFL draft, but he proved to be a great selection for the Ravens. After just starting in seven games his rookie year, Jackson threw for 3,127 yards, an NFL-leading 36 touchdowns, and six interceptions for Baltimore in 2019. He also ran for 1,206 yards and seven touchdowns, which helped him earn Pro Bowl, first-team All-Pro, and NFL MVP honors.
Jackson then threw for 26 touchdowns and nine interceptions in 2020, and he ran for over 1,000 yards for a second straight season.
Throughout both his college and pro careers, Jackson has proven to be an elite athlete, and, with the team the Ravens have around him, he has a chance to have success in the NFL for a very long time.
There are probably many more accolades in store for Jackson's future, so he may be shedding plenty of more tears in the coming years.
Stats courtesy of Sports Reference and Pro Football Reference
RELATED: Baltimore Ravens Reunite Lamar Jackson With His Favorite High School Wide Receiver