Lamar Jackson Doesn't Want You Getting Too Attached to His Current Image in a Ravens Uniform
If and when Lamar Jackson leads the Baltimore Ravens to a Super Bowl victory, he already has an understandable goal in mind.
Yes, Jackson will likely join his teammates in proclaiming that he's going to Disney World. However, the Ravens' star quarterback has another post-Super Bowl objective he wants to accomplish besides taking photos with Captain America and Kylo Ren.
Lamar Jackson wants to eventually change numbers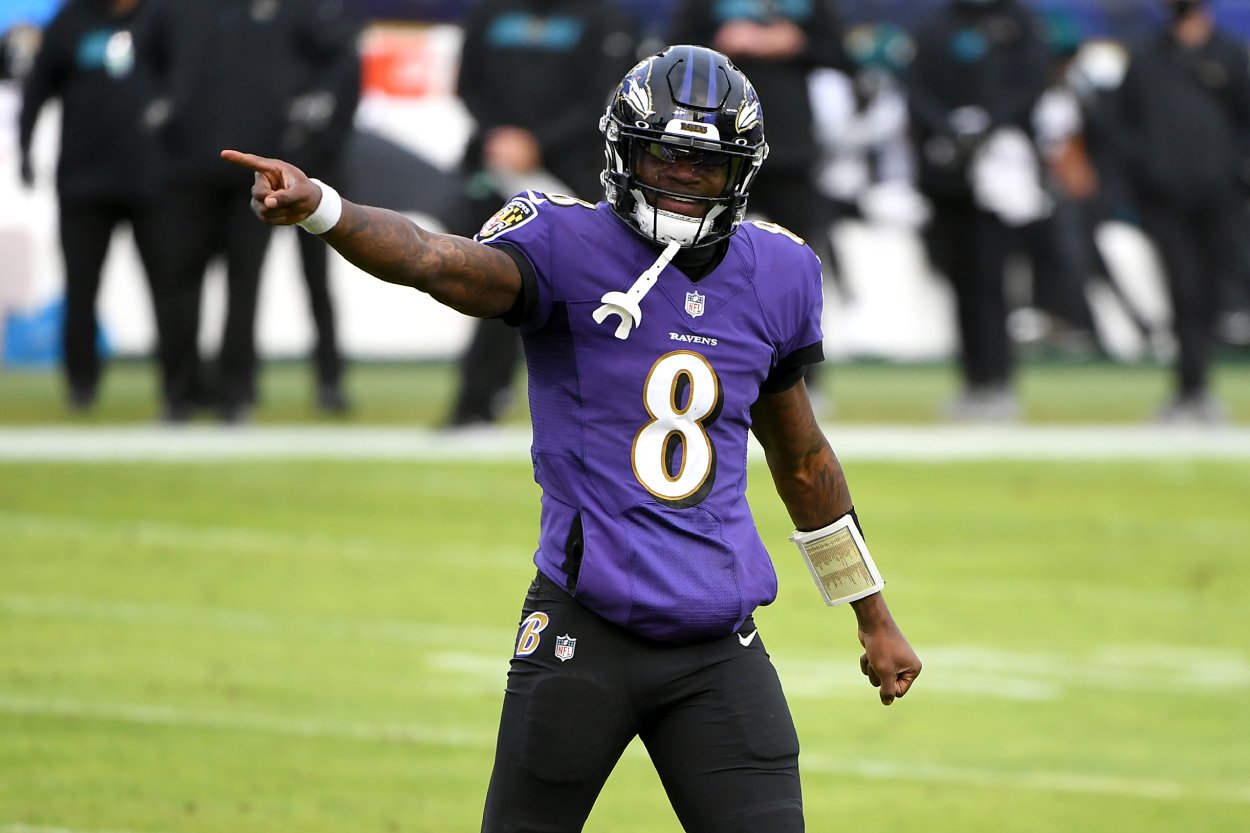 Any crowd shot of a game involving the Ravens will feature fans of all ages wearing their official Jackson jersey, complete with the No. 8 on both sides.
Those fans might want to start saving money for buying Jackson's next jersey. During a recent appearance on The Lounge, the Ravens' official podcast, the fourth-year quarterback admitted he likely won't wear No. 8 forever.
It's not that Jackson, who can potentially hit free agency in the spring of 2023, intends to leave Charm City. Instead, he wants to switch numbers upon winning a Super Bowl.
"I want the No. 1. That's my first number ever. My dad told me, 'Get No. 1 because that's the best. You're the best.' And it always stuck with me."

Lamar Jackson
The earliest that fans should expect to see Jackson wearing No. 8 is 2023, and that's even if the Ravens win the Super Bowl this season. The 24-year-old would either need to announce his change a year in advance or buy out the NFL's remaining stock of officially licensed Jackson jerseys.
Jackson still has plenty he can accomplish while wearing No. 8
The good news for fans who spent money on those official Jackson jerseys is he's not changing numbers anytime soon. The better news is he still has plenty he wants to accomplish while wearing No. 8.
Obviously, Jackson's primary goal is leading the Ravens to their third Super Bowl title. If he has no lingering issues from a recent positive COVID-19 test, he should be considered a threat to win his second NFL MVP Award.
Jackson told The Lounge he eventually wants the Ravens to retire No. 1 and No. 8 if he switches numbers.
"​​I want to win a Super Bowl with No. 8 on, do as much as I can with No. 8 on, then come back and do the same thing with No. 1 on," Jackson said.
As of July 2021, the Ravens had not officially retired any numbers. However, the team has not reissued numbers 20, 52, and 75 in honor of Ed Reed, Ray Lewis, and Jonathan Ogden. Ravens players are also unofficially prohibited from wearing No. 19 out of respect to legendary Baltimore Colts quarterback Johnny Unitas.
Joe Montana is among the few notable quarterbacks who changed numbers deep into their career
Quarterbacks don't change numbers very often. Even when Peyton Manning and Tom Brady switched teams late in their careers, they continued wearing No. 18 and No. 12, respectively. Elsewhere, Green Bay Packers legend Brett Favre wore No. 4 with the New York Jets and Minnesota Vikings.
If the time eventually comes where Jackson switches numbers and dons No. 1, he wouldn't be the first notable quarterback to make such a change. Joe Montana wore No. 16 with the San Francisco 49ers and changed to No. 19 when he joined the Kansas City Chiefs.
More recently, Carson Wentz wore No. 11 with the Philadelphia Eagles but will wear No. 2 as a member of the Indianapolis Colts. Joe Flacco, Jackson's former teammate, wore No. 5 for his first 13 seasons but is using No. 7 on the Eagles this season.
Conversely, Kurt Warner wore No. 10 in 1998 as a backup on the St. Louis Rams. He switched to No. 13 ahead of the 1999 season and led the Rams to a Super Bowl title.
With all of that said, Jackson is the same player who some, including former Colts general manager Bill Polian, was best suited to playing receiver in the NFL. Let's not put it past him to win the MVP Award while wearing two different numbers for the same team.
Like Sportscasting on Facebook. Follow us on Twitter @sportscasting19.