Lamar Jackson Just Entered an Exclusive Club With Cam Newton Which Further Proves Why He's the NFL's Most Valuable Player
When you talk about the MVP of the 2021 NFL season, please don't make the mistake of forgetting Lamar Jackson. The Baltimore Ravens superstar continues to dazzle and rack up accolades. His latest feat puts him in an exclusive club with only Cam Newton.
Jackson continues to prove that he's the most valuable player in football right now.
Lamar Jackson joined Cam Newton in the history books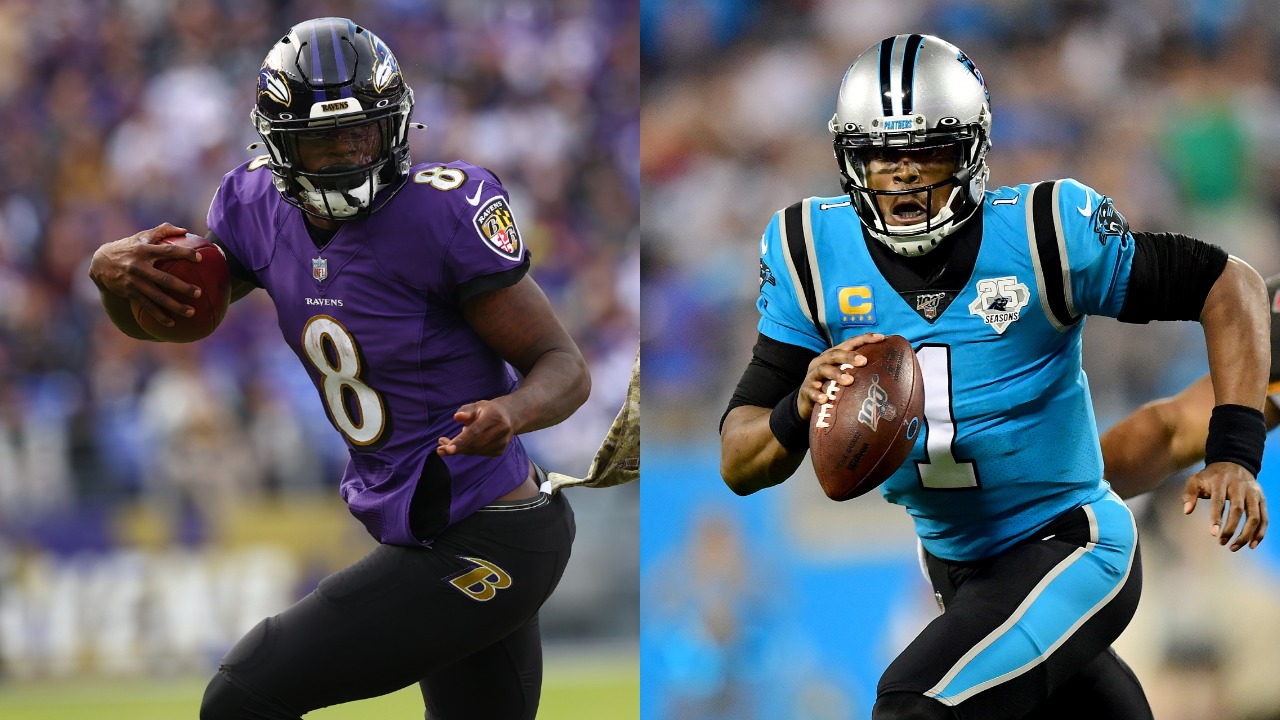 The Baltimore Ravens pulled out a nail-biting overtime victory over the Minnesota Vikings in Week 9. They couldn't have done it without a heroic performance by Lamar Jackson.
Baltimore trailed by two touchdowns at one point, but No. 8 and company didn't panic. Jackson completed 27 of 41 pass attempts for 266 yards and three touchdowns. He did throw two interceptions but more than made up for them.
Jackson also racked up 120 yards on the ground. The Louisville product notched his third career game with 250 passing yards and 100 rushing yards.
The only other player to accomplish that same feat three times is Cam Newton. Newton was an elite dual-threat quarterback in his prime years with the Carolina Panthers. Jackson is even more dangerous because of his top-end speed and game-breaking ability.
The only other players in NFL history to record a similar stat line in their careers are Colin Kaepernick, Kyler Murray, Marcus Mariota, Michael Vick, and Russell Wilson. That's it.
Jackson is in just his fourth NFL season and continues to make history. At this pace, he could enjoy one of the most productive careers in league history.
The Ravens QB is the NFL MVP right now
Say what you will, but Lamar Jackson detractors are running out of excuses. The Baltimore Ravens' star is one of the best players in football, regardless of position.
Jackson continues to build an impressive case for the second MVP award of his young career. The Louisville product has thrown for 2,209 yards and 13 touchdowns while completing 65% of his passes. He's thrown seven interceptions, but he's quickly bounced back from just about every one of those costly mistakes.
Jackson has been his usual dominant self on the ground, too. He's rushed for 600 yards and two touchdowns. The Ravens' dual-threat dynamo is churning out 6.2 yards per carry on 97 rush attempts.
Opposing defenses focus their game plan around Lamar Jackson, similar to how they did during Cam Newton's prime. It's impossible to account for No. 8's speed and overall athleticism, though. He makes defenders look silly weekly.
The Ravens are currently 6-2, heading into a Thursday Night Football tilt against the Miami Dolphins. Jackson is the biggest reason for the team's success. He's helped lead Baltimore to three double-digit comeback victories in 2021, which is something they previously struggled to do.
It's difficult to deny the impact Lamar Jackson has on this Ravens team.
Baltimore continues to overachieve behind Jackson's leadership
Lamar Jackson is only 24 years old, but he's established himself as one of the Baltimore Ravens' locker room leaders.
While his counting stats are eye-popping, Jackson's leadership goes well beyond the numbers.
Injuries have decimated the Ravens' roster dating back to training camp. John Harbaugh's squad is playing without several important pieces, including J.K. Dobbins, Ronnie Stanley, Marcus Peters, and now DeShon Elliott. Still, they have found ways to win football games.
Earlier in the season, wide receiver Hollywood Brown warned people against counting out the Ravens despite devastating injuries. "We got Lamar Jackson," said Brown on NFL Network's Good Morning Football.
Brown seems to be echoing the sentiments of the entire Ravens' locker room. This team feels like it always has a shot because of how dynamic Jackson is with the ball in his hands.
The Pompano Beach, Florida native has the utmost confidence in himself, his teammates, and his coaches. That confidence rubs off on the rest of the team. That's a major reason why Baltimore has exceeded expectations through the first eight games.
If the Ravens make it out of the AFC or even put themselves in position for a deep playoff run, we need to be talking about Lamar Jackson for MVP and John Harbaugh for Coach of the Year.
All stats courtesy of Pro Football Reference.