Lamar Jackson Finally Reveals the Secret to His Incomparable Elusiveness: 'It Can Probably Be Taught, I Don't Know'
The Baltimore Ravens hit the jackpot when they landed Lamar Jackson with the No. 32 overall pick in the 2018 NFL Draft. Teams incomprehensibly slept on the dual-threat dynamo, and he's been making them pay ever since. It's nearly impossible to corral Jackson in the open field, but how does he do it? The 24-year-old credits his incredible running ability to one of his favorite childhood games.
Lamar Jackson is one of the most dynamic players in the NFL
Since entering the NFL, Lamar Jackson has been a problem no one can figure out.
The Heisman Trophy winner ran roughshod over college football defenses while playing at Louisville. Now, he's making similar magic against the best football players in the world.
Concerns about Jackson's passing ability emerged before the draft, as some scouts pegged him as a player better suited at a different position. The Baltimore Ravens signal-caller has since debunked that lazy myth.
Jackson has proven a lethal weapon whether he's throwing the ball or getting it done with his legs.
No. 8 put the league on notice in 2019 when he dominated the competition en route to winning MVP honors. He amassed 3,127 passing yards, 1,206 rushing yards, and 43 total touchdowns.
Jackson is fully capable of putting up video game numbers weekly. His skill set is unmatched, even compared to a guy like Michael Vick.
Of all the dynamic traits Lamar Jackson brings to the table, his elusiveness is his greatest asset.
The Ravens QB credits his elusiveness to playing tag as a kid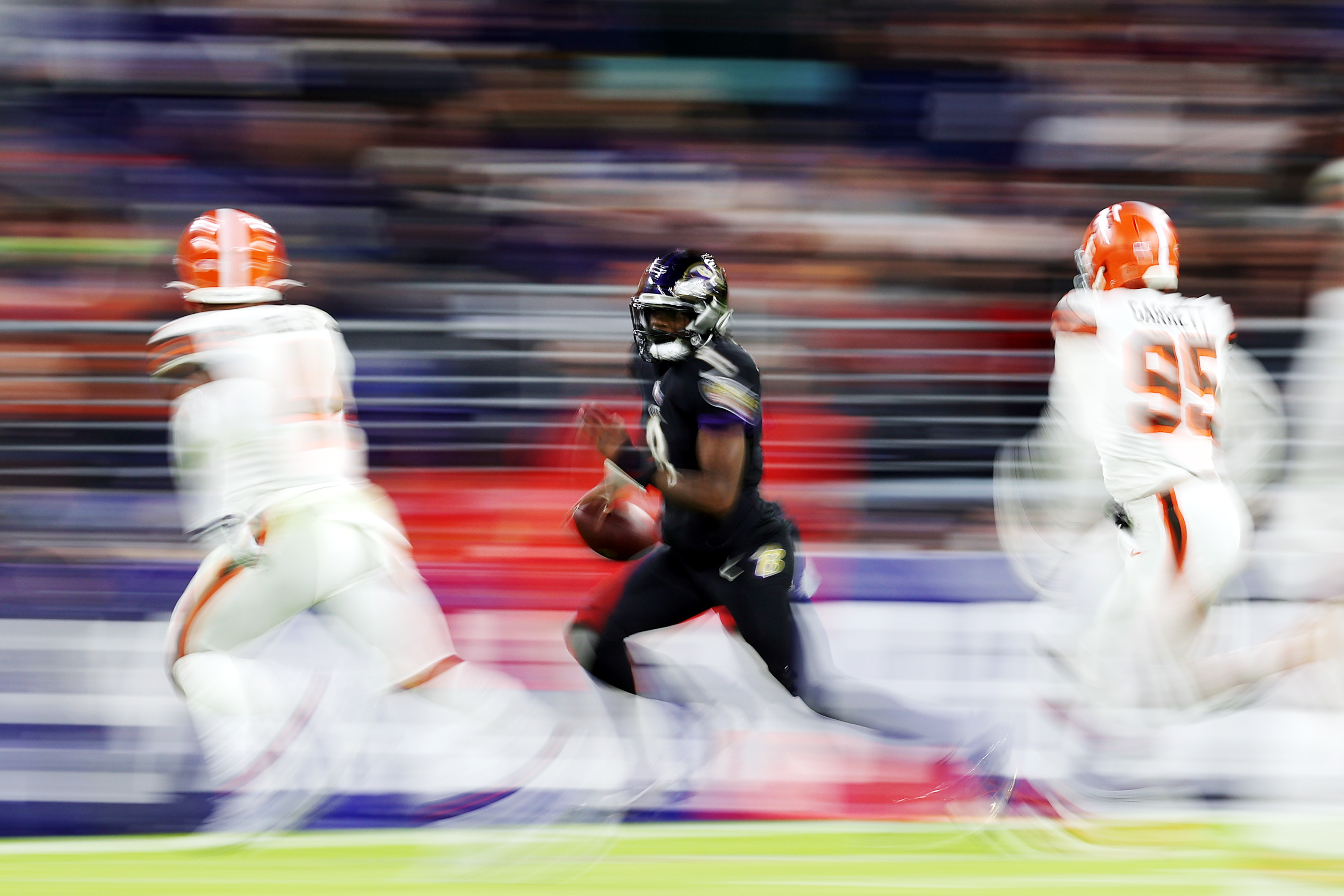 According to The Sporting News, Lamar Jackson ran a 4.34-second 40-yard dash at Louisville's "Speed Day" in 2017. A quarterback should not be running that fast. No. 8 is the exception.
The odds of tackling Jackson one-on-one in the open field are pretty slim. He's the primary reason the Baltimore Ravens' offense can be dangerous when firing on all cylinders.
You can't purchase athletic gifts in stores. You either have them, or you don't. While the All-Pro quarterback is naturally fast, he credits his elusiveness to something else.
Jackson claims that his elite playmaking ability comes from playing a popular game as a youth growing up in Pompano Beach, Florida.
"I think my skill comes from playing tag," he told BaltimoreRavens.com's Ryan Mink. "Not wanting to get touched and stuff like that. It just transitioned over to football."
Head coach John Harbaugh suggested that you can't coach the things Lamar Jackson does on a football field. The former MVP isn't sure.
"It can probably be taught, I don't know," he said. "Coach Harbaugh should know; he's the coach. I don't really know. It's God-given. It's all of that."
When asked if anyone has ever caught him while playing tag, Jackson's response was as expected.
"I don't think so," he said. "Not by one person, not one-on-one. No, no, no."
Baltimore has maximized Jackson's unique ability
The notion that Lamar Jackson would be a wide receiver in the NFL was always foolish. There's no way you watch him embarrass Division I athletes in all facets and think he should change positions.
No matter where the Louisville product went in the draft, it appears he ended up where he belongs. The Baltimore Ravens have been the dream organization for Jackson to grow and develop his game.
After years with Joe Flacco under center, Baltimore transitioned over to the Lamar Jackson era, which would look a lot different. The coaching staff tailored the offense around the young signal-caller, which proved they believed in him. It's why the front office traded back into the first round to draft him.
John Harbaugh has proven, on countless occasions, that he has the utmost level of trust and belief in Jackson. Whether it's going for it or fourth down or trusting the Pro Bowler to bounce back from a bad interception, the faith is unwavering.
Lamar Jackson has flourished in Baltimore because the Ravens didn't try to change him. The coaches let their superstar be himself, good or bad (even though it's mostly good).
Together, Jackson and the Ravens have shown how the game is evolving. Not every quarterback is Tom Brady, but the NFL is no longer a cookie-cutter league.
Some doubters will never accept that they could be wrong. However, it's impossible to deny how dynamic No. 8 is with the ball in his hands.
All stats courtesy of Pro Football Reference