Lamar Jackson Is Foolishly Self-Sabotaging His Chances of Winning a Super Bowl With the Ravens
Article Highlights:
Lamar Jackson and the Baltimore Ravens remain nowhere close to a contract extension
The 2019 NFL MVP will need to play next season on his fifth-year option if he doesn't ink a long-term deal
Jackson needs to cash in while he has the opportunity to earn a life-changing contract
The future looked extremely promising for Lamar Jackson and the Baltimore Ravens when the 2020 season ended. In spite of playing through a pandemic-affected season, the dual-threat quarterback helped the Ravens to a third straight playoff appearance, won his first career postseason game, and appeared destined to sign a new contract ahead of the 2021 campaign.
Then, silence.
Jackson and the Ravens never agreed to a new deal, which wasn't too great an issue at the time. The two-time Super Bowl champions still had the 2019 NFL MVP under contract for two more years, and it appeared they'd work out an extension either during or after the season.
Well, it's been over two months since the Ravens' 2021 campaign ended, and there's still no news on Jackson's contract. So much for that idea.
Lamar Jackson and the Ravens still appear nowhere close to an extension … for some reason
To be clear, Jackson has done nothing in the last year to scare the Ravens away from extending him. At least, he shouldn't have done anything that would make the organization rethink the partnership.
Before suffering an ankle injury in December, Jackson completed 64.4% of his passes for 2,822 yards, 16 touchdowns, and 13 interceptions. He also rushed for 676 yards and two scores, which put him on pace for a third consecutive 1,000-rushing yard season.
Were those numbers great? No, they weren't, but they also shouldn't have been terrible enough to make the Ravens want to explore what other quarterbacks are available. In his best games, especially early in the season, Jackson was the dominant signal-caller he's been since high school.
In his worst games? Well, it wasn't pretty.
Yet, there have still been no credible reports of the two sides progressing towards a new deal. In fact, NFL Media's Mike Garofolo said on Friday, March 11, that the two-time Pro Bowler didn't even reply to the Ravens' latest contract offer. It is not known what the Ravens would have included in those offers.
Josh Allen, who went nearly 30 picks before Jackson in the 2018 draft, signed a six-year, $258 million extension with the Buffalo Bills last summer. One should understandably expect the Louisville product to seek a contract featuring similar length and finances.
Jackson is better off trying to finalize something now instead of risking settling for less money in 2023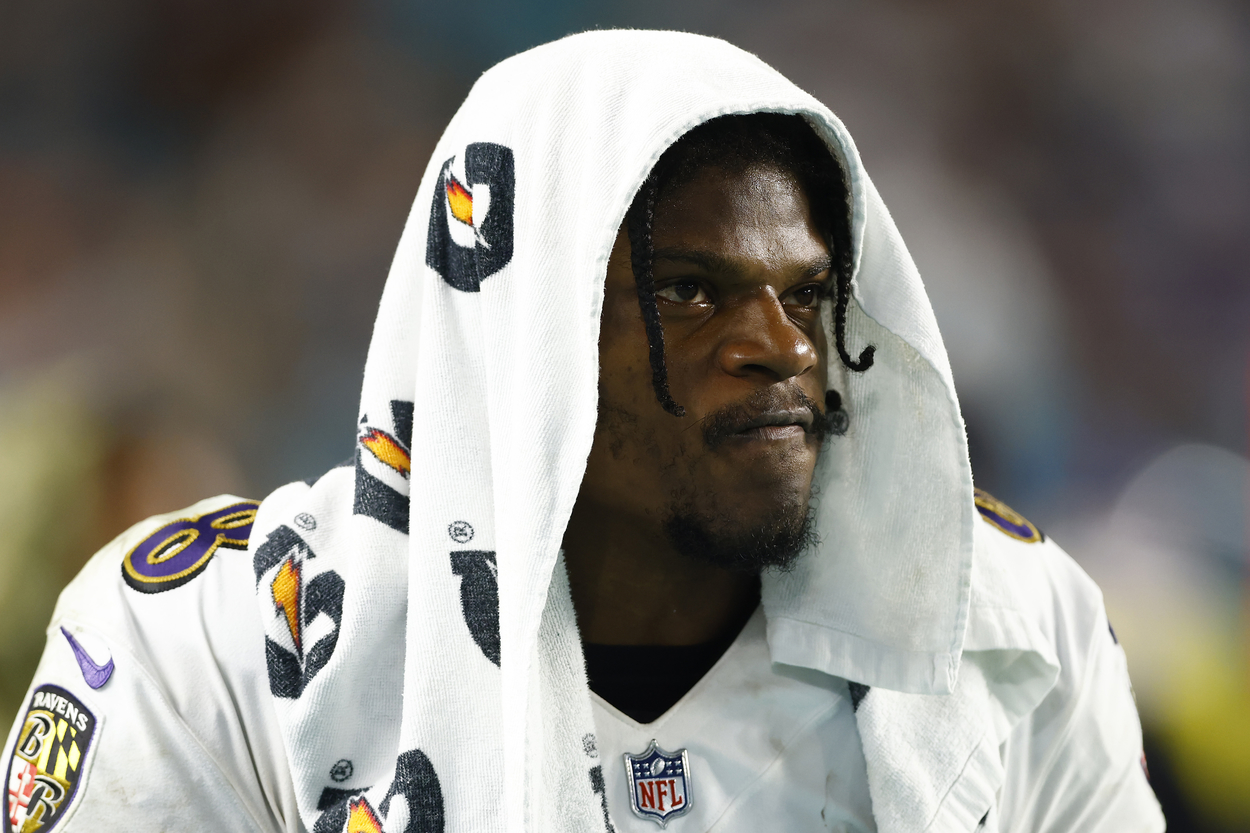 As of publication, neither the Ravens nor Jackson had commented or addressed Garofolo's report of the quarterback ghosting his team's extension offers.
With respect to Jackson, he would be crazy not to rush and sign an extension right now.
Jackson has been around football long enough to know how things can change in an instant, especially for running quarterbacks. There's a reason why the likes of Colt McCoy and Mike Glennon have stuck around as long as they have. Fair or not, the quarterback market is always kinder to older pocket-passers than it is older dual-threat options.
If the Ravens are low-balling Jackson with something like three years and $30 million, he'd be wise to look the other way. But if the Ravens presented him with a five-year, $200 million deal with $120 million guaranteed — Allen got $150 million in guarantees, for what it's worth — and the chance to stay in Baltimore long-term, he needs to strongly consider signing that deal.
The grass (or turf) isn't always greener in free agency. If Jackson hits the open market next season, he runs the risk of needing to settle for far less than what he can earn now. Take the money and run right through the Cleveland Browns' defense into the end zone.
Should the Ravens add a quarterback — and Jackson's possible successor — in the 2022 NFL Draft?
If the Ravens are smart, they'll self-impose a deadline for when they need a final answer from Jackson on what he wants to do in the long-term, whether it's signing a long-term deal or testing free agency. His choosing to ghost the Ravens doesn't help anyone here.
Let's set Monday, April 4, as the hypothetical deadline. If Jackson hasn't signed a long-term deal or verbally committed to one by that time, the Ravens must strongly consider drafting a quarterback in the upcoming draft. Baltimore is slated to have 10 total picks and nine in the first four rounds.
If someone like North Carolina's Sam Howell or Ole Miss' Matt Corral slips to the 45th overall pick, Baltimore should strongly consider adding either player. This year's draft isn't a deep quarterback class, and it is entirely possible that some of the supposed top prospects, including Howell and Cincinnati's Desmond Ridder, fall to the second day.
Jackson is well within his rights to chase as much money as he wants to earn. But the smarter play, for himself and the Ravens, is to work on signing something now before it's too late. All it takes is one injury and a young backup to end his hopes of winning a Super Bowl with the Ravens.
Like Sportscasting on Facebook. Follow us on Twitter @sportscasting19.
RELATED: Clay Travis Rips 'Malcontent' Kyler Murray Over Recent Contract Demands