Lamar Jackson Has the Sweetest Tattoos on His Arms
Lamar Jackson of the Baltimore Ravens has been one of the league's best quarterbacks and overall players this season. He's positioned the Ravens as the No. 1 overall seed in the AFC, clinching home-field advantage throughout the postseason.
Jackson's path to the NFL has demonstrated his consistent ability to overcome obstacles — and this shows on his arms, too. Let's take a closer look at Jackson's arm tattoos and what inspired him to get them. 
Lamar Jackson's insane 2019 season
While the quarterback showed flashes of potential last season, 2019 has been a full-on breakout year for the young athlete. In 2018, the Ravens drafted the Heisman Trophy winner with the final pick of the first round.
In his rookie season, Jackson helped Baltimore make the playoffs and was a Pro Bowl selection. So far in 2019, the Louisville alum shows every sign that he'll be the NFL MVP. Here's what he's accomplished this year:
Win-loss record of 13-2
3,127 passing yards
36 passing touchdowns
Six interceptions
1,206 rushing yards
Seven rushing touchdowns
Based on his results this year, it's clear that Jackson is a special and elite talent. But how do his tattoos tell his story?
Lamar Jackson's tattoos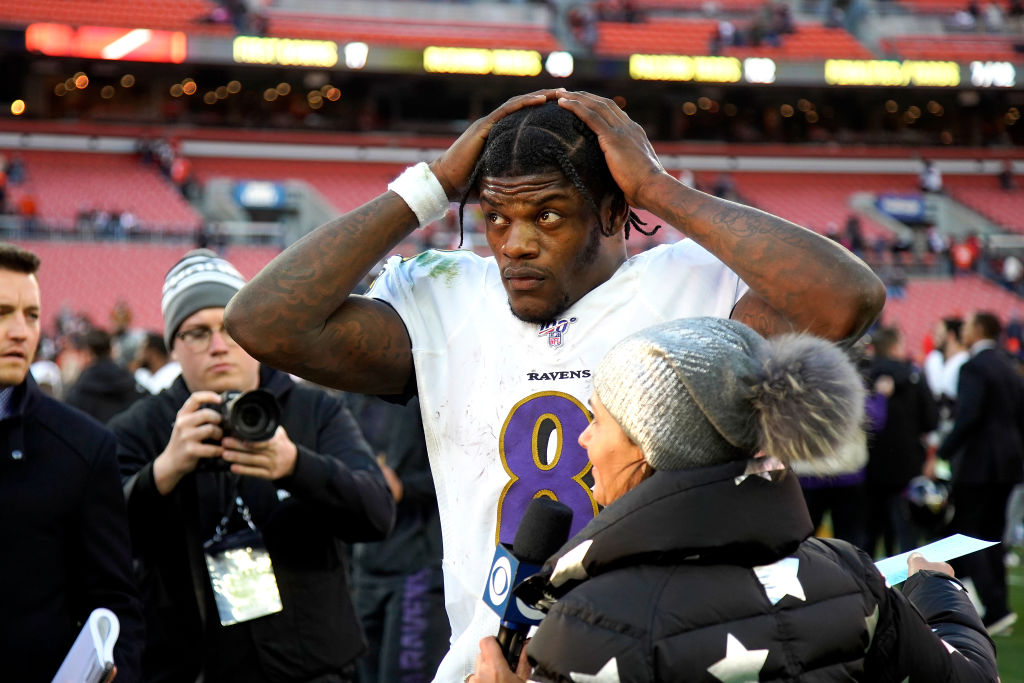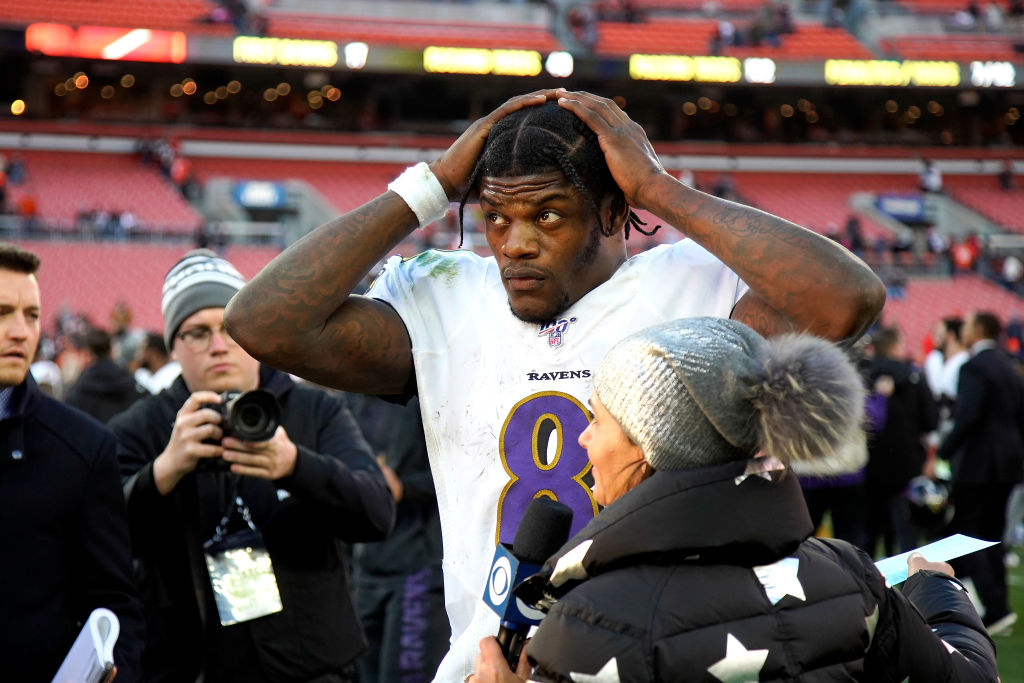 The 22-year-old has multiple tattoos. He described them to the NFL Network. There's a summary of them below: 
On his left arm, Jackson has a tattoo with a Bible verse (Mark 6:4) that reads: "Jesus said to them, 'A prophet is not without honor except in his own town, among his relatives, in his own home.'"
Jackson also has his grandmother's name on his left arm.
He has the words "living legend" on the inside of his arms.
On his right bicep, Jackson has a lion. 
He has the word's "My Brother's Keeper" on his left forearm. 
According to Jackson, he asked his mother's opinion on what kind of tattoos he should get. He truly values her opinion on all things. 
The inspiration for Lamar Jackson's tattoos
One person who inspired Jackson was his mother, one of his biggest cheerleaders and advocates. She told him to get the tattoo on his left arm; he said the verse he chose was her favorite.
According to the South Florida Sun-Sentinel, she even held Louisville head coach Bobby Petrino accountable when he looked like he may go back on his promise that Jackson would play quarterback.
Louisville assistant coach Lamar Thomas explained, "As we came off the field, she was calling for someone to get to Coach Petrino just to remind him that Lamar was told he'd play quarterback. I don't know how she found out so fast."
Jackson's grandmother was also a big influence in his life, which is why he has her name on his arm. Sadly, his grandmother and father passed away on the same day. He mentioned this, and his mother's reaction, in his Heisman acceptance speech: 
"[My mother] put so much into me, like I said before, losing my father and my grandma on the same day," Lamar said, per UPI.com. "It hurt me. I wanted to cry real bad, but my mom was the real soldier … She told me, 'Lamar do not cry,' and I'll remember that for the rest of my life."
It's clear that she's been the most influential person in Jackson's already dazzling pro football career.