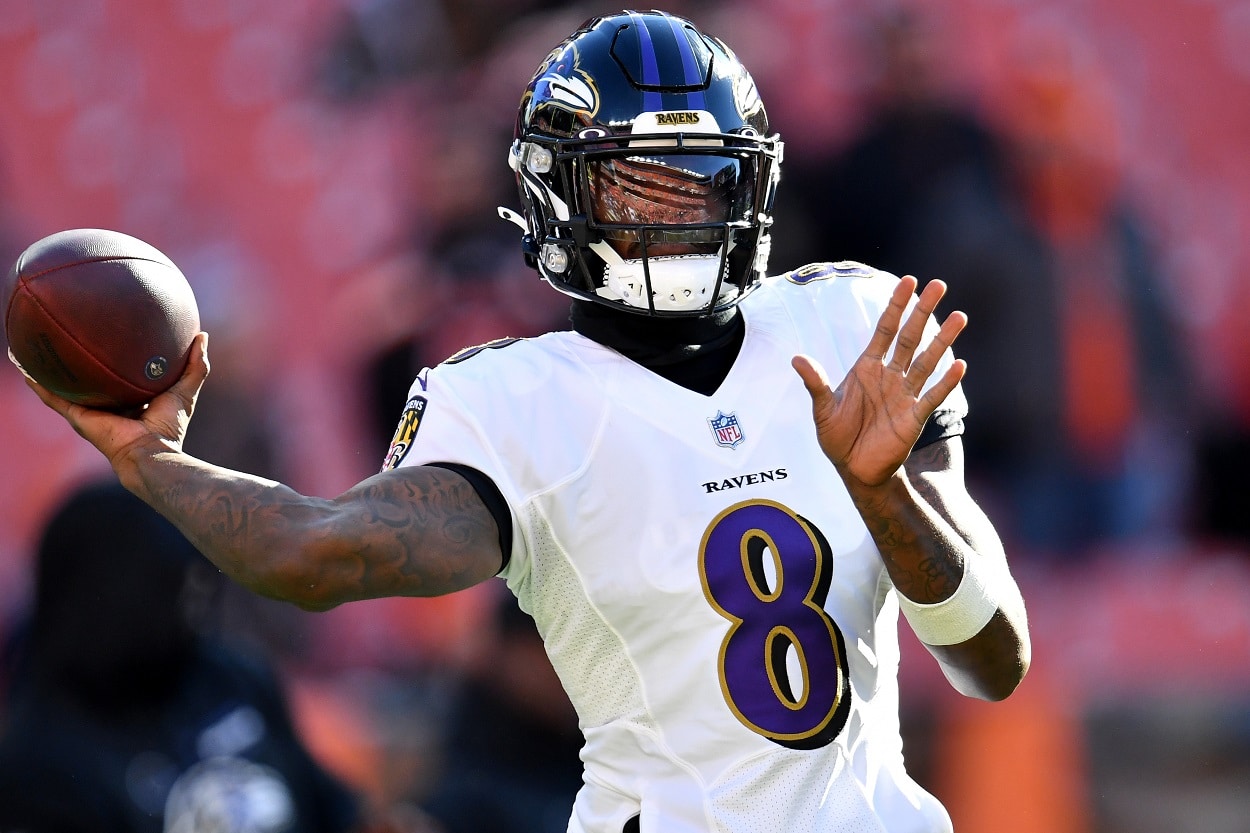 Lamar Jackson Leads a Group of 6 Contract-Year Players Who Can't Afford Slow Starts to the 2022 NFL Season
A look at six NFL players in contract years who can't afford to get off to a slow start in 2022.
Despite being a two-time Pro Bowler and former league MVP, Lamar Jackson doesn't have what matters most in the world of professional sports: financial security. On the contrary, the supremely skilled signal-caller will enter his fifth NFL season with zero guarantees about his future earnings.
So, not only does Jackson have tremendous pressure on his shoulders to lead the Baltimore Ravens on a deep playoff run, but he also has to deal with the weight of needing to prove he deserves a potentially record-setting contract. 
With the regular season about to get underway, the talented quarterback undoubtedly faces the most pivotal four-month stretch of his life. Similarly, a few of Jackson's peers must also consistently string together quality performances to set themselves up to get paid. 
Beginning with Baltimore's biggest star, let's take a closer look at the top contract-year players who need to get off to a hot start — and sustain it.
Lamar Jackson, QB, Baltimore Ravens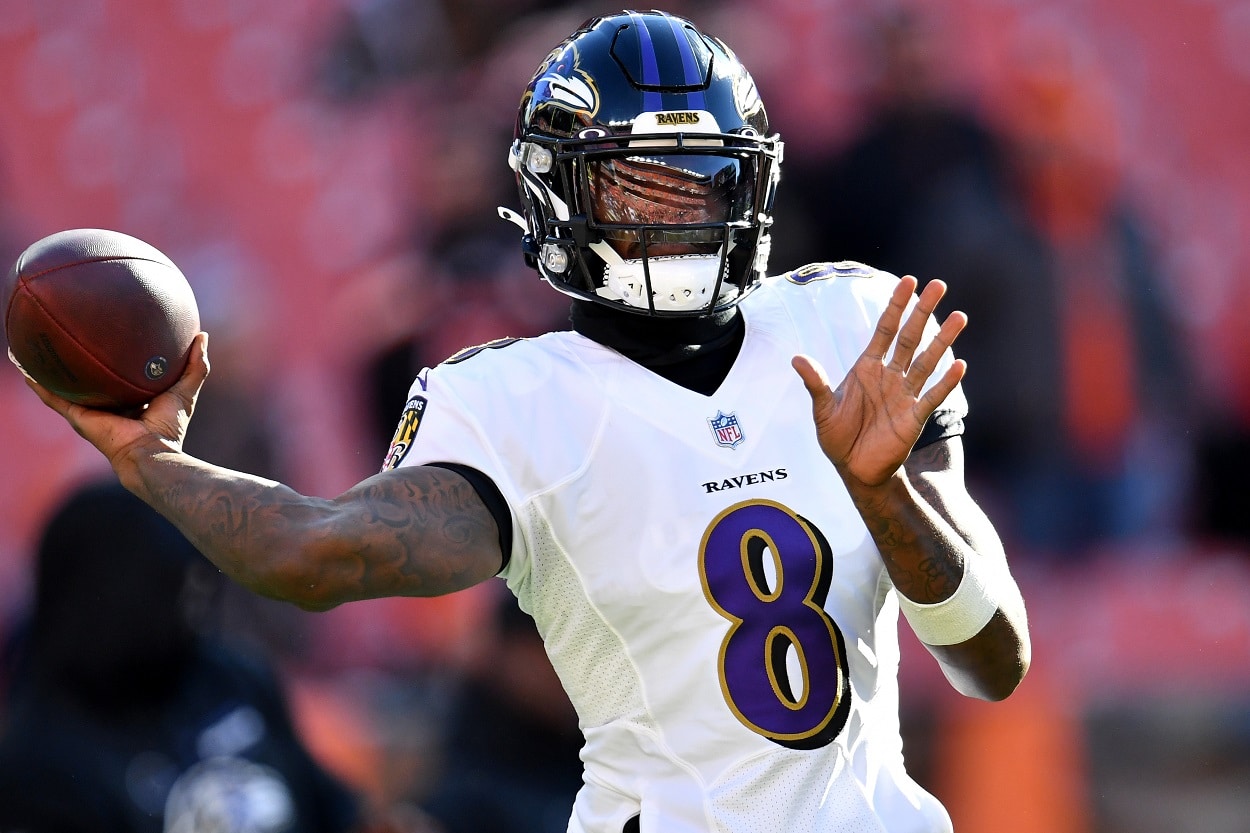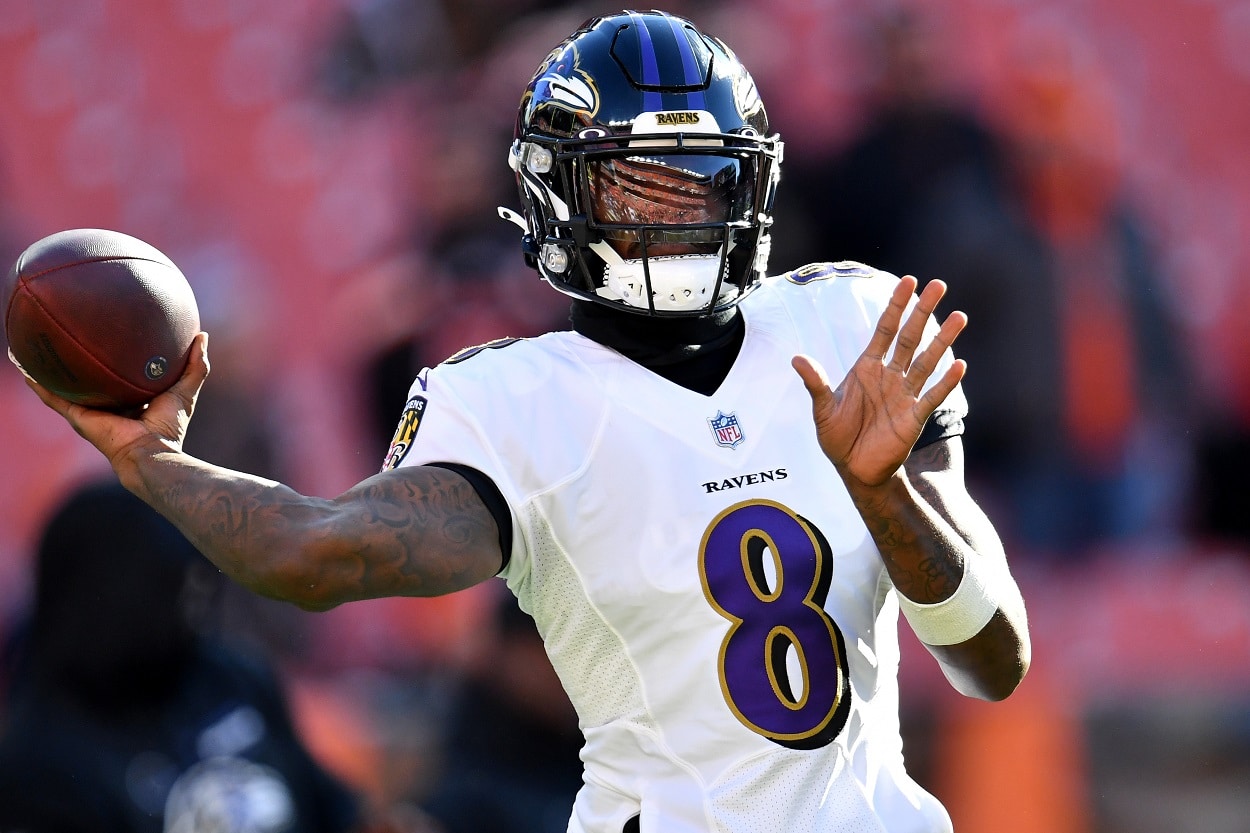 2021 Stats (12 games): 2,882 passing yards, 16 TD, 13 INT, 64.4% completion rate, 87.0 quarterback rating; 133 carries, 767 rushing yards, 2 TD
Contract Status: Will earn $23.016 million on fifth-year option from rookie deal
The Ravens run a huge risk by letting their most important player enter Week 1 without a long-term contract. At the same time, Lamar Jackson is putting his own future on the line by suiting up without any guarantees about his financial future.
Unlike other NFL teams that moved mountains to pay their franchise quarterbacks, the Ravens have shown some reluctance about making Jackson one of the highest-paid players at his position. Perhaps that has to do with his unique style and skill set, one that still raises questions about whether he can win a Super Bowl title. 
Coming off an injury-shortened campaign in which he threw a career-high 13 interceptions, Jackson has to prove he's closer to the 2019 version that led the league with 36 passing touchdowns.
However, will he be able to put up big numbers with a cast of weapons that includes young, unproven commodities like 2021 first-round receiver Rashod Bateman, 2020 second-round running back J.K. Dobbins, and fellow 2020 draftees Devin Duvernay and James Proche II? 
Luckily for Jackson, he can turn to Pro Bowl tight end Mark Andrews at any time, and the Ravens should have a vastly improved offensive line with a healthy Ronnie Stanley at left tackle. Still, there's no doubt the physically gifted quarterback faces a steep challenge to rediscover his MVP form playing in a division which features three talented defenses.
Plus, with matchups against the Buffalo Bills, Tampa Bay Buccaneers, New Orleans Saints, and Denver Broncos on the docket, Jackson will have his work cut out for him over the next few months.
Baker Mayfield, QB, Carolina Panthers
2021 Stats (14 games): 3,010 passing yards, 17 TD, 13 INT, 60.5% completion rate, 83.1 quarterback rating; 37 carries, 134 yards, 1 TD
Contract Status: Will earn $4.858 million as part of restructured contract, plus up to $3.5 million in incentives
Following four up-and-down years in Cleveland, the No. 1 overall pick of the 2018 NFL Draft will try to convince the Carolina Panthers to keep him around for the foreseeable future. Whether Baker Mayfield can do so remains one of the biggest questions entering the 2022 season. After all, Browns fans witnessed the highs and lows of believing in the former Heisman Trophy winner. 
Now under the direction of Matt Rhule (another person squarely on the hot seat), Mayfield has an opportunity to prove his doubters wrong. Of course, his success hinges largely on whether the Panthers' offensive line provides adequate protection.
After playing behind one of the league's best units in Cleveland, the undersized signal-caller will depend on a rookie left tackle to keep him out of harm's way. 
At the very least, Mayfield has a chance to succeed thanks to a solid collection of skill players. Between a healthy Christian McCaffrey and the perennially underrated DJ Moore, the Panthers boast bonafide Pro Bowlers at running back and receiver.
If veteran Robbie Anderson and 2021 second-round pick Terrace Marshall Jr. step up, Carolina could have a dangerous passing game. But if Mayfield puts together another ho-hum campaign, he will have a tough time convincing anyone he's worth paying north of $20 million per year.
Saquon Barkley, RB, New York Giants
2021 Stats (13 games): 162 carries, 593 yards, 2 TD; 41 receptions, 263 yards, 2 TD
Contract Status: Will earn $7.217 million on fifth-year option from rookie deal
Will the real Saquon Barkley please stand up? After looking like a generational talent at Penn State, his stock has fallen dramatically since he became the second player selected in the 2018 NFL Draft.
Injuries have prevented the dynamic running back from realizing his potential. And the fact the New York Giants may let him walk in free agency speaks volumes about how badly former general manager Dave Gettleman utilized a premium pick. 
Barkley's 2021 season didn't inspire much confidence about his ability to deliver on his draft pedigree. From averaging a pedestrian 3.7 yards per carry to scoring a mere four total touchdowns, the 25-year-old fell well short of expectations. Given the position he plays, his durability issues, and his lackluster production, Barkley has several factors working against him when it comes to landing a lucrative contract. 
The Giants desperately need their big-name running back and fourth-year quarterback Daniel Jones to step up in 2022. However, if that doesn't happen, don't be surprised if the organization moves on from both highly drafted players in the offseason.
Bradley Chubb, DE/OLB, Denver Broncos
2021 Stats (7 games): 21 total tackles (1 for loss), 0 sacks, 4 quarterback hits, 1 interception, 2 passes defended
Contract Status: Will earn $13.926 million on fifth-year option from rookie deal
On paper, Bradley Chubb boasts all the qualities teams look for in a premier edge rusher. However, like Saquon Barkley, the 2018 first-rounder has spent a sizable chunk of his pro career on the sidelines. So, after missing 24 games across his first four years in Denver, Chubb can't afford to have any further setbacks. 
Coming off a zero-sack season, the 6-foot-4, 275-pound defender needs to turn the clock back to 2018 when he burst onto the scene with 12 sacks and 21 quarterback hits as a rookie. One factor working in Chubb's favor? The Broncos bolstered their talented defense with veteran edge rusher Randy Gregory–a move that should give his younger teammate more one-on-one pass-rush opportunities.
If Chubb gets off to a hot start and stays healthy, he could easily set himself up for a multi-year contract that pays him well north of $14-15 million annually. But if injuries strike again, he will likely have to settle for a one-year, prove-it deal.
Marcus Davenport, DE, New Orleans Saints
2021 Stats (11 games): 39 total tackles (9 for loss), 9 sacks, 16 quarterback hits, 3 forced fumbles, 1 fumble recovery
Contract Status: Will earn $9.553 million on fifth-year option (team converted over $8 million of base salary into signing bonus)
Another promising sack artist who hasn't quite put everything together, Marcus Davenport put together his best season in 2021. However, the New Orleans Saints didn't surrender multiple first-rounders in the 2018 Draft to take an edge rusher who can't crack the double-digit sack mark. And despite flashing moments of brilliance since he entered the NFL, Davenport still hasn't achieved that feat. 
Will 2022 be his coming-out party? At 6-foot-6, 265 pounds, the Texas native has an ideal frame for a 4-3 defensive end. Plus, Davenport has had four years to learn the nuances of hunting quarterbacks from future Pro Football Hall of Fame candidate Cameron Jordan. With his mentor entering the twilight of his career, it's time for the young understudy to become the guy in New Orleans. 
Davenport can't afford to have another injury that keeps him off the field. And from the get-go, he has to demonstrate he's more than just a complementary piece to an aging Pro Bowler. Otherwise, his dreams of becoming one of the league's highest-paid pass rushers will never come true.
Marcus Peters, CB, Baltimore Ravens
2021 Stats: Missed entire season with torn ACL 
Contract Status: Will earn $15.5 million ($10 million base salary)
Injuries derailed the Ravens' chances of earning a postseason berth a year ago. In particular, losing Marcus Peters to a torn ACL played a major factor in Baltimore's defense slipping from second to 19th in points allowed. But with the three-time Pro Bowler entering a contract year, there's reason to be optimistic about John Harbaugh's team finishing as a top-10 defensive unit. 
Although he has flaws, Peters has earned a well-deserved reputation as one of the best ballhawks in the NFL. His resume includes 31 interceptions, a whopping 86 passes defended, and six pick-sixes. However, coming off a significant knee injury, can the 29-year-old cornerback still cover top-flight receivers and create turnovers on a weekly basis? 
Given the strength of his resume, a bounceback campaign by Peters should put him in a position to land one more lucrative contract. On the other hand, if he takes a step back coming off a lost season, it might be difficult for him to secure a big-time payday.
Stats courtesy of Pro Football Reference; Contract info courtesy of Spotrac
Like Sportscasting on Facebook. Follow us on Twitter @sportscasting19 and subscribe to our YouTube channel.