Lamar Jackson May Finally Get the Ravens' Underappreciated Early-Season Wonder Back in the Lineup
Article Highlights:
Lamar Jackson and the Baltimore Ravens could turn to Ty'Son Williams again in the coming weeks
Williams, a second-year running back, impressed when given opportunities over the 2021 season's first few weeks
Baltimore could also turn to rookie Nate McCrary after parting ways with Le'Veon Bell
Way back when the 2021 NFL season began, Baltimore Ravens fans and fantasy football managers excitedly prepared for Ty'Son Williams to break out.
Over two months later, both groups might be asking one question: who?
We haven't heard much from Williams, a second-year running back, in recent weeks. However, the BYU product could re-emerge as an invaluable piece for Lamar Jackson and the inconsistent Ravens in the season's second half.
Lamar Jackson might be handing the ball off to Ty'Son Williams again in the coming weeks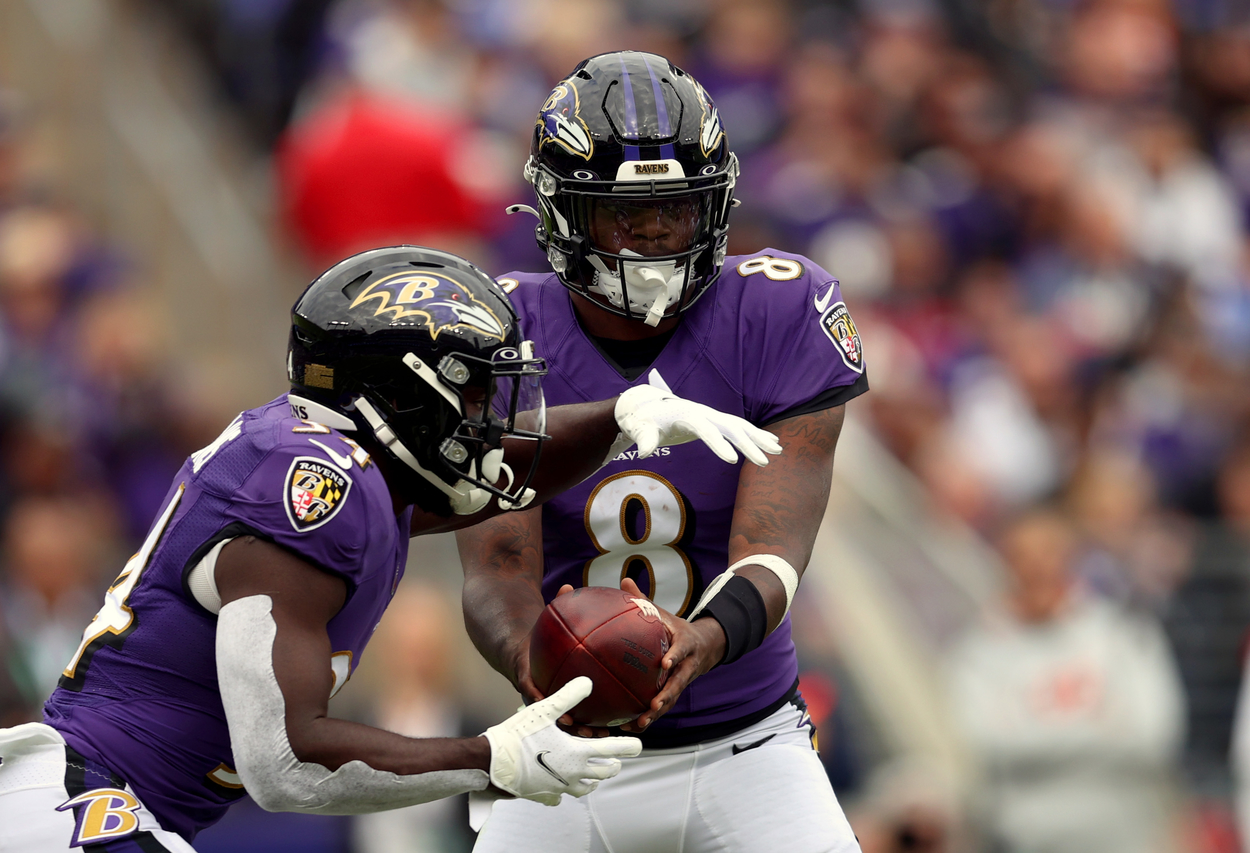 If you'll join us and stroll down memory lane for a second, you might remember when a rash of injuries struck the Ravens' running back room. Baltimore lost second-year standout JK Dobbins (torn ACL) and third-year backup Justice Hill (Achillies) to season-ending injuries in August.
Things got worse when Gus Edwards, a veteran rotational piece, tore his ACL on the eve of the regular season. Baltimore already had Williams on the roster and added numerous older running backs, including former Pro Bowlers Le'Veon Bell and Devonta Freeman, in early September.
Bell, who rushed for 83 yards and two touchdowns on 31 carries, is now searching for a new team. Freeman has at least averaged 5.2 yards on limited carries. Latavius Murray, another September signee, rushed for 212 yards and four touchdowns in his first six games.
In theory, Bell's departure and Murray's lingering ankle injury could open the door for Williams, who has 16 yards on six carries since the start of October. As of publication, Murray is considered questionable for a Week 11 showdown with the Chicago Bears.
Williams impressed over the 2021 season's first few weeks when given an opportunity
Time flies in the NFL, and it's easy to forget Williams opened the season as the Ravens' starting running back. He rushed for 65 yards, most of the damage coming on a 35-yard touchdown, and added three catches for 29 yards in a Week 1 loss to the Las Vegas Raiders.
The second-year back picked up 93 yards from scrimmage in a thrilling Week 2 victory over Patrick Mahomes and the Kansas City Chiefs. However, Williams also fumbled that night, and the Ravens only gave him five carries in Week 3 before deactivating him in Week 4. Although he's usually been active since then, he hasn't touched the ball too often.
Considering the Ravens' offense still managed to score points without Williams constantly in the lineup, we can't exactly make the argument the team should never have benched him. However, he flashed enough potential in the season's first few weeks that the team kept him around, even if it meant sending him out on special teams.
If the Ravens want to keep Jackson, an aggressive dual-threat quarterback, healthy and limit his designed runs, they'll turn back to Williams and start giving him snaps again. Baltimore needs all of the help they can get in the coming weeks, and an explosive young running back might be the answer.
Ravens fans should also get to know running back Nate McCrary
If Murray can't go in Week 11, Williams will likely receive added offensive snaps and touches. Baltimore may also promote Nate McCrary, a rookie who is currently on the practice squad, to the active roster.
You'll be forgiven if you have no idea who McCrary is, because that's why we're here. He's a former standout at Division II Saginaw Valley State who ran for 1,889 yards and 28 touchdowns across 33 college games. After earning All-GLIAC (Great Lakes Intercollegiate Athletic Conference, which is certainly a mouthful) first-team honors in 2019, McCrary went undrafted earlier this year and signed with the Ravens as a rookie free agent.
McCrary, who stands 6 feet and weighs 213 pounds, rushed for 163 yards and a touchdown on 42 carries in the preseason. Although the Ravens waived him on Aug. 31, he returned to the team in September after spending time on the Denver Broncos' practice squad.
It'd certainly be something if two undrafted running backs, one who played at three colleges and another who impressed at a D-II school, helped Jackson and the Ravens win the AFC North for the third time in four seasons. That's part of what makes the NFL so wacky and unpredictable.