Lamar Jackson Just Received Horrible News About His Ravens Future
Lamar Jackson has had a lot of success with the Ravens. However, he just received news that could be disastrous for his Ravens future.
Superstar quarterback Lamar Jackson has taken the NFL by storm with the Baltimore Ravens. He has helped lead the Ravens to the playoffs three times in just three seasons and even won the league MVP award in 2019. However, he just received horrible news about his future with the Ravens, as Baltimore could trade Pro Bowl offensive lineman Orlando Brown.
Lamar Jackson has become a superstar with the Ravens
The Baltimore Ravens selected Lamar Jackson with the No. 32 overall pick in the 2018 NFL draft. He has proven to be worth much more than the 32nd pick, too.
In Jackson's rookie season, the Ravens started the year 4-5. However, Jackson started in the final seven games of the season and went 6-1 as the starter. He ultimately led them to a playoff appearance, too. Overall during that season, Jackson threw for 1,201 yards, six touchdowns, and three interceptions, and ran for 695 yards and five touchdowns.
In 2019, though, Jackson became a superstar. He ultimately earned the league MVP award that year, as well as Pro Bowl and First-Team All-Pro honors, as he threw for 3,127 yards, an NFL-leading 36 touchdowns, and six interceptions. Jackson also ran for 1,206 yards and seven touchdowns that year, which helped lead the Ravens to a 14-2 record, but they lost to the Tennessee Titans in the divisional round.
Jackson then didn't play as well in 2020, but he still helped the Ravens go 11-5 and make the playoffs again. He threw for 2,757 yards, 26 touchdowns, and nine interceptions and also ran for over 1,000 yards for a second consecutive season. Jackson also won his first playoff game with the Ravens during the 2020 season, as Baltimore defeated the Titans in the wild-card round, 20-13. They, however, lost to the Buffalo Bills, 17-3, in the divisional round.
Lamar Jackson has certainly had a lot of success at a young age with the Ravens. However, recent news about offensive lineman Orlando Brown could lead to future season disaster for Jackson.
Orlando Brown reportedly wants the Ravens to trade him
Orlando Brown Jr. went to the Ravens in the same draft class as Jackson, but in the third round. He has since become an excellent offensive lineman and has been crucial to Jackson's success, as he has earned two consecutive Pro Bowl selections in 2019 and 2020 and started in all 32 games in each of the last two years.
However, when Ronnie Stanley went down with a season-ending injury this past year, Brown made the switch from right tackle to left tackle. He apparently wants to stay on the left side, too. On Jan. 29, Brown tweeted, "I'm a LEFT Tackle." Additionally, according to the Ravens' site, on Feb. 5, Brown tweeted a part of a story from the Baltimore Sun, where his father — Orlando Brown Sr., who played for the Cleveland Browns and Ravens and sadly died at 40 years old in 2011 — said that the best offensive tackles don't play on the right.
Once Stanley returns, Brown was expected to go back to right tackle. However, Orlando Brown's desire to play on the left side could now force the Ravens to trade him.
"Orlando Brown wants to be traded," NFL.com's Ian Rapoport reported on Feb. 10, 2021. "After tweeting his desire to only play left tackle – he filled in there for Ronnie Stanley and shined this season – Brown will only play for a team that will play him at his preferred spot. Baltimore would need a major haul."
If the Ravens do, in fact, trade Orlando Brown — who has one more year left on his rookie contract — and don't get another star offensive lineman in return, this could prove to be disastrous for Lamar Jackson.
Lamar Jackson's Ravens future could be challenging without Orlando Brown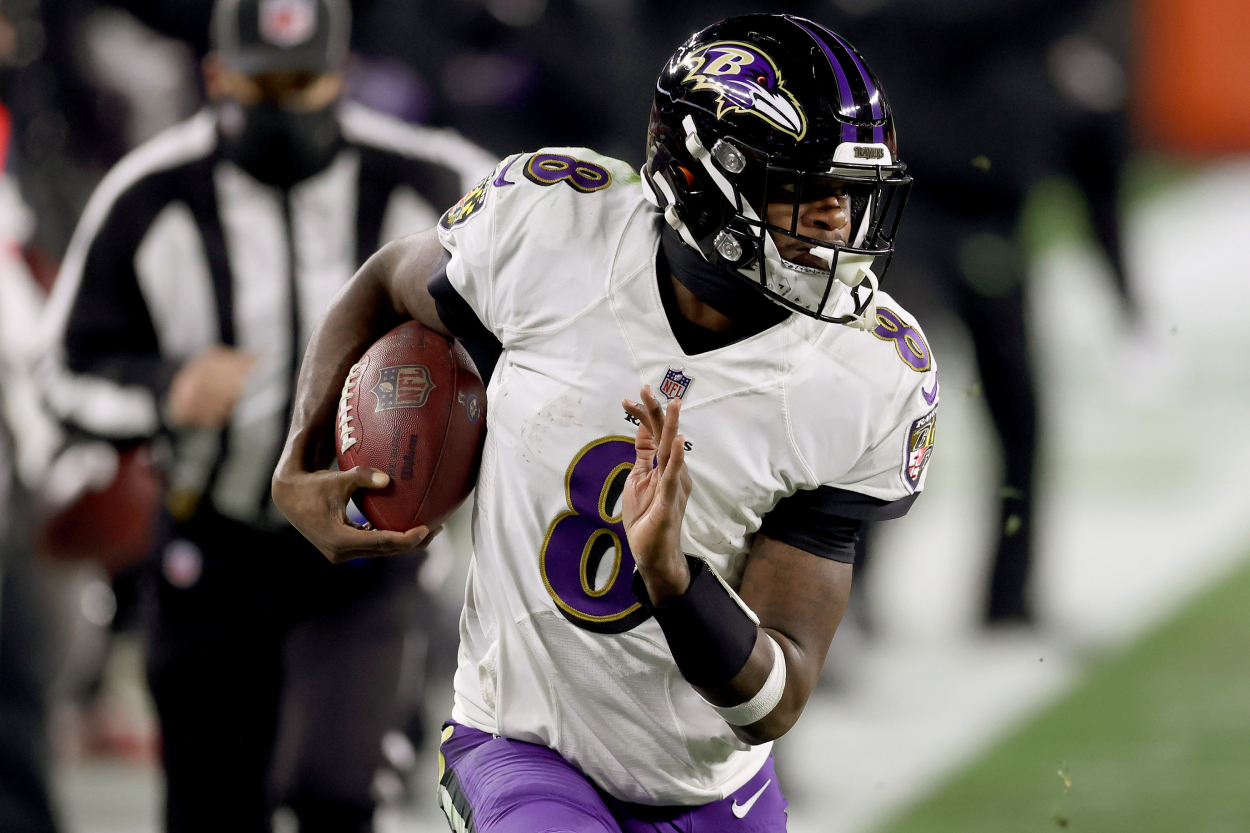 Lamar Jackson has had the success he has had so far with the Ravens because of his protection along the offensive line. Sure, it's harder to bring him down since he is so mobile, but during his MVP season, Jackson only got sacked 23 times, which was tied for 27th among quarterbacks that year. The protection then wasn't as great in 2020, especially with Stanley, a First-Team All-Pro in 2019, only playing in six games, but it still wasn't horrible. He ultimately went down 29 times.
That offensive line is also a big reason why Jackson has recorded over 1,000 rushing yards in each of the last two seasons. Without Brown or at least a capable tackle in his place, Jackson may not be able to do what he does best — beat defenses with his legs.
Lamar Jackson has become a superstar with the Ravens. However, his future in Baltimore may not be as successful as his first three years have been if the Ravens are forced to trade Orlando Brown.
Stats courtesy of Pro Football Reference