Lamar Jackson Reveals His Favorite Music to Get Hyped for Baltimore Ravens Games
Baltimore Ravens quarterback Lamar Jackson is quickly proving himself to be the leader of the most fearsome offense in the NFL. His bewildering running game is now bolstered by a polished passing style that seemingly gets better with every game. The Ravens haven't signed a long-term deal with their QB1 yet, and he looks to get more expensive with every appearance.
After his record-setting performance crushed the Indianapolis Colts earlier this month, it's obvious there's something special about this guy. Where does his energy come from? According to the man himself, it's all about the music.
Lamar Jackson seemingly never lets off the gas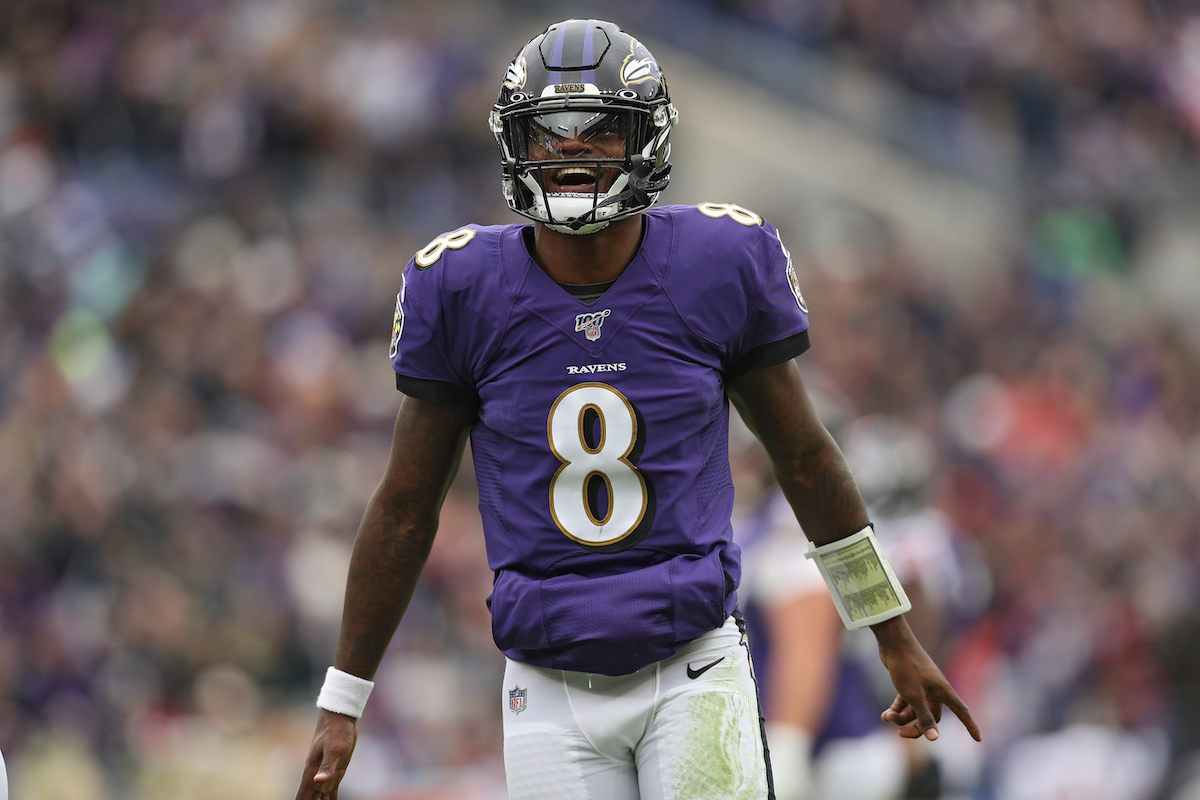 Calling 2021 a breakout year for someone as accomplished as Lamar Jackson already is seems wrong. And yet, his performances are so well-rounded and complete that it's hard to see it any other way. His 5-1 Ravens are holding back the AFC North, with their QB1's late-game clutch performances covering up any cracks as they show.
Sports Illustrated reports that the Ravens' most valuable player is on a historic run in 2021. For example, in the entire history of the NFL, 756 players have totaled 300 rushing yards in their first five games. Only 94 have thrown for 1,500 yards in a five-game span. Jackson is the sole player to have done both at the same time. He was already one of the best at his position. Now he has reached historically elite status.
Lamar Jackson has a hip-hop playlist that gives him an extra edge on gameday
Jackson's 2021 run is just the latest narrative-busting period of the young Ravens QB's life in football. Because of his size and athleticism — and, let's be frank, racial stereotypes — he was pushed away from the QB role. His mother repeatedly insisted on QB to all who tried to divert him from his now-historic path to the NFL. Even as one of the best new NFL quarterbacks, he was largely written off as a master of running the ball with passing flaws that would undoubtedly be exposed; that, too, he debunked.
So how does the Ravens superstar keep the momentum, game in and game out? Jackson took to a Facebook Live event, hosted on the Baltimore Ravens website, to answer fan questions. One of the Baltimore faithful asked, "What kind of music do you listen to to hype yourself up before a game?"
"I need to let everybody hear my playlist," Jackson beamed. "But I listen to a lot of hip-hop music, a lot of rap, like Lil Wayne, Hot Boys […]Kodak [Black]. It puts me in the mood to play."
His stats indicate his pre-game routine works, and he should stick to it.
His love for hip-hop comes from his hometown
Hip-hop runs deeper than arbitrary genre tastes for Jackson. Born in Pompano Beach, Florida, he played varsity football in nearby Boynton Beach. The region was a developing hip-hop hotspot. Many of his classmates dabbled in the genre.
In fact, one of his good friends in elementary school happens to be one of the most popular current rappers. Kodak Black — a Jackson playlist fixture — went to elementary school with the kid who would become an NFL legend. The two continue to follow each other's careers and remain friends.
Black shows up to Ravens games when his schedule allows, ready to fist-bump his old friend after another inevitably great performance. And one of Jackson's recurring touchdown celebrations is performing Kodak's "Bop" in the endzone. They've found their success in completely different ways, but their paths have no problem converging regularly.