Lamar Jackson Scored a Sweet Deal on His $1.3 Million Baltimore Home
A common thing for pro athletes to do once they bank guaranteed money is to buy their family a home. Lamar Jackson followed that tradition when he signed his rookie contract with the Baltimore Ravens in 2018. Familial bonds mean a lot to him; his mother in particular played a big role in Jackson's development as a quarterback.
At the time, it was more unusual for Black athletes to pursue the QB position. Her forethought and dedication have more than paid off. Jackson is a superstar MVP quarterback with plenty of room to get better.
Lamar Jackson used his first NFL paycheck to buy a new home for his family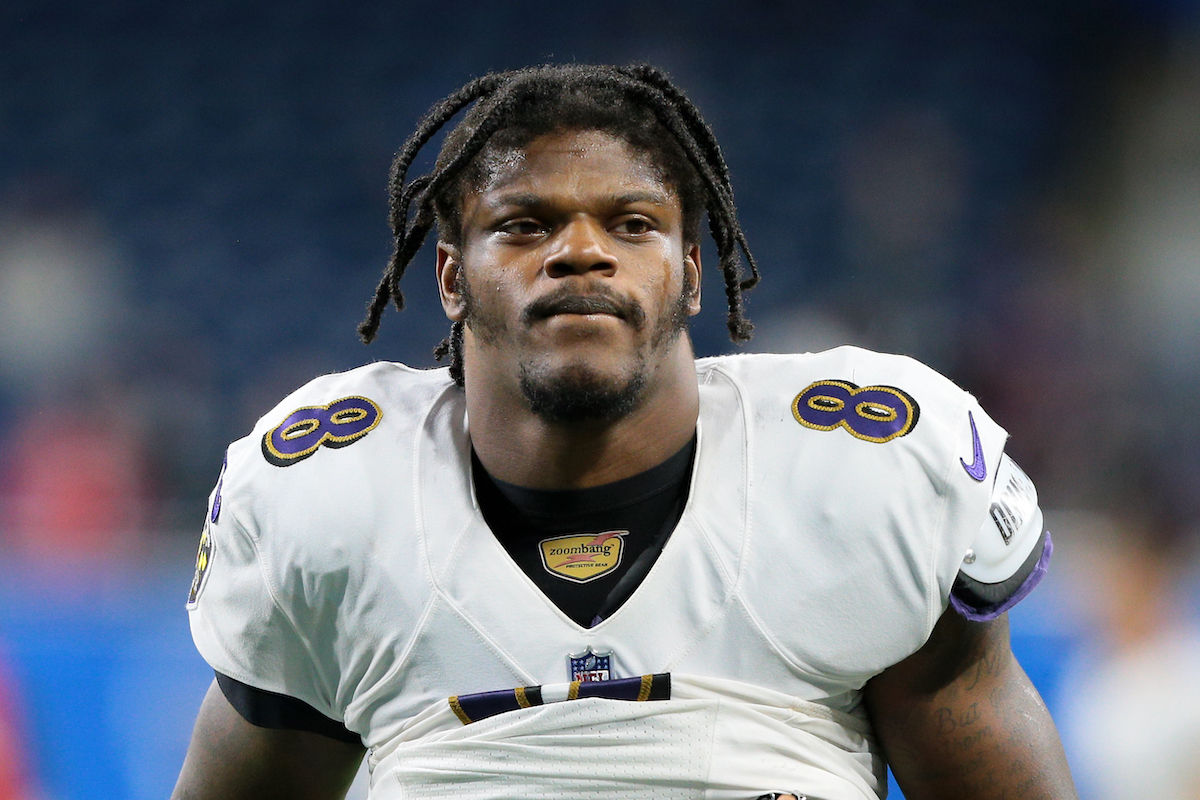 Jackson was a divisive prospect entering the 2018 NFL Draft. He excelled for three years at Louisville as the team's starting quarterback. But some notable analysts still thought Jackson lacked the skill set of a professional quarterback. They believed he'd be better off becoming a wide receiver in the NFL.
His mom, Felicia Jones, had heard this argument since Jackson was a child. As colleges tried to convince the Boynton Beach High School standout to attend their school, Jones made a firm ultimatum: Jackson would only go to a team willing to commit to him as a quarterback and not use him anywhere else on the field.
Jackson getting the chance to line up under center in the NFL was the ultimate validation of their resolve. Once the young athlete inked his deal with the Ravens — $9.47 million with a $4.97 million signing bonus — he planned to give his family the home they deserved.
Jackson's Baltimore home is already worth more than he paid for it
Jackson's first purchase on the NFL payroll was the home he bought in Owings Mills, Maryland where he lives with his mother and his brother, Jamar, reports the New York Post. He paid $900,000 for the place through his mother's Florida-based LLC, according to public records.
The 3.3-acre brick home features eight bedrooms, five full bathrooms, two half-bathrooms, nine-foot ceilings, a curved staircase, and a two-story foyer. It also has an incredible number of high-class amenities:
A gym
A whirlpool hot tub
A private pool and spa
A wet bar
Two fireplaces
A breakfast nook
An office
A large patio
A three-car garage
Jackson bought the house from a house flipper, Immaculate Properties, which had added $150,000 to the property's value before selling in 2018. The initial price was $1.2 million, but the Jackson's were able to get a good deal. Zillow currently estimates the home's value at $1,235,100.
The house is only 20 minutes away from the Ravens' practice facility and resides in a neighborhood that's quite popular for NFL players old and new. According to the Baltimore Sun, former wide receiver Torrey Smith and Former Baltimore Ravens quarterback Joe Flacco also lived in the Owings Mills area.
Jackson's journey from Florida to the top of the NFL is incredible
Playing in the NFL comes with a ton of pressure. However, in a sense, Jackson won the minute he made it to the league. The now-24-year-old grew up in an economically distressed part of Pompano Beach, Florida, and dealt with intense tragedy at a young age. When Jackson was eight years old, his father and grandmother died on the same day.
These sorts of stories are found across every sports league, but their abundance should not diminish the amount of hard work and focus needed to break through in these circumstances. These communities are full of talent and ambition (Jackson grew up with Kodak Black and played in the same Pop Warner league as his now-teammate Marquise Brown). But the disadvantages are so pronounced that making it out is a struggle.
Now, on a Ravens roster decimated by injuries, he is one reason why they still have a chance to make a playoff run this year. Baltimore's win over the Lions had more than a bit of luck about it, but Jackson's dual-threat ability powered them to additional wins over the Kansas City Chiefs and Denver Broncos.
As the desire for more athleticism at the quarterback position grows, players like Jackson will be considered historical innovators. It's an achievement for Jackson and his family as a whole.