Lamar Jackson Spent $100,000 on a 25-Carat Diamond Chain Honoring Himself
Lamar Jackson has lit up the field in his NFL career. The 23-year-old's athleticism and sheer strength have made him one of the best quarterbacks in the league. With all of his achievements, Jackson wanted to memorialize one iconic play by keeping it on a chain around his neck. In college, the QB hurdled a Syracuse defender on the way to a touchdown. The play was so crazy that many say it's one of the wildest college football touchdowns ever. 
Lamar Jackson's football career
One of the most amazing things about Jackson is that he didn't get serious about football until his junior year of high school. Before that, he only played a bit and even sat out during his sophomore year. In his senior year, the four-star recruit accepted an offer from the University of Louisville, choosing the school on the basis that he'd only play quarterback.
Jackson's time at Louisville led the team to its highest ranking (No. 3) in years. His sophomore play was so dominant that he easily won the 2016 Heisman Trophy. Instead of a senior year, Jackson entered the 2018 NFL draft and joined the Baltimore Ravens in the first round. He played backup to Joe Flacco his rookie season, but that didn't last long.
Once Flacco was injured, Jackson was the main QB. He ended the season with 1,201 passing yards, leading QBs with 695 yards rushing. Jackson's 2019 season was one for the record books. He became the first quarterback in the franchise to throw for four touchdowns. His dominant play led him to win the NFL MVP Award as only the second player besides Tom Brady to earn it unanimously.
Jackson's iconic play
Jackson was already a heavy-hitting quarterback when his Louisville Cardinals faced Syracuse. In the second quarter, Jackson took off on his left side where Syracuse defensive back Cordell Hudson waited for him. Hudson went in low for the tackle, and Jackson leaped over him. He ran the ball in for a touchdown, easily solidifying his Heisman trophy win.
The iconic photo of the play captured the college football world. Not one to let a good play go forgotten, Jackson memorialized it as a chain he could wear. According to TMZ, the chain from Miami's Stacks Custom Jewelry and is made of 285 grams of gold. The pendant itself is 257 grams of gold with 25 carats of near-flawless diamonds. The total cost is around $100,000!
Other bling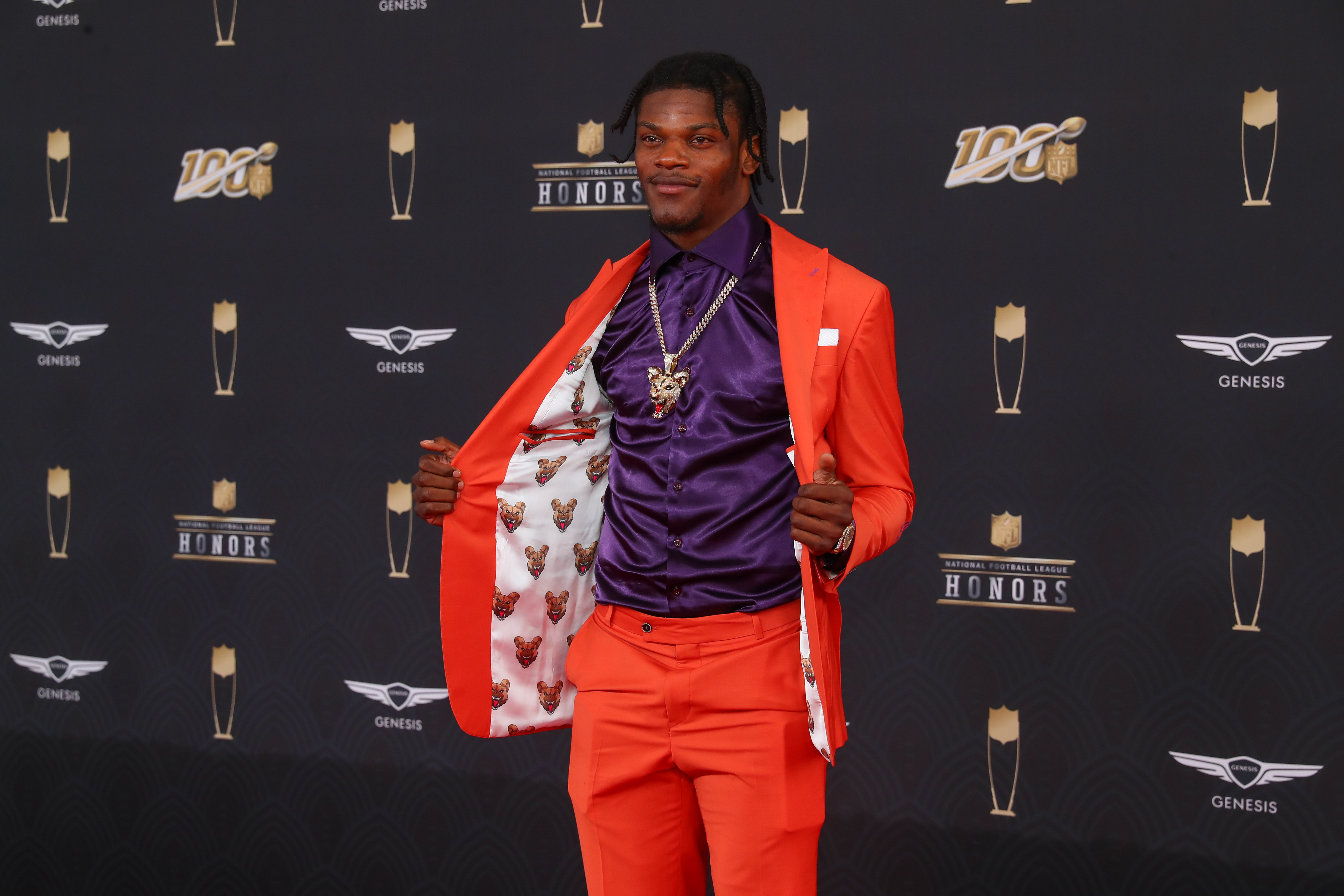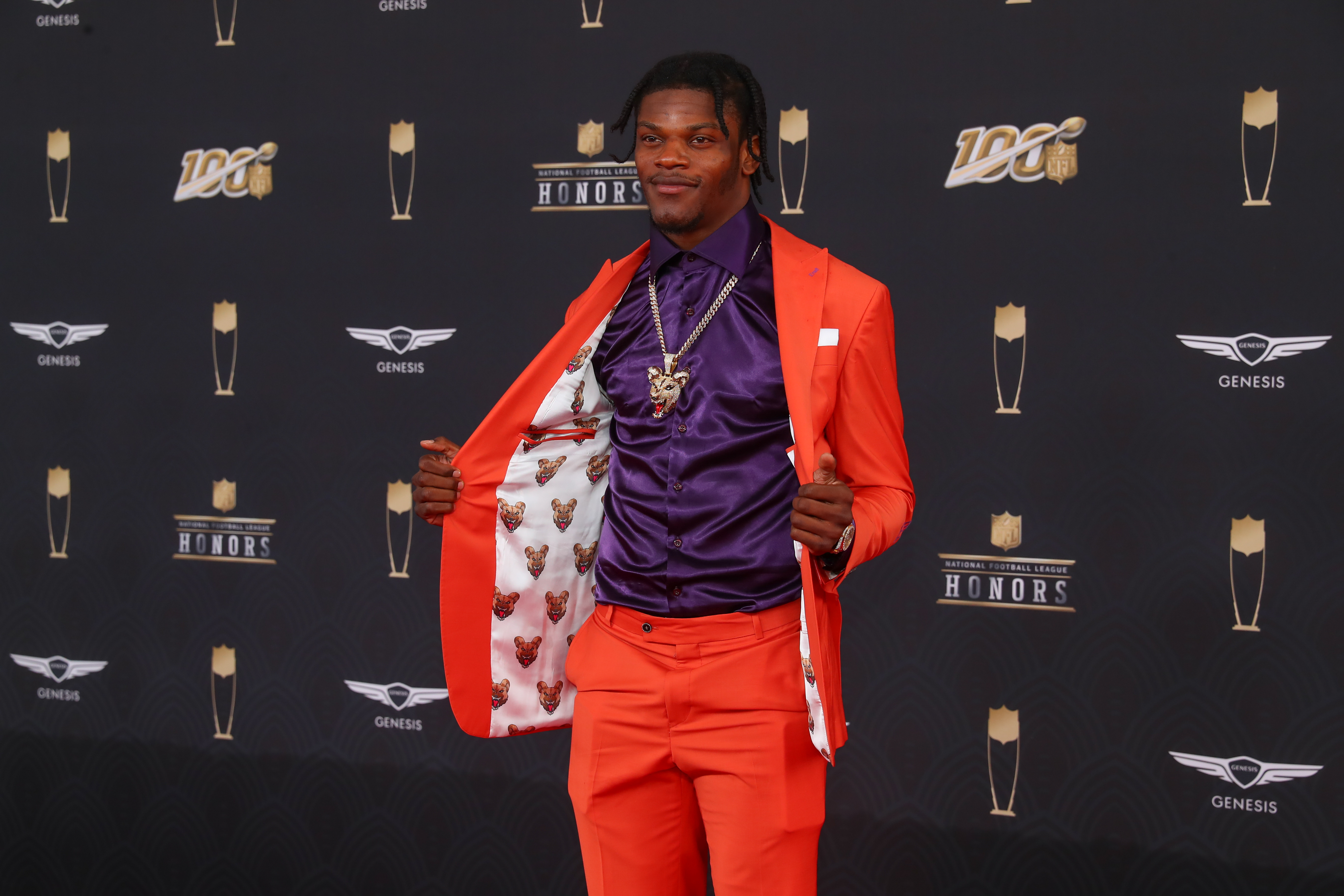 His iconic "hurdle" bling might not be his most famous look. The QB has one pendant that's known as his logo — a wild dog looking fierce and vicious just like Jackson is on the field. GQ Sports had expert jeweler Trax analyze Jackson's bling. He noted that the red enamel of the dog's tongue, chocolate diamonds, and white diamonds all add to the effect. Plus, Jackson has the same logo on his jacket. Trax confirmed what everyone else already knew:
"He's killing it. That's the way jewelry should be done if you ask me. You want to be able to make sure that you have something unique, that matches the rest of your look, not something that Tom, Dick, and Harry have, only something that Lamar Jackson has."
As long as Jackson keeps making superior plays on the field, he'll have plenty of material for more pendants and chains in the future.