Lamar Jackson And Teddy Bridgewater Traveled Similar Paths to the NFL Which Sets Up a Chance Meeting Between 2 Louisville Legends
Baltimore Ravens quarterback Lamar Jackson and Denver Broncos signal-caller Teddy Bridgewater lead their respective teams into a critical Week 4 matchup. While a big game for both teams, the matchup is special for the two quarterbacks. The former Louisville standouts are playing against one another for the first time in their NFL careers.
Jackson and Bridgewater come from similar backgrounds, which have led them to this unique moment.
Lamar Jackson and Teddy Bridgewater are both from South Florida
The South Florida area has produced countless NFL players, including Michael Irvin, Chad Johnson, Dalvin Cook, and Antonio Brown.
Lamar Jackson and Teddy Bridgewater also called South Florida home. Jackson is from Pompano Beach, Florida, and played his high school ball at Boynton Beach Community High School. There, he put together an insane highlight tape of him making defenders look silly.
Bridgewater was both in Miami, where he attended Northwestern High School. Both he and Jackson made household names for themselves in the area due to their talents on the football field.
Players from South Florida take great pride in where they come from. Many of them came from humble beginnings. It motivated them to use their abilities to make a better life for themselves and their families.
"Every team, there's a guy from Miami. Every team," said Ravens running back Devonta Freeman, per Yahoo Sports. "It lets you know how much talent there is from there."
Jackson and Bridgewater are two of the brightest talents to come out of the area in recent memory.
Jackson and Bridgewater were both drafted No. 32 overall out of Louisville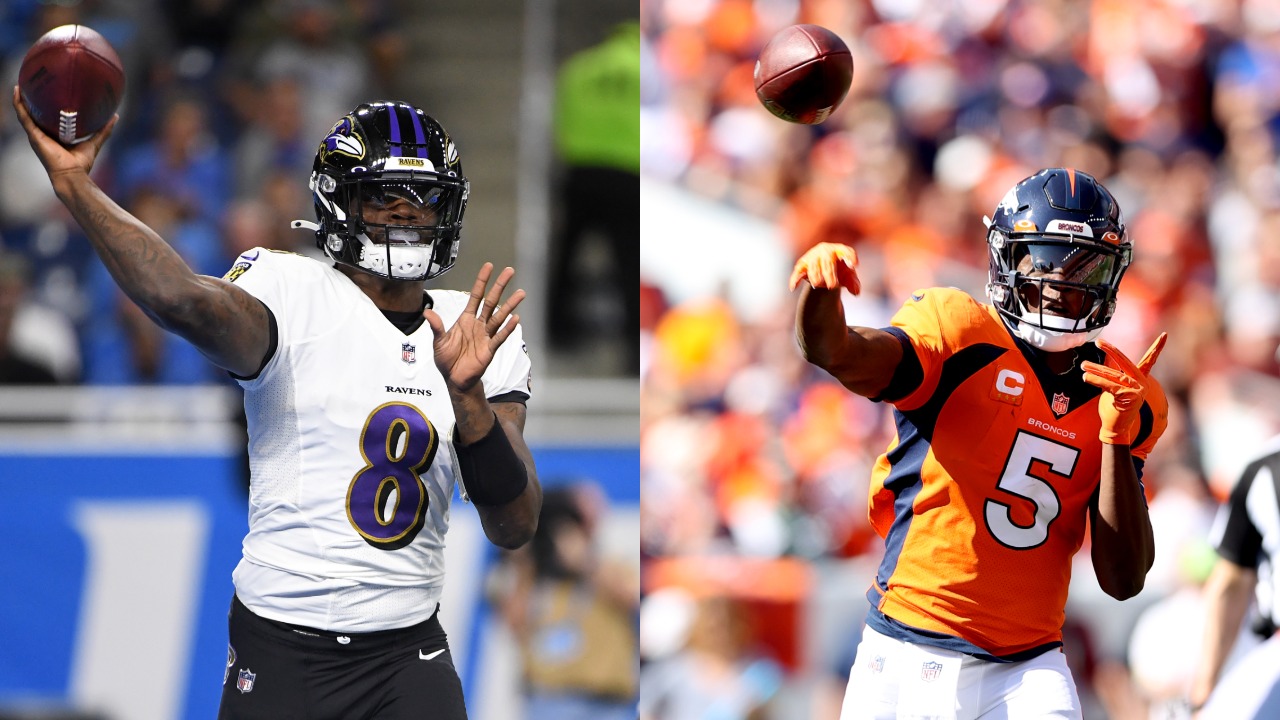 Lamar Jackson and Teddy Bridgewater were born and raised in the same area. Their paths led both quarterbacks to the University of Louisville.
Bridgewater graduated from high school in 2010 and committed to Louisville after de-committing from Miami (FL). He spent three years with the Cardinals, passing for 9,817 yards and 72 touchdowns. He threw just 24 interceptions in that span.
Bridgewater earned Big East Offensive Player of the Year honors in 2012. He also led Louisville to two consecutive bowl game victories.
Jackson arrived in Louisville two seasons after Bridgewater's departure. He made 12 starts as a freshman but took the college football world by storm as a sophomore. Jackson won the Heisman Trophy after racking up 3,543 yards through the air and 1,571 yards on the ground. He recorded 51 total touchdowns.
Many NFL teams passed up drafting Bridgewater and Jackson, in favor of other quarterbacks. Both players were drafted with the No. 32 overall pick in 2014 and 2018, respectively. This similar experience allows both former Cardinals stars to play with a chip on their shoulders.
Lamar Jackson and Teddy Bridgewater have different play styles
"Literally, any sports bar in the city, they will find the game when Teddy's on, and they will find the game when Lamar's on and it will be on television," said former Louisville tight end Keith Towbridge, per The Athletic.
The Louisville community will be rocking when the Ravens play the Broncos in Week 4, then. The game will mark the first meeting between Lamar Jackson and Teddy Bridgewater in the NFL.
Baltimore enters this game with a 2-1 record, and Denver is undefeated. The defenses will present unique challenges for the signal-callers and vice versa.
Jackson is the ultimate dual-threat quarterback. The Ravens feature the league's most potent rushing attack, led by the former MVP. Despite the critics, he's made some phenomenal plays with his arm as well. Still, his rushing ability is what makes him most dangerous.
While a dual threat in his own right, Bridgewater does not offer the same dynamic running ability at this stage in his career. His ceiling isn't as high as Jackson's, but he's knows his role and plays it well. He excels in the short-to-intermediate passing game.
"I don't know if it's ever happened before on this stage, two former Louisville QBs playing against each other in a big game," said former Louisville and NFL quarterback Chris Redman. "People around here feel like these guys are family. Louisville doesn't have any NFL teams, so this is a really big deal."
All eyes will be on Lamar Jackson and Teddy Bridgewater in this one.
All stats courtesy of Pro Football Reference.
RELATED: The Baltimore Ravens Are on Dangerous Ground as It Pertains to Lamar Jackson's Future