Lamar Jackson's Offseason Training Included a Lot of 'Getting His Tom Brady On'
Lamar Jackson's 2019-20 season was unreal. With his "take no prisoners" approach on the field, he ran and threw over nearly every opposing defense. Right now he's one of the best QBs in the NFL. But Jackson even took the opportunity presented by this year's offseason to become even more prepared for this season.
To optimize his training, Jackson mimicked the habits of a quarterback who came before him, Tom Brady. Let's look at how he's "getting his Tom Brady on" in an attempt to be even better than he was in 2019. 
Lamar Jackson's banner 2019-20 season
Jackson took over starting duties for the Ravens during the 2018-2019 season. He helped the Ravens get to the playoffs and played admirably during his rookie campaign. Even though he showed tremendous ability in his first year after a college career in which he won the Heisman Trophy, nobody could have predicted his sophomore season. 
Quite simply, Jackson lit the league on fire. He and the Ravens opened the season with a 59-10 rout of the Dolphins and never looked back. Jackson beat teams with his arms and his legs, leading Baltimore to the number one overall seed in the AFC and a first-round bye. According to Pro Football Reference, Jackson threw 36 touchdowns and ran for seven more. He won his first MVP Award. 
What makes Jackson so dangerous is his versatility. He threw for 3,127 yards last season — a respectable number, but in today's NFL, nothing out of the ordinary. Where Jackson differentiates himself is with his running ability. He ran for 1,206 yards on the ground — a number almost unheard of for quarterbacks in the NFL. The dual-threat nature of his game made him almost impossible for defenses to combat. 
Jackson was 13-2 in games he started. He would have been 14-2, but the Ravens pulled him for their last game in which they had nothing to play for. It was the type of season players dream about having. Unfortunately, it ended in a nightmare. 
The disappointing end to Jackson's campaign
While the Ravens spent the majority of the year steamrolling teams, they ran into someone they couldn't stop in January: running back Derrick Henry. The Ravens hosted the Titans in the divisional round and despite high expectations, came up well short of their goal.
Jackson rushed for 143 yards in their loss to the Titans, but his passing left something to be desired. He completed only 52.5% of his passes and tossed two interceptions to one touchdown. It's a small sample size, but there's no denying that when it mattered most, Jackson came up with a less than optimal performance. 
It was a rough end to a season that started with so much promise. On the positive side, Jackson now has plenty of playoff experience in his still-young career. How will he respond in his third season?  
How Jackson got 'his Tom Brady on' this offseason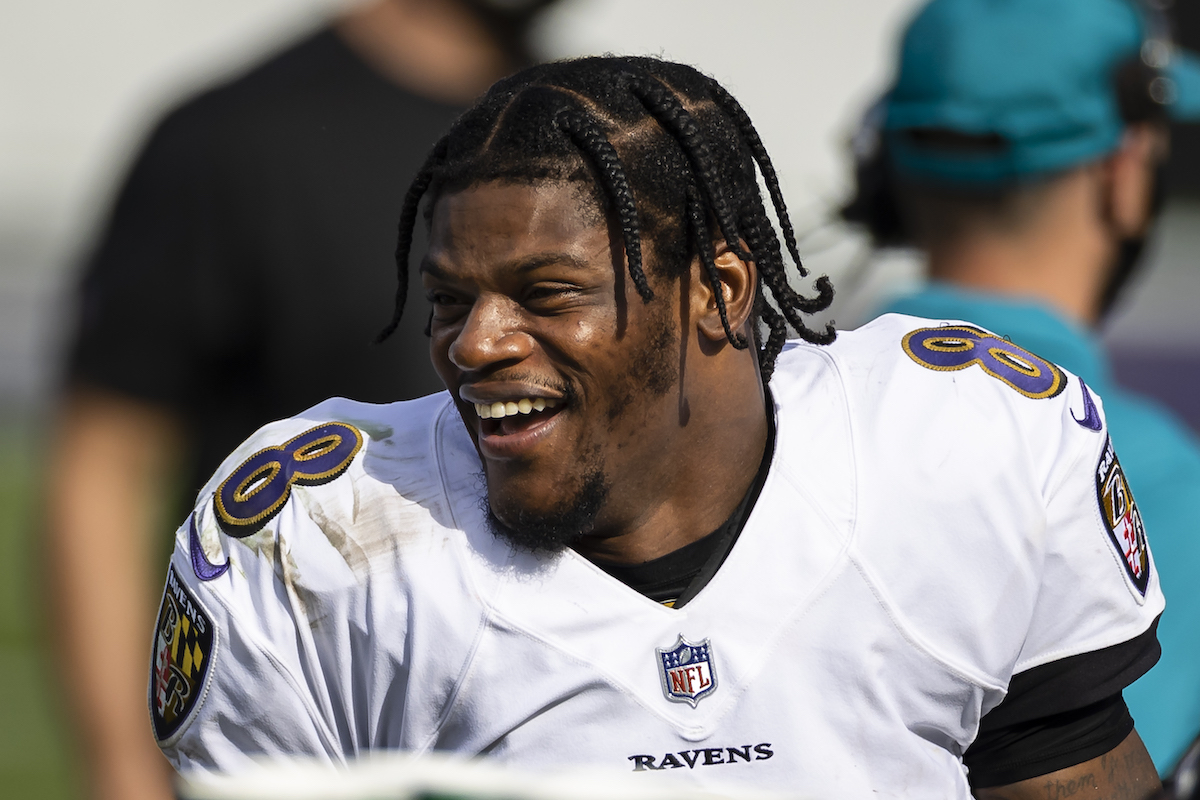 In a Sports Illustrated story, Jackson's throwing coach Joshua Harris commented on the QB's preparation for the 2020-21 season. According to Harris, Jackson has spent much more time this offseason studying defensive coverages and blitzing schemes in an attempt to anticipate them. He's doing something Harris refers to as "getting his Tom Brady on," spending much more time studying film. 
Should defenses be worried? If Jackson's 2019 is any indication, they most definitely should. Jackson was great last season, but his playoff performance shows definite room for improvement. He's also only in his third season. The sky is the limit for last season's MVP, and it sounds as if he's taking the challenge seriously taking after the GOAT in the film room.