Lamar Jackson's 2021 Success Hinges on Rashod Bateman, Not The Ravens' Other Stars
Few quarterbacks in the NFL today are more exciting than Lamar Jackson of the Baltimore Ravens. Nobody questions his athleticism — he's a ridiculous athlete, and his rushing ability is the greatest we've ever seen from the quarterback position. He's still on his rookie contract while talks of an extension persist, so it's fair to wonder if Baltimore is still waiting for Jackson to develop more as a passer.
We know about the rushing attack. We know that paired with consecutive 1,000-plus-yard rushing seasons by Jackson, which had never previously been done by a quarterback, they will lean on second-year running back JK Dobbins. But if they want to win, if they want to keep up with the Kansas City Chiefs and the Tampa Bay Buccaneers of the league, they're going to need to throw the rock. The Ravens haven't had a 1,000-yard receiver since Mike Wallace in 2016. That doesn't work.
They didn't hesitate to give Jackson the talents that he needs to take that step, drafting Minnesota Golden Gopher standout wide receiver Rashod Bateman in the first round of the 2021 NFL Draft. The success of Jackson will largely be in Bateman's hands. Literally.
Bateman had a tumultuous 2020
There might be a stigma that Jackson couldn't possibly be a top-tier wide receiver in the NFL because of where he played college football. After all, the University of Minnesota isn't exactly a hotbed for scouting purposes. Don't get it twisted, though — Bateman is the truth. 
Playing his high school ball in Georgia, Bateman was a 4-star recruit and had offers from his home-state University of Georgia, Tennessee, South Carolina, and Texas A&M. He passed on all of them for Minnesota. 
He made his mark early, logging 704 receiving yards and six touchdowns in his freshman season, then he broke out in a big way during his sophomore campaign to the tune of 1,219 receiving yards and 11 touchdowns. 
Last summer, as NCAA programs across the country were deciding whether to play the 2020 season, Bateman tested positive for COVID-19. He decided to opt out of the 2020 college football season, becoming one of the first big-name athletes to do so. He was still recovering from COVID-19, and it was a roller coaster of a year for Bateman.
"Kids all across the country were placed in tough positions to make tough decisions at an early age," Bateman told Sports Illustrated. "It kind of has affected my career with me opting out. People questioning me. It was tough. And with social injustice, things like that, 2020 was a mess, man. That's all I could say about that."
When Minnesota decided to play, Bateman opted to come back to the team and play the college season. After five games, and after Minnesota's game against No. 16 Wisconsin was canceled because of COVID-19 protocols, he decided not to play the final two games of the season. 
"It was one time in my life where I had to be selfish about my life and my career," he continued. "I didn't know how to feel about it. I feel like I let Minnesota down. I feel like I let my teammates down and I have to deal with that forever, just because of how the whole year was, you know?"
Through it all, the excellent collegiate career led Bateman to be a first-round draft pick, becoming the first Golden Gopher ever drafted in the first round.
Will Baltimore throw more?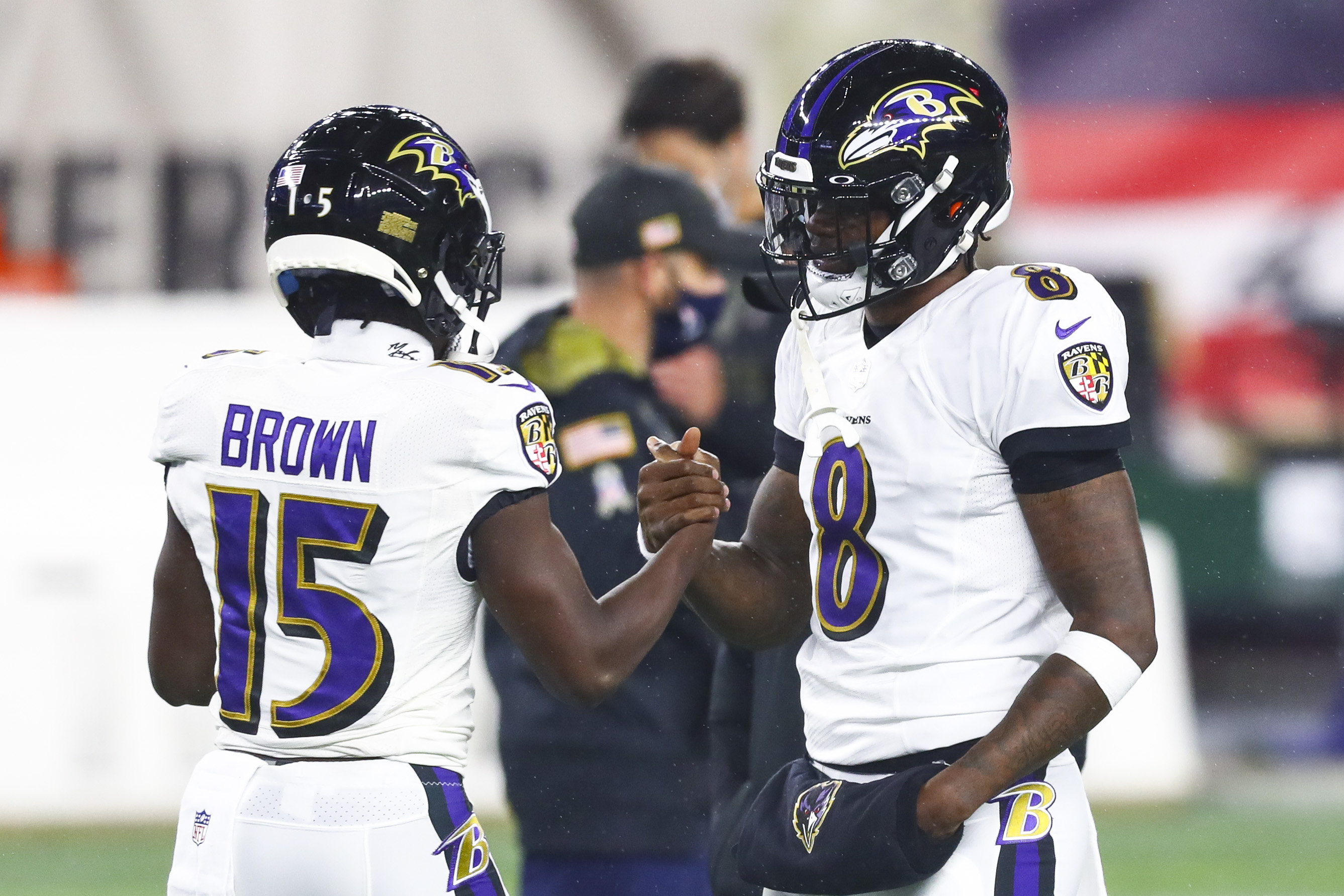 No team ran the ball more last season than Baltimore, which had 34.6 total attempts and 192.1 yards per game. For context, the Tennessee Titans were second with 161.2 yards per game, and that was with a running back who ran for over 2,000 yards in Derrick Henry. Part of that is team philosophy, and part of it is personnel. The leading receiver for the Ravens last year was 5-foot-9 Marquise Brown with 769 receiving yards. Behind him was tight end Mark Andrews, and then the rest of the receiving depth chart was essentially nonexistent. 
In steps Bateman. 
With Brown currently dealing with a hamstring injury that's reportedly worse than originally thought, according to head coach John Harbaugh, Bateman is going to get a lot of opportunities this preseason. He's already making waves in training camp. The polished route-runner with a penchant for acrobatic catches will immediately push to be the top receiving threat for Baltimore. 
It's exactly what Jackson needs to take the next step and showcase his passing abilities.
Bateman will help Jackson silence the critics
The narrative that Jackson is a mediocre-at-best passer is one that still persists, and quite frankly, there are numbers to support it. Put aside his eye-popping athleticism, which largely was the hallmark of his 2019 MVP season, and Jackson's passing numbers have been less than stellar. 
Jackson was 27th among qualified quarterbacks with a 64.4 completion percentage. He was 19th in yards per completion with 7.3 and 15th in passing touchdowns with 26 on the season. 
That's not meant to slander the guy. Fellow 2018 draft pick Josh Allen struggled in 2019 with a 58.8 completion percentage, then the Buffalo Bills added Stefon Diggs to the fold. Instant impact. Allen's completion percentage immediately jumped to 69.2. Talented wide receivers can help elevate quarterback play, not just the other way around.
Baltimore will be hoping for a similar jump from its uber-athletic quarterback. If this team can develop a thriving passing game to go along with the best rushing attack in the league, it's going to be because Bateman steps in and contributes prolifically right away.
Bateman could be the missing piece to a Super Bowl run in Baltimore.