Lamar Odom Calls for LeBron James to Take a Page From Kobe Bryant's Book With This Year's Los Angeles Lakers
Unless you're like Patrick Star from SpongeBob SquarePants and you live under a rock, you likely know just how much the Los Angeles Lakers have struggled this season. They are 24-27 and fighting to stay alive in the NBA Play-In Tournament race.
But former Lakers star Lamar Odom still believes in them. He just wants LeBron James to take a page from Kobe Bryant's book.
LeBron James and the Lakers are barely alive in the NBA Play-In Tournament race
The Lakers have struggled all season, but they have been especially disappointing during their last 11 games, going 3-8 during that stretch. They have also lost three in a row, which have all been games LeBron James has missed due to swelling in his left knee.
The slide has them at 24-27 and in ninth place in the Western Conference. They are just three games ahead of the 10-seeded Portland Trail Blazers and five games ahead of the 11-seeded San Antonio Spurs. Teams ranked between No. 7 and No. 10 in each conference make the play-in tournament.
LeBron James is the main reason the Lakers have even won 24 games. He's averaging 29.1 points, his most since 2009-10, on 52.2% shooting. He's also recording 7.7 rebounds, 6.3 assists, 1.6 steals, and 1.1 blocks per game.
Their struggles are due to Anthony Davis missing extended time with an MCL sprain and Russell Westbrook not necessarily finding his groove with his new teammates. The latter is averaging 18.9 points, his fewest since his second NBA season in 2009-10. And while he's averaging 7.8 rebounds and 7.7 assists, he's only shooting 44.5% from the field and 30.9% from 3-point range.
The Lakers have also been horrible defensively, allowing 112.6 points per game, which is 27th in the NBA.
So, what needs to happen for them to be successful? LeBron James needs to pull a Kobe Bryant, according to Lamar Odom.
Lamar Odom calls for LeBron James to take a page from Kobe Bryant's book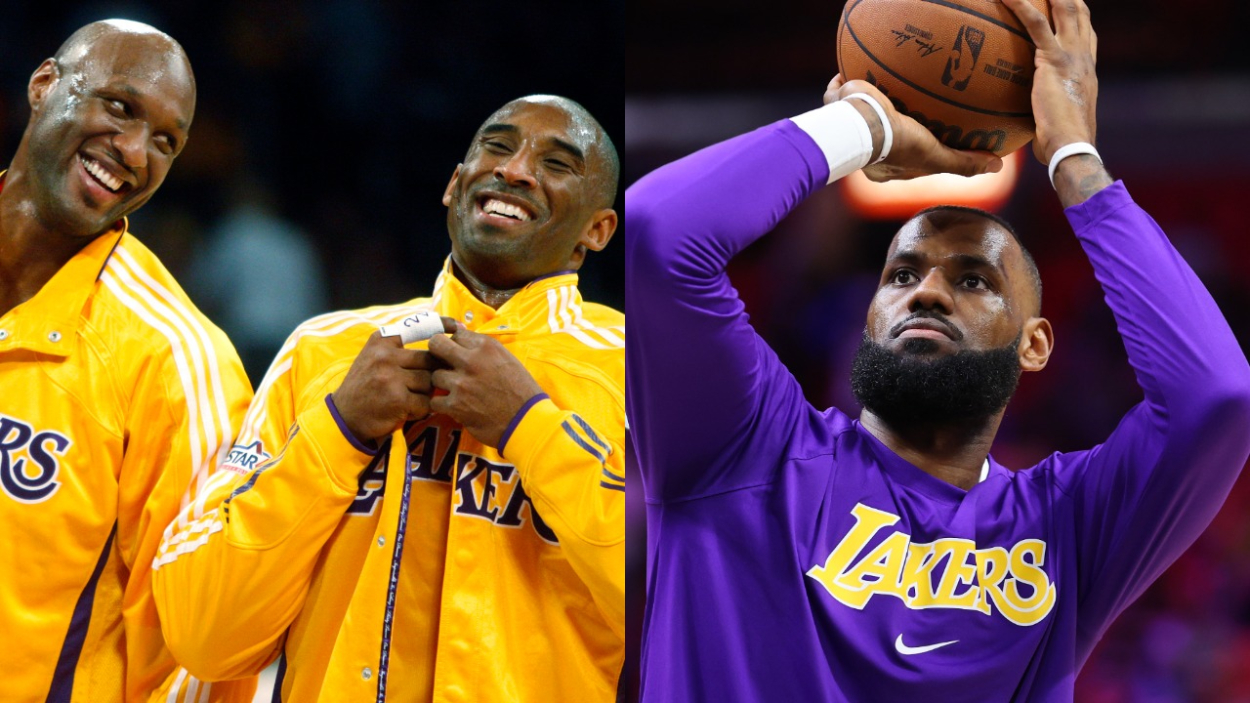 Lamar Odom played with Kobe Bryant on the Lakers for seven seasons, winning back-to-back championships in 2008-09 and 2009-10. And he recently said he wants LeBron James to do what Bryant did with those teams.
"The teams I played for that won championships, we had a tremendous leader in [Kobe] Bryant," Odom, who is currently starring on Celebrity Big Brother, said to TMZ recently. "A lot of his will, tenacity, it kind of rubbed off on us. I would like to see LeBron James' will and tenacity and his will to win rub off on these Laker guys. I think once that happens, once they coincide that that they'll be alright."
We all know James is a tremendous leader. He showed a young Cavaliers team in 2014-15 what it took to win and led them to an NBA Finals appearance after a 19-20 start. He also took his teams to the Finals in eight consecutive seasons and nine times in 10 years from 2011 through 2020. Bryant did similar things with the Lakers when they went to three straight Finals from 2008 through 2010.
The only difference with this Lakers squad, though, is that they don't have much flexibility to make roster moves, and some of their players' skills are diminishing due to their ages. This team just doesn't have as much talent as James' or Kobe's Finals teams.
Odom, though, is still confident.
Lamar Odom still believes in the Lakers
There likely aren't too many fans out there who still have faith in this Lakers team, but Lamar Odom does.
"I was really concerned when Dwight Howard and Anthony Davis got into it on the bench that one time; that kind of showed me that maybe they're having trouble in the locker room, maybe they're not all coming together mentally and physically," he said to TMZ, referring to an incident at the beginning of the season. "I think they're good enough to win a championship. They're still my pick to win the championship. I don't know if that's Laker pride or me just being a Laker at heart, but they're still my pick."
Odom also became the latest former Laker to stand up for Westbrook, who has been the scapegoat for most of this season.
"A lot of people are blaming Russell Westbrook for them not playing well … that's like effed up a little bit; I don't think he deserves that," Odom said. "He's a hell of a player. And we'll get it together. He'll start making shots, not turning the ball over as much. It's defensively. We gotta be a lot better defensively."
The Lakers have a lot of work to do if they want to live up to Odom's championship aspirations, but you can never count a LeBron James-led team out. He just needs takes a page from Kobe Bryant's book.
Stats courtesy of Basketball Reference