LaMelo Ball Has Already Put Himself in the Company of LeBron James and Luka Doncic, but His Head Coach Expects Last Season's Rookie of the Year to 'Take Another Step'
LaMelo Ball won the NBA's Rookie of the Year Award last season despite playing in only 51 games. The former Illawarra Hawks' star has given Charlotte Hornets' fans something to be legitimately excited about for the first time since Michael Jordan got rid of the "Bobcats."
Ball's stat line was impressive for a 19-year-old. He became the youngest player in league history to record a triple-double just 10 games into his career. He was among the rookie leaders in points, assists, steals, and rebounds.
The third-overall pick in the 2020 draft was better-than-advertised last year, but now he's expected to take another leap and help the Hornets get back to the postseason for the first time since 2016.
(Disclaimer: Charlotte was the 10th seed in the East last year and lost a play-in game to the Washington Wizards).
LaMelo Ball was the NBA's Rookie of the Year in 2020-21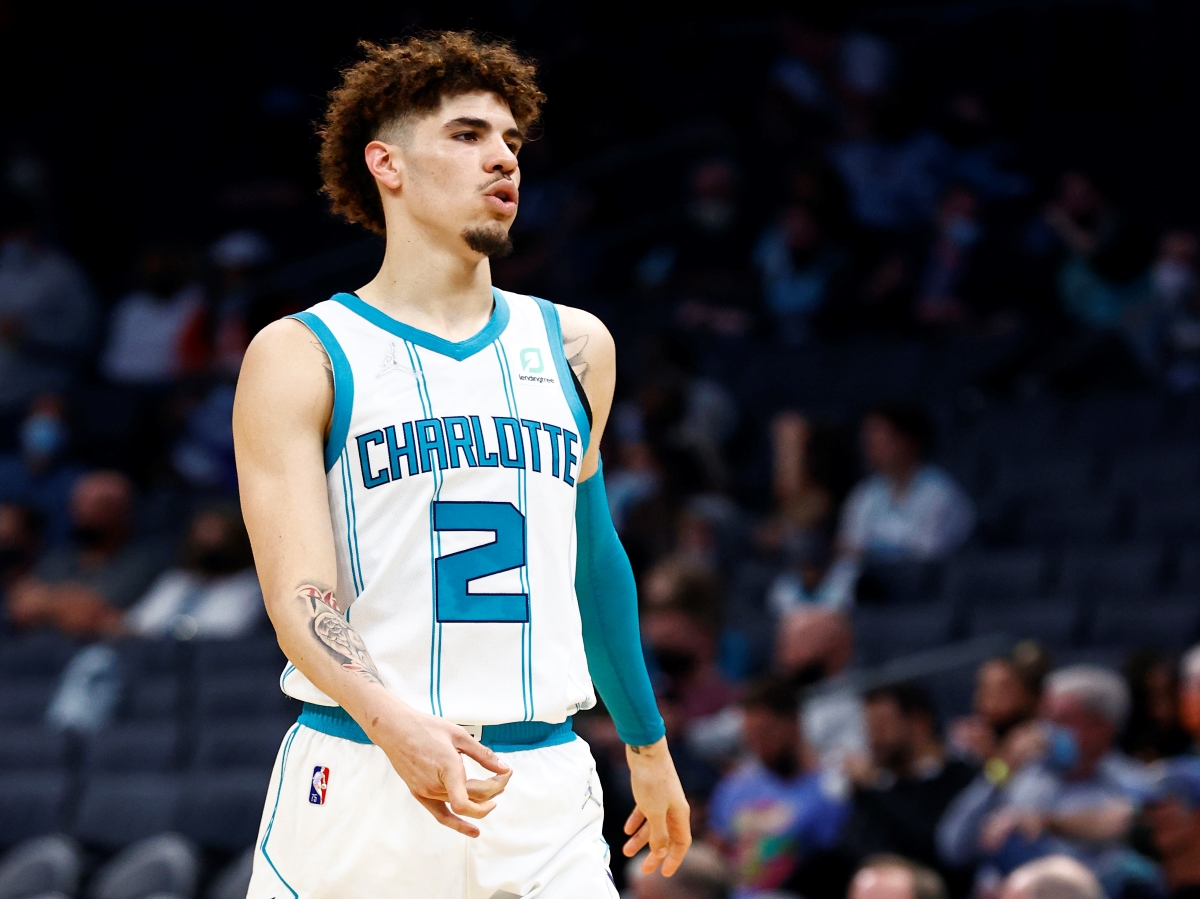 Ball averaged 15.7 points, 5.9 rebounds, and 6.1 assists in his premier season. He was named the Eastern Conference Rookie of the Month three times and was just the 12th rookie in league history to average at least 15.0 points, 5.0 rebounds, 5.0 assists, and 1.5 steals since the 1973-74 campaign, according to NBA.com.
Ball led the 2020 draft class in assists and steals and was second in points and rebounds. He became the youngest player in NBA history to record a triple-double after dropping 22 points, 12.0 rebounds, and 11.0 assists against the Atlanta Hawks on Jan. 9.
Not expected to be a great shooter coming into the league, Melo hit seven 3-pointers in a game against Houston less than a month after his triple-double and finished that night with 24 points, 10.0 assists, and seven rebounds.
Yet another crazy stat: The 6-foot-6 point guard had at least 10 games with 20 points, five rebounds, and five assists, putting him in a category with Luka Doncic and LeBron James as the only teenage rookies with that many 20-5-5 games.
For good measure, he also put himself alongside only Jason Kidd and Stephen Curry when he totaled 20 points, 10 assists, and five rebounds while making seven 3-pointers as a rookie.
Minnesota Timberwolves guard Anthony Edwards was also in the conversation for Rookie of the Year, but Ball's stats and all-around game at age 19 were simply too impressive to voters.
Charlotte head coach James Borrego expects his star to take a leap this season
The teenage playmaker wasn't in the starting lineup to begin his debut season, but before the halfway mark Borrego realized his rookie was too good to come off the bench.
Ball put up all-time stat lines his first season in the NBA and helped the Hornets to 33 wins, 10 more than Charlotte had the previous season. Now, the challenge for the 20-year-old is to translate his stats into even more wins — including, hopefully, some in the playoffs.
Borrego said that's his expectation for the franchise's centerpiece in a story from AP News:
"I want him to take the reins of this program. He's the quarterback, the floor general and for us to take that next step he must run this team, not only on the offensive end but the defensive end as well.

"A lot of his success last year was based on instinct and feel. Now his next step is managing who we are, his personnel around him and understanding the league in general. So our conversation has been around our team, our strengths, our values and understanding his teammates.

"I expect a big year from him, and I expect him to take another step."

Charlotte Head Coach James Borrego on what he's looking for from LaMelo Ball in his second NBA season
Ball said he's up for the challenge and that he's been pouring over film all offseason, learning the intricacies of Borrego's system.
"That's a point guard," he said. "I'm definitely going to lead. All of my life I've been leading. So it's a great position for me."
Ball needs to set the tone if the Hornets are going to become a relevant NBA franchise again
Jordan — not known for his drafting acumen since he acquired controlling interest in the organization in 2010 — unearthed a gem in Ball. There were questions surrounding LaMelo's coachability, shooting, and lack of competition coming into the league, but he proved doubters wrong on all three fronts.
Ball is a playmaker at heart. He showed that last year. Rather than being a selfish player, which some saw him as after his one year playing professionally in Australia, his unselfishness and ability to create for others was his standout trait as a rookie.
The next step is to become the "quarterback" and team leader Borrego wants him to be. If he does that, the sky's the limit for Ball as a player and the Hornets as a franchise.
Unless otherwise noted, all statistics courtesy of Basketball Reference.
RELATED: Re-Examining the 2018 NBA Draft: The No. 1 Overall Pick Is Still Ludicrous, and the Luka Doncic-Trae Young Swap Remains a Crucial Part of Recent NBA History